Read more about the best gouache paint for beginners. If you're anything like me, you love buying new art supplies. But sometimes starting a new hobby can feel a little overwhelming.
You don't want to make the wrong choice starting out. That's where I come in. I've made the bad decisions and learned from them and am now sharing what I know.
You might also like this post on the best watercolor paint for beginners.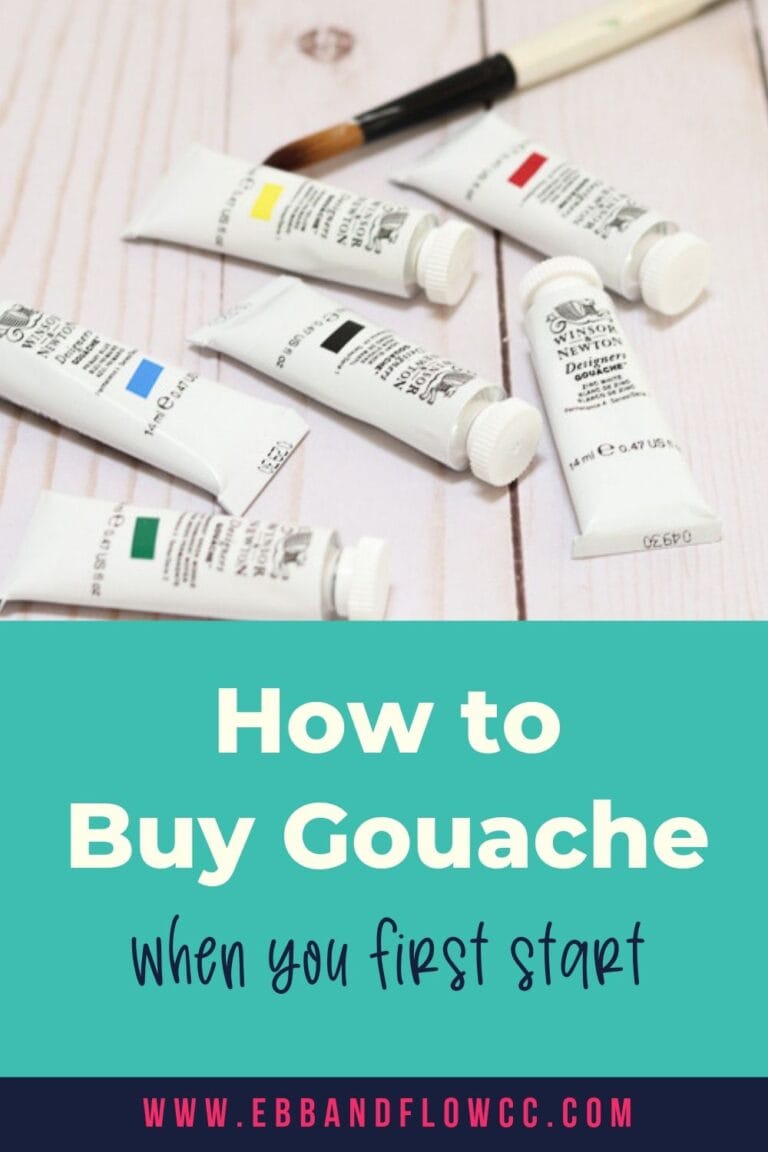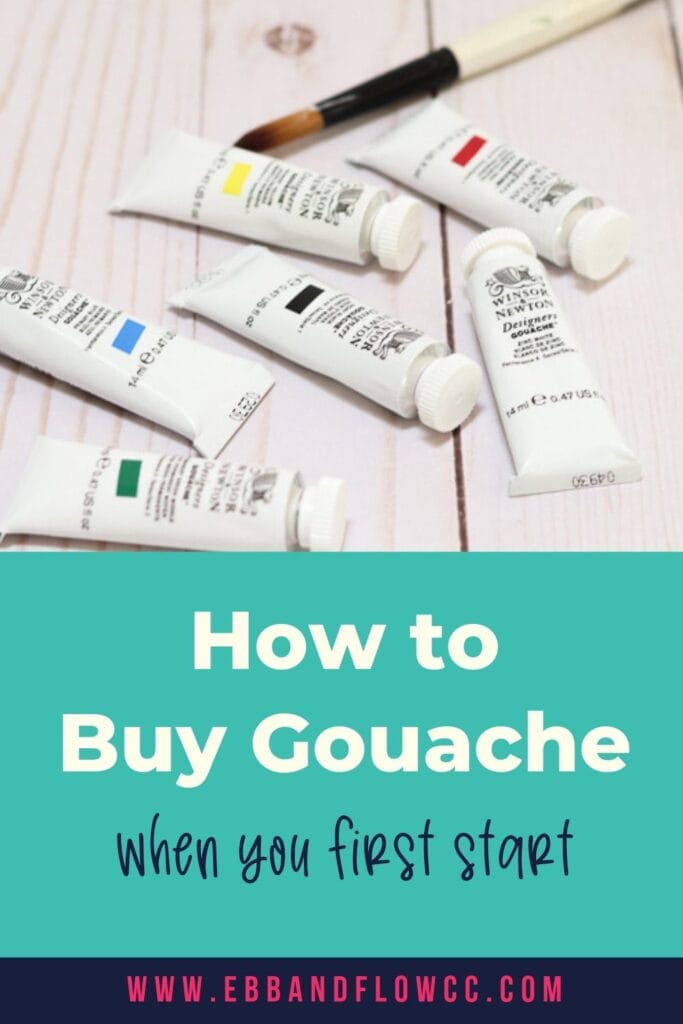 This post contains affiliate links. By purchasing an item through an affiliate link, I earn a small commission at no extra cost to you.
The Best Gouache Paint for Beginners
Not to be discouraging, but gouache is one of the hardest paints I've ever learned.
Want to know why?
I bought cheap paint. I should know better by now.
Gouache is made of pigments and binder, similar to watercolor. Except that it has a whole lot more pigments.
Which means that cheap gouache is never going to work correctly.
So don't make the mistake I did. Buy good quality gouache to begin with and make it easier on yourself.
It's so much easier to get good coverage with high quality paint.
The Best Gouache Paint
I bought this Windsor & Newton Gouache Primary set and I'm so happy with it.
This gouache paint is so thick and opaque. The paint dries to a gorgeous matte finish. It's much easier to use than the cheap stuff.
It comes with 6 colors: zinc white, ivory black, permanent green middle, primary red, primary yellow and primary blue.
The colors are easy to mix and I can get a nice variety of colors.
I appreciate that it came with green despite it being a primary set because I love mixing a variety of greens. Having a ready made option makes it faster to mix a ton of greens.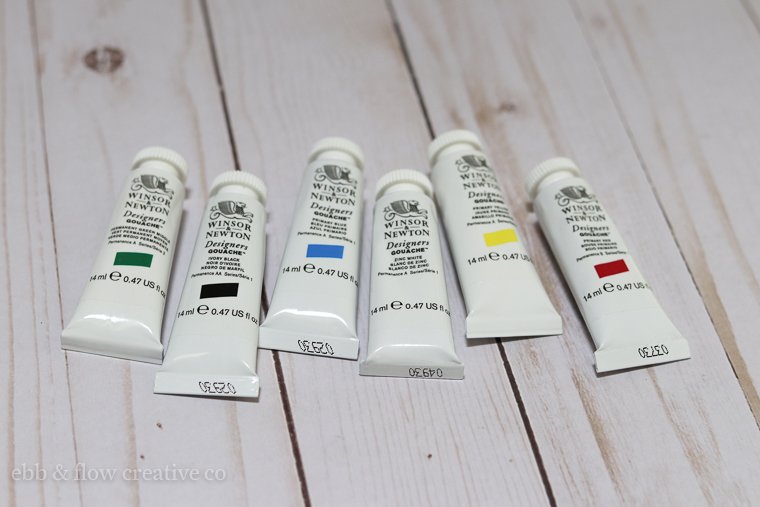 I love how the paint flows. When diluted with water, the paint goes on so smooth.
Plus, the colors are super vibrant. Not looking for vibrant colors? Just mix in a color opposite on the color wheel to muddy the color up.
The colors combine to make a variety of gorgeous hues. The red and blue make the prettiest purple ever.
For reference, the cheap set is the this Royal and Langnickel set, which I do not recommend. It's impossible to get a solid color without streaks. However, it might work okay in a thicker watercolor style.
I've also been experimenting with mixing the cheaper colors with some of my nicer gouache, but I'm still not loving the results.
The Creamiest Gouache
Since writing this post, I've experimented a lot with Holbein gouache and it's my new favorite. The paint is so creamy and I love painting with it.
The mixing kit is tiny, but since the paint is so pigmented, a little goes a long ways. You will need a larger tube of white paint for mixing, though.
I also find that the paint re-wets pretty well.
The Best Gouache Budget Option
Still not sure that you want to invent in a set of quality paint? There's a secret way to experiment with gouache without buying a whole set.
Did you know that you can mix watercolors with gouache? So if you already own watercolors you can mix them with white gouache and it works just like normal gouache.
Pretty cool, right?
You might be interested in reading this post about this affordable Himi gouache.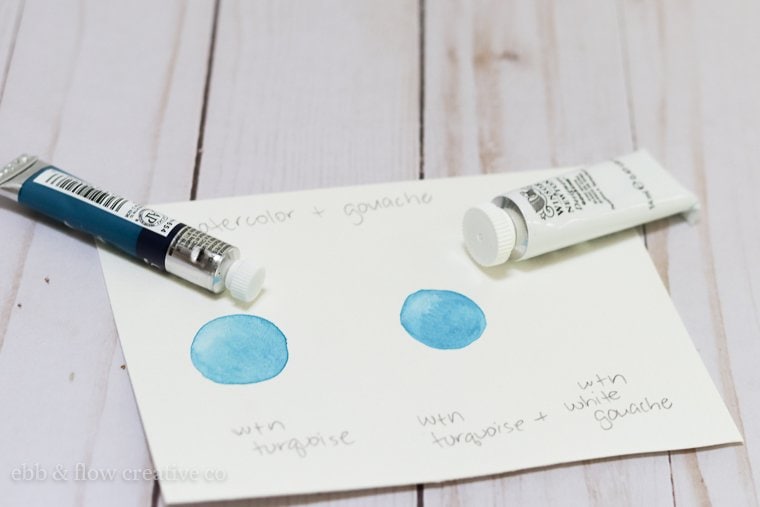 So just buy a tube of white gouache and start experimenting!
If you want a darker color, add more watercolor paint and less white gouache. The white gouache just boosts the opacity.
Tips for Painting with Gouache
Read an in depth tutorial on painting with gouache here.
Lightly dilute with water. You need way less water than with watercolors.
Gouache can be used on a variety of surfaces, but I prefer mixed media paper or watercolor paper.
Gouache is water-based, so it can be reactivated when you paint over another coat. Use light coats to avoid this.
Acrylic gouache is water-resistant and can be layered without worrying about reactivating the color beneath it.
Read my favorite tips for mixing gouache paint colors.
You might also like:
Pin for Later!