The Best Watercolor Paints for Beginners
Is there anything more fun than buying new art supplies for a new hobby? Probably not.
But if you're anything like me when I first started, you have no clue how to buy a good watercolor set. Read more about the best watercolor paints for beginners.
Get even more tips for using watercolor paints.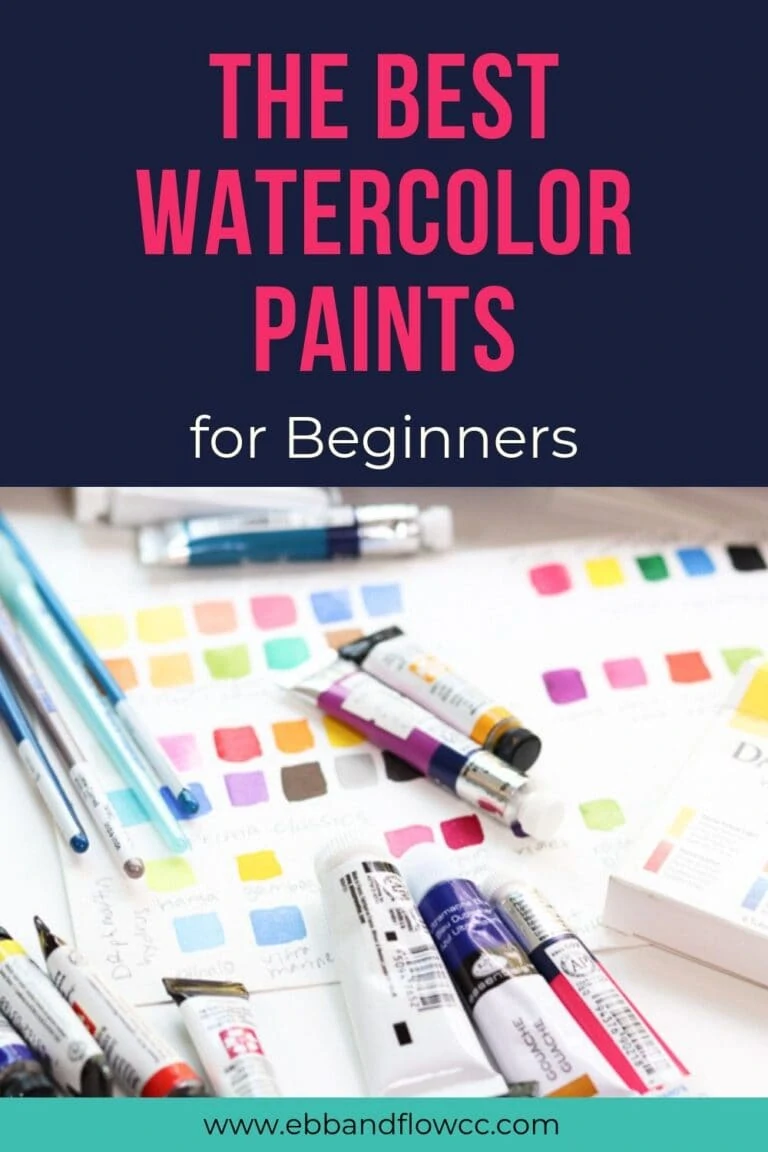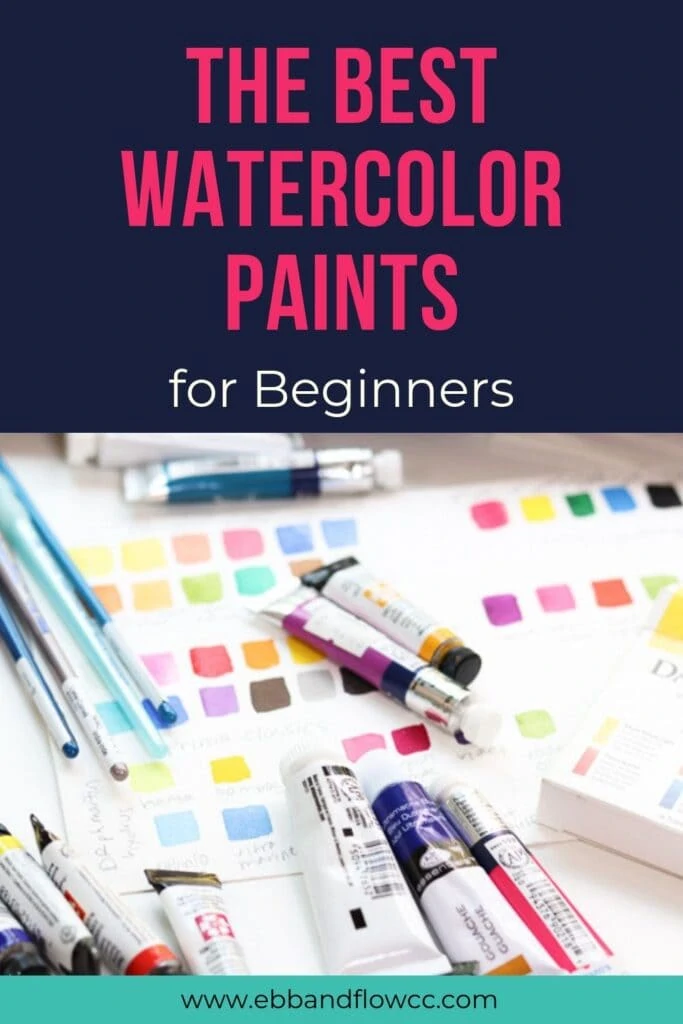 This post contains affiliate links. By purchasing an item through an affiliate link, I earn a small commission at no extra cost to you. As an Amazon Associate I earn from qualifying purchases.
I've included links to Blick where available because they often have better prices than Amazon. Plus, it's so much fun to shop at Blick!
I'm going to tell you all about my favorite watercolor sets. Read more about watercolor types and all of the other considerations for buying watercolor paint.
The Best Watercolor Sets for Beginners
An Important Thing to Consider Before Your First Watercolor Set Purchase
Buy the best you can afford and you will stay happier longer. I tend to buy cheaper sets to see if I like the medium, but that's an obstruction to learning.
It's much easier to learn on nicer sets, which I hate saying because I'm cheap. But it's true.
Watercolor consists of pigments and binders, along with a few other things like brighteners and plasticizers.
Cheaper watercolor sets contain fewer pigments, which means your paintings look dull and in some cases chalky. This could really affect how you feel about watercolors.
I love bright colors, so seeing dull, chalky colors almost made me want to give up.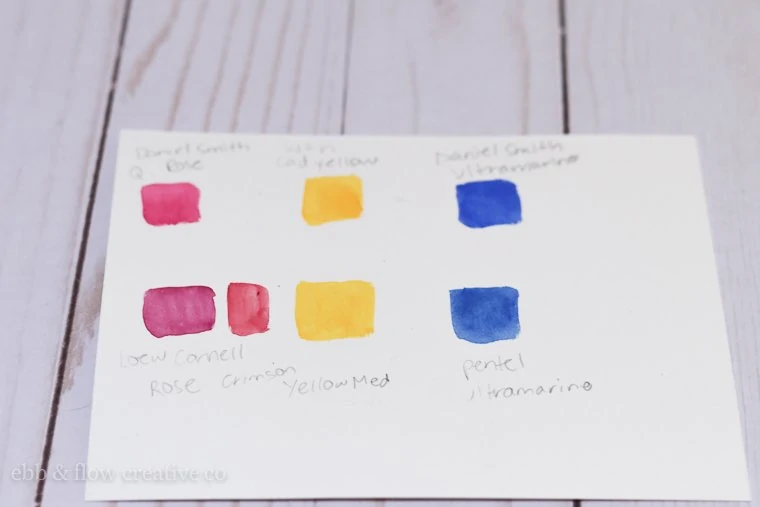 Trying nicer brands was life-changing. Which sounds lame, but it's also true. Creamy, colorful watercolor makes me want to paint every day now. Even if it's just swatches.
By the way, all of these paint types can be used together to create custom mixes. Experimenting with color is one of the best parts of watercolor painting.
Don't feel like you have to buy one of each set. Add to your collection as you can.
I've written an article about which watercolor paint colors to start with.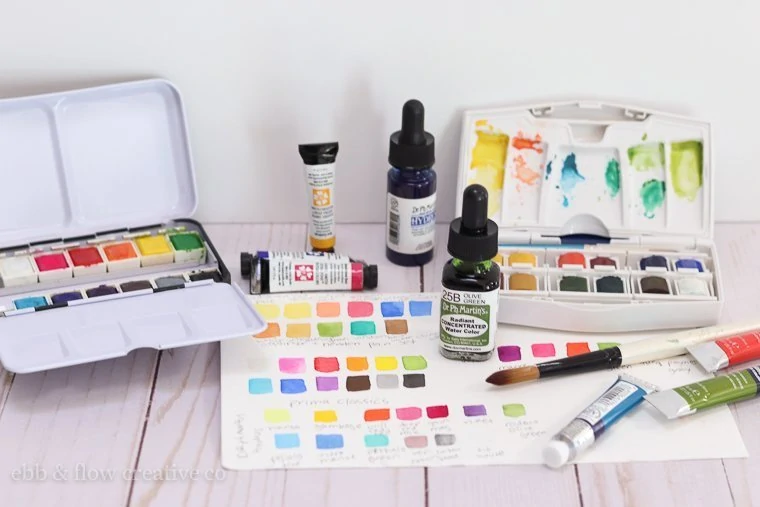 The Best Watercolor Set for Travelers
When I first started buying "nicer brands", I thought tubes were the way to go. And I bought 2 mediocre sets that I was never happy with.
Don't just think of Crayola or the ubiquitous Michaels set for watercolor pan sets. Watercolor pan sets can be nice and can even cost several hundred dollars!
Luckily, my favorite pan set is nowhere near that price. I think it's decently priced for what you're getting. The Windsor & Newton Cotman watercolor set is actually "student grade," but I find the quality to be superior to any other set that I've tried. (Blick link)
It comes with a small case, a small brush, and 12 half pans. The colors look dull in the pans, but don't judge them by that!
The paint is thick and contains a lot of pigment. And the colors mix beautifully! The color selection is really lovely to start out with.
I love that this set has 2 spaces for mixing paint. There's no need to buy separate palettes mixing this set.
Pros: This set comes with everything you need to travel with. It has a nice amount of colors and you can do some decent mixing with this set. It's also very affordable.
Cons: I don't love the color choices for mixing. The yellows are too similar and the warm red is way too orange. The mixing results are a bit more muted than I like. The case is also really hard to open.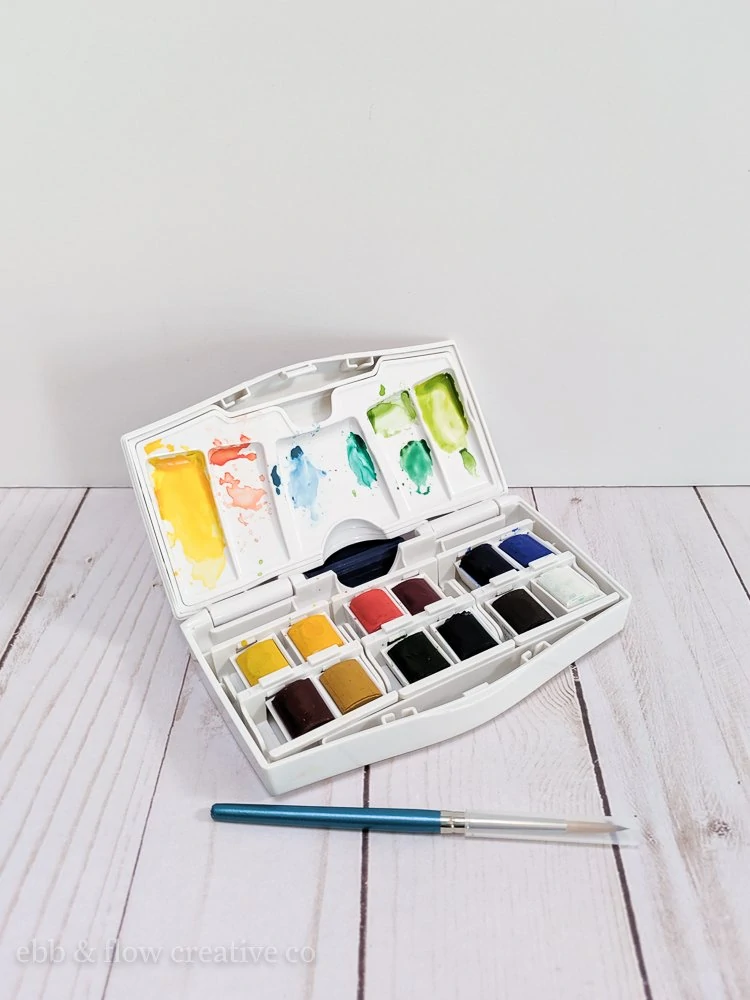 You might be interested in my review of Sakura Koi watercolor paint!
The Best Watercolor Set: Mixing
I love this watercolor essential set by Daniel Smith. It contains 6 colors, which might not seem like enough, but you can mix so many colors with these. (Blick link)
In color theory, you can mix primary colors in 2 ways: red, yellow, and blue OR magenta, yellow and cyan. Since watercolor is translucent, it's nice to mix it in the latter option, which is based on how light (and printers) mix color.
These 6 colors make the most gorgeous purples and greens!
This set contains the colors to mix both ways, which as an art nerd, I find really cool.
You will need to buy palettes for tubes. Read about my favorite watercolor palettes here.
Pros: These colors can be mixed to create a variety of shades. The colors are vibrant and you get some of the best options that Daniel Smith offers. That Ultramarine is a good example of being one of the best. I find this set to be incredibly versatile.
Cons: The Daniel Smith mixing set is a bit more expensive, but worth it. (Once you try Daniel Smith, you'll never want to try another paint again!) The tubes are less portable, but they can be put into a palette and dried.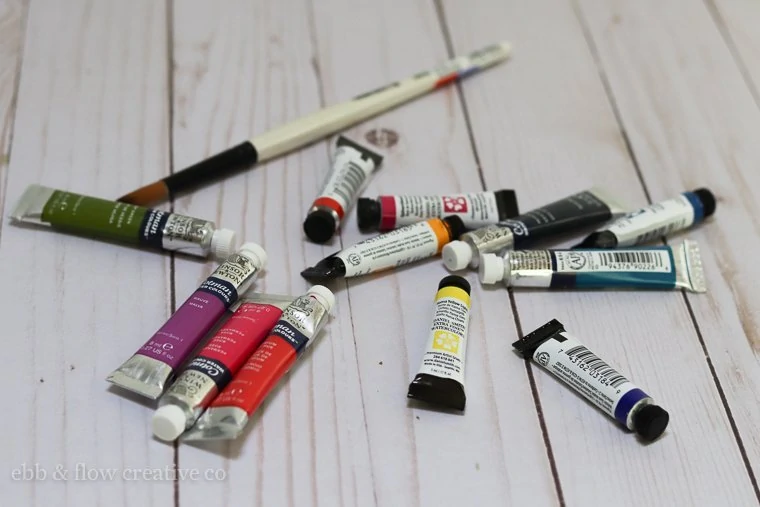 The Best Watercolor Set: Liquids
But I love my Dr Ph Martin's liquid watercolors. They're so vibrant and saturated, so they're great to add to a color mix to brighten it up. (Blick link)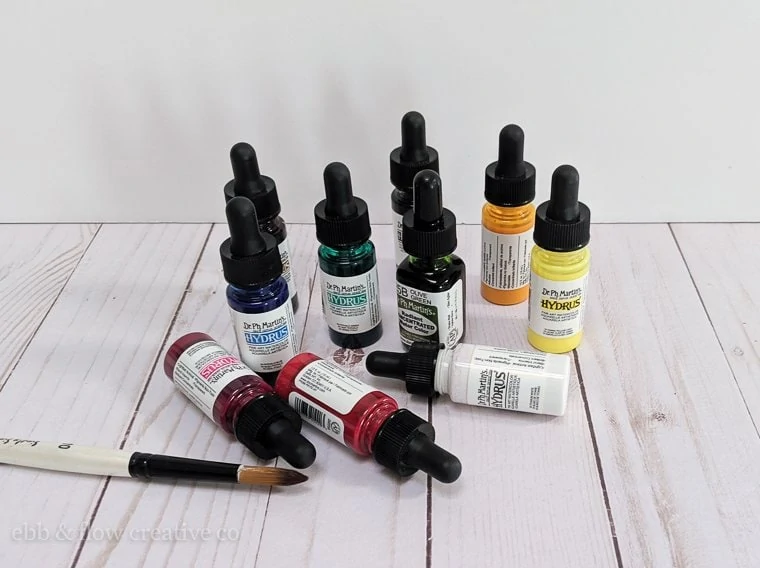 There are 2 versions: Hydrus and Radiant. Hydrus is pigment-based and more lightfast. Radiant is dye-based and more translucent. Both sets can be used for watercolors.
Any time your painting feels a little flat, try adding a tiny bit of liquid watercolors for a fun punch.
Pros: These colors are so bright and perfect for adding a pop of color. A little goes a long way, so these last forever.
Cons: Liquid watercolor paint can be harder to re-wet when dried.
You might be interested in learning more about watercolor pencils.
The Overall Best Watercolor Paints for Beginners
If I could only choose one watercolor set, I would choose the Winsor & Newton Cotman watercolor pan set.
I am surprised by how much I love it. I had written off pan sets for so long, but I'm glad I tried this set.
It comes with almost everything you need to get started. Read more about what supplies you need for watercolors.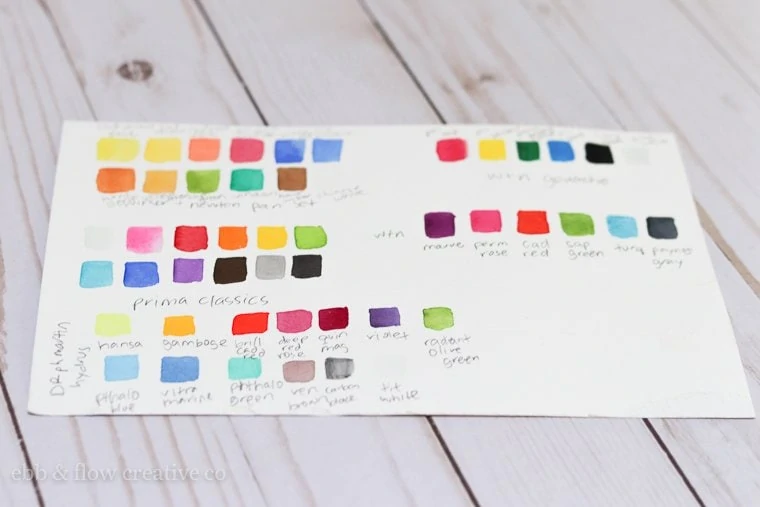 You Might Also Like:
Pin for Later!