Learn more about the best watercolor supplies for beginners. Buying new art supplies is the best.
But it can be a bit confusing at first. You want to buy the best quality at the lowest price you can get without making bad purchases.
Luckily for you, I've made plenty of bad purchases, so I'm sharing the good purchases today.
Get more watercolor tutorials here.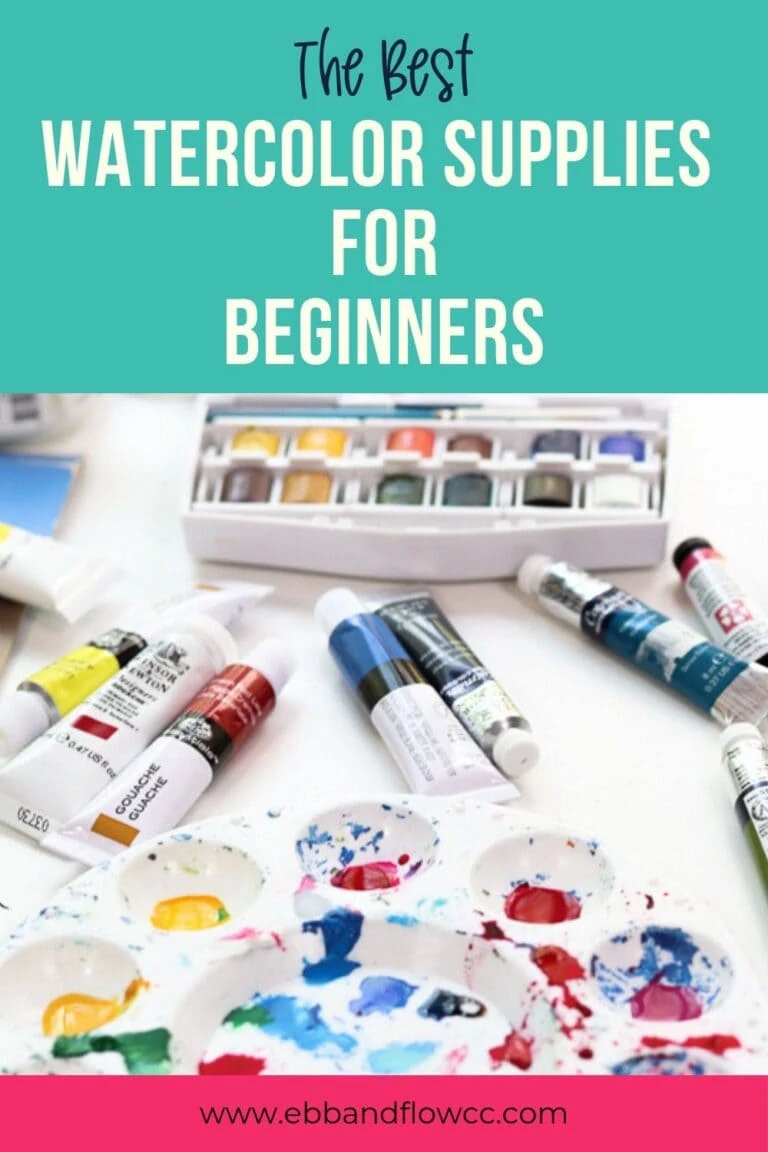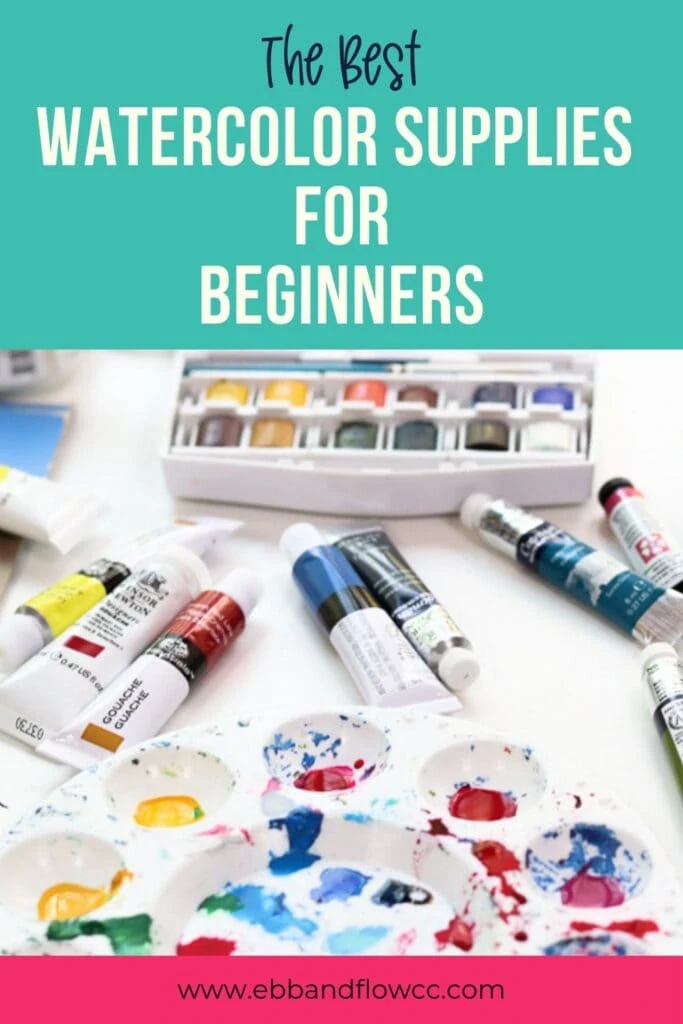 This post contains affiliate links. By purchasing an item through an affiliate link, I earn a small commission at no extra cost to you. As an Amazon Associate I earn from qualifying purchases.
I've included links to Blick where available because they often have better prices than Amazon. Plus, it's so much fun to shop at Blick!
The Best Watercolor Supplies for Beginners
A disclaimer before I begin. As your watercolor skills grow, you will develop your own preferences as you experiment. What works for beginners may not be the best for more advanced artists.
I wrote this post because it's what I needed when I first started. I needed someone to say "buy this, it's good."
I've also tried to keep budget in mind. When you're first starting out, you don't want to spend a ton of money on supplies that you might not use.
Best Beginner Watercolor Set
For a detailed look at watercolor paints, be sure to read this post.
Invest in a quality watercolor paint set and you will have an easier time learning. Even if that means buying the set of 6 colors instead of the 18 pack. Trust me.
I've written a post about which paint colors to start with.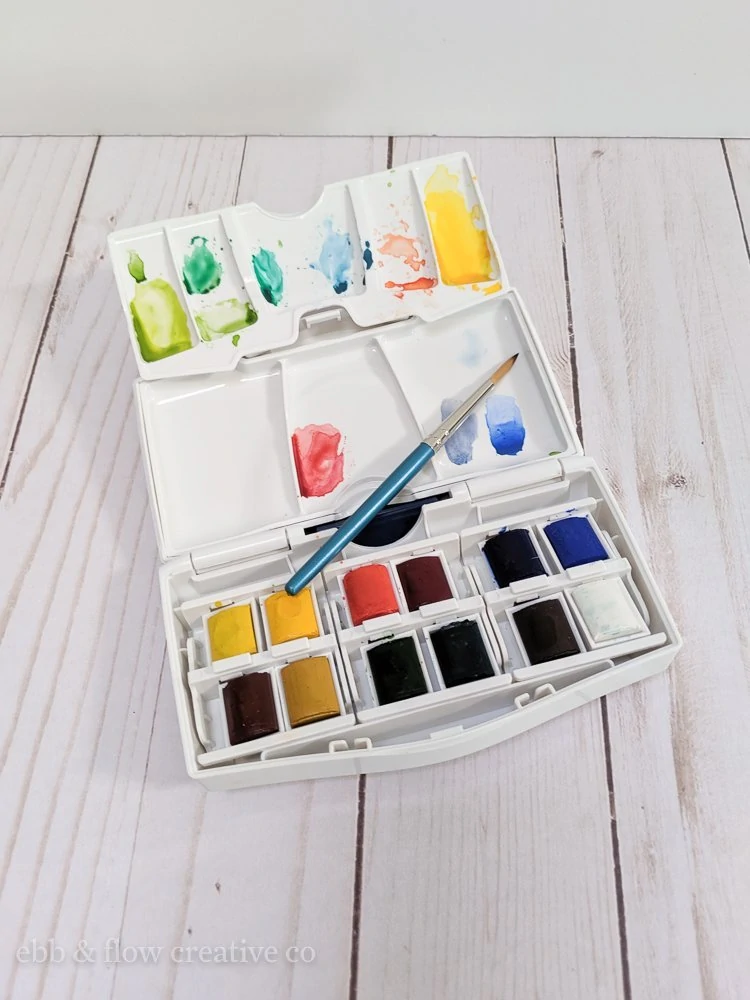 The Best Watercolor Pan Set
For a beginner, I suggest this Windsor & Newton Cotman set of 10 colors. The colors are vibrant and mix beautifully. I absolutely love this watercolor pan set. (Blick link)
It's affordable and works as a travel palette as well. I like that I can swap the colors out if I want since they're standard half-pan sized. I also love the small brush that it comes with.
Cotman is technically student-grade paint, but I love the quality and find it perfect for beginners.
Be sure to check out my review on the affordable Koi watercolor paint kit.
The Best Watercolor Tubes
If you want to start with tubes instead of a pan set, I recommend this set from Daniel Smith. This is my favorite watercolor tube set. (Blick link)
It contains 6 colors, which are perfect for mixing colors like these purples and greens.
Daniel Smith is a very high-quality paint. They are a joy to work with and might spoil you against trying other, cheaper brands.
Tubes last forever and can be squeezed into an empty palette to make painting more convenient. (Tutorial for creating your own palette.)
You can buy more colors as you learn. Personally, I love mixing pan sets with tubes and liquids to make fun colors. But for a beginner, start with a simple set.
Watercolor Brushes
Good brushes are important for watercolor. I hate when I get stray hairs in my work.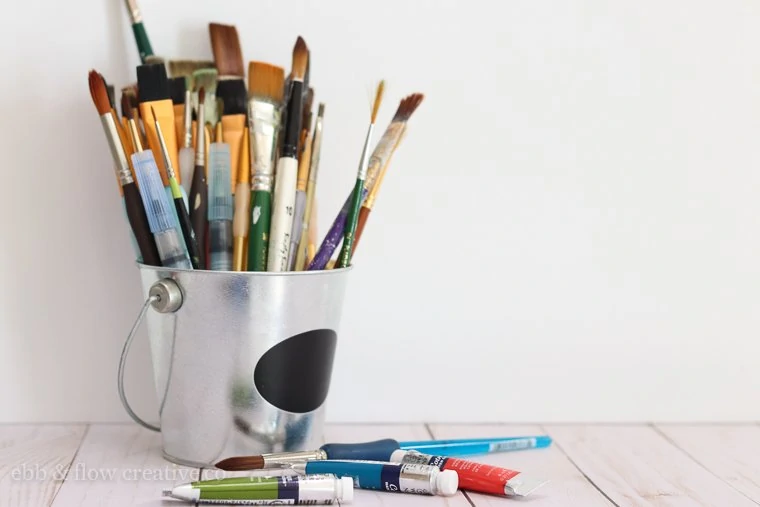 Don't buy a cheap pack of craft brushes. You will regret it. They don't hold enough paint or water to work well. And they won't last for very long.
Watercolor brushes are made to hold a ton of water and paint. You can get synthetic or animal hair brushes, but it's totally fine to buy the cheaper synthetic versions.
I mostly work with round brushes because they are so versatile. You can get a tiny line with the point or fill in larger spaces with the belly of the brush.
Occasionally I use a larger flat brush or a filbert brush for larger washes.
My favorite brushes are round brushes in these sizes: 00, 0, 2, 6, and 10.
The 00 and 0 round brushes are perfect for liner work.
A 3/8" filbert brush will fill the larger areas nicely.
This set of brushes is pretty affordable. (Blick link)
Learn more about watercolor brush sizes here.
Watercolor Paper
While I normally suggest high-quality supplies, watercolor paper is an area where I think it's okay to skimp as a beginner.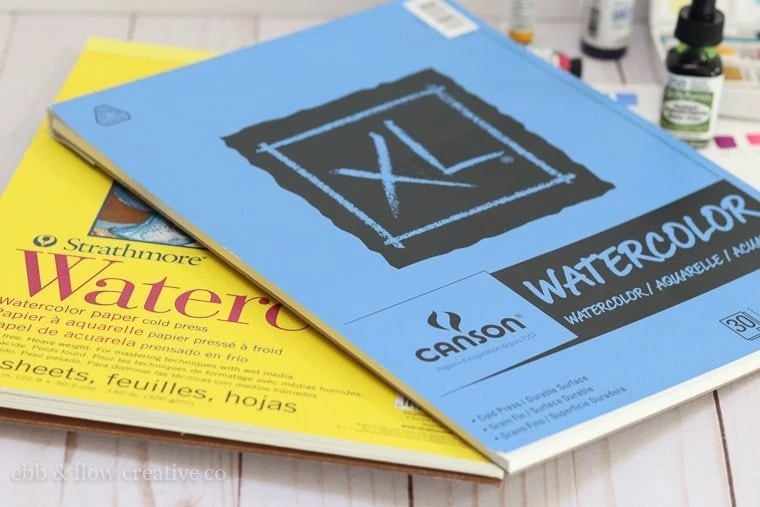 If your paper costs a fortune, you're going to be too afraid to ruin it and you may never begin. So I suggest buying cheaper paper until you're better at painting.
I really love this inexpensive pad. It's cheap enough to make lots of mistakes without worrying about wasting money. (Blick link)
Watercolor paper is recommended because it holds up to water without a ton of buckling. (Try painting on printer paper and see what happens.)
Watercolor paper is available in cotton and cellulose (made from trees) paper. You can also get it in different textures: hot press (smooth), cold press (medium texture), or rough.
I normally buy cellulose cold press paper. It works just fine. Especially if you want to paint a lot.
Whatever you do, don't try using cardstock. It buckles and the colors will be dull and grainy.
Mixing Palette
Paint palettes are another area where I think it's okay to skimp at first. Use the plastic palettes if you want. They stain, but they're cheap. (Blick link)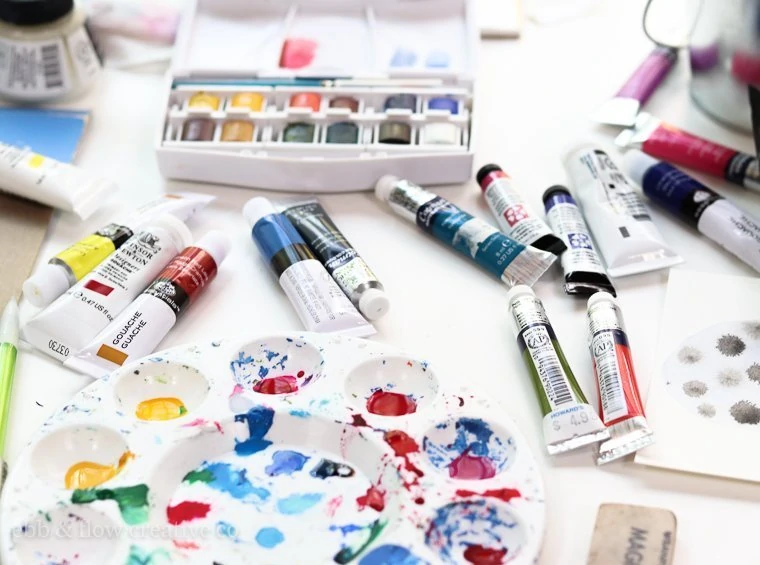 The watercolor set I suggested above has several mixing areas included, but it's nice to have plenty of space for mixing.
It's also okay to use plain white dishes (don't use them for eating anymore though!)
Other Watercolor Supplies
Water Cup
Don't use dishes you eat from for this.
I used to love using the glass jars from Oui yogurt for water cups. But now I use an old salsa jar. Look in your recycling bin and save money!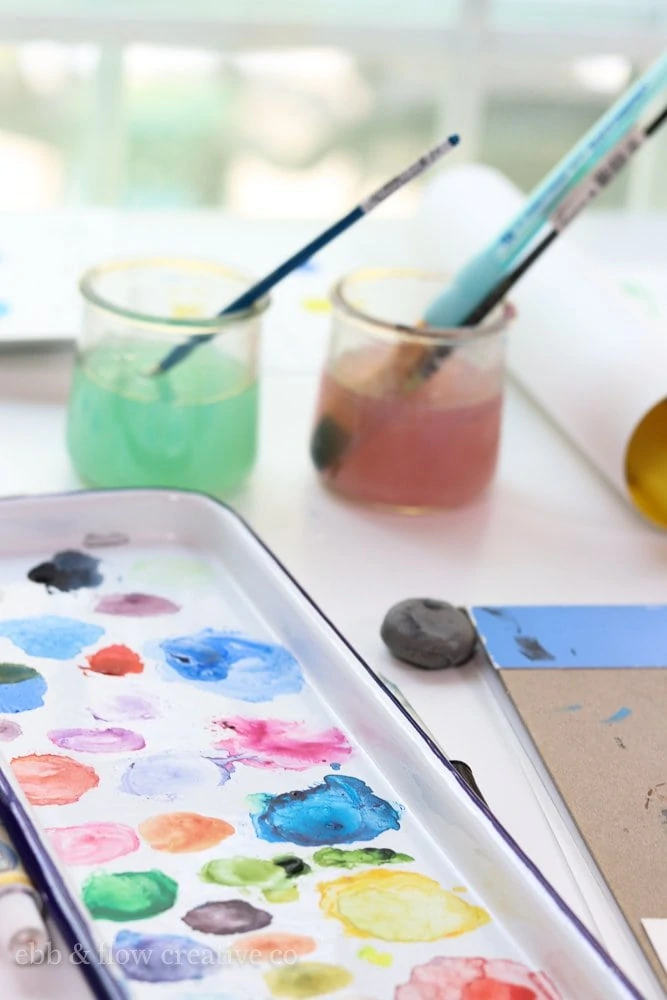 I prefer to have 2 water cups, which I use for different uses depending on what I'm working on.
Sometimes I use one for clean water and one for dirty water. Other times, I use one for cool colors and one for warm colors.
Paper towels
An old dish towel works too. These are for drying your brush. Paper towels are also good for soaking up excess water or paint when you make a mistake.
Eye droppers
Eye droppers are my favorite way to wet my watercolor pans. I can control how much water I add to wet the paint. Plus, I can let it soak in and spare my brushes the abuse of rubbing the water into the paint.
Pencil
For watercolor paintings, it helps to lightly sketch your drawings before painting. I like to use the lightest pencil I can, so I use a 4H pencil.
Keep in mind that once you paint with watercolor over a pencil, it cannot be erased.
Learn more about the best pencils for watercolors.
Eraser
After drawing the image, I then go back and erase as much as I can with a kneaded eraser. This is my favorite eraser because it is so gentle on paper. It removes the graphite without damaging the paper. (Blick link)
Plus, it does a great job of removing darker pencil marks.
When the eraser gets too dirty, just reshape it to find a clean spot.
Learn more about my favorite erasers and techniques for making lines disappear under watercolor.
Tape
Tape is used to hold down the paper to prevent it from warping.
Some artists prefer masking tape, but I love using washi tape because it doesn't damage the paper and it's super cheap.
You Might Also Like:
Pin for Later!