The Best Watercolor Brushes for Beginners
One of the hardest things to buy when I was first starting out was figuring out which watercolor brushes to buy. Today, I'm sharing the best watercolor brushes for beginners that are budget-friendly, yet great quality.
When choosing brushes, there are so many sizes and shapes. And the artist level categories in the art supply stores just further confused me.
I just wanted someone to say, "these are the brushes you need." So that's what I'm doing.
Fellow watercolor friend, "these are the brushes you need."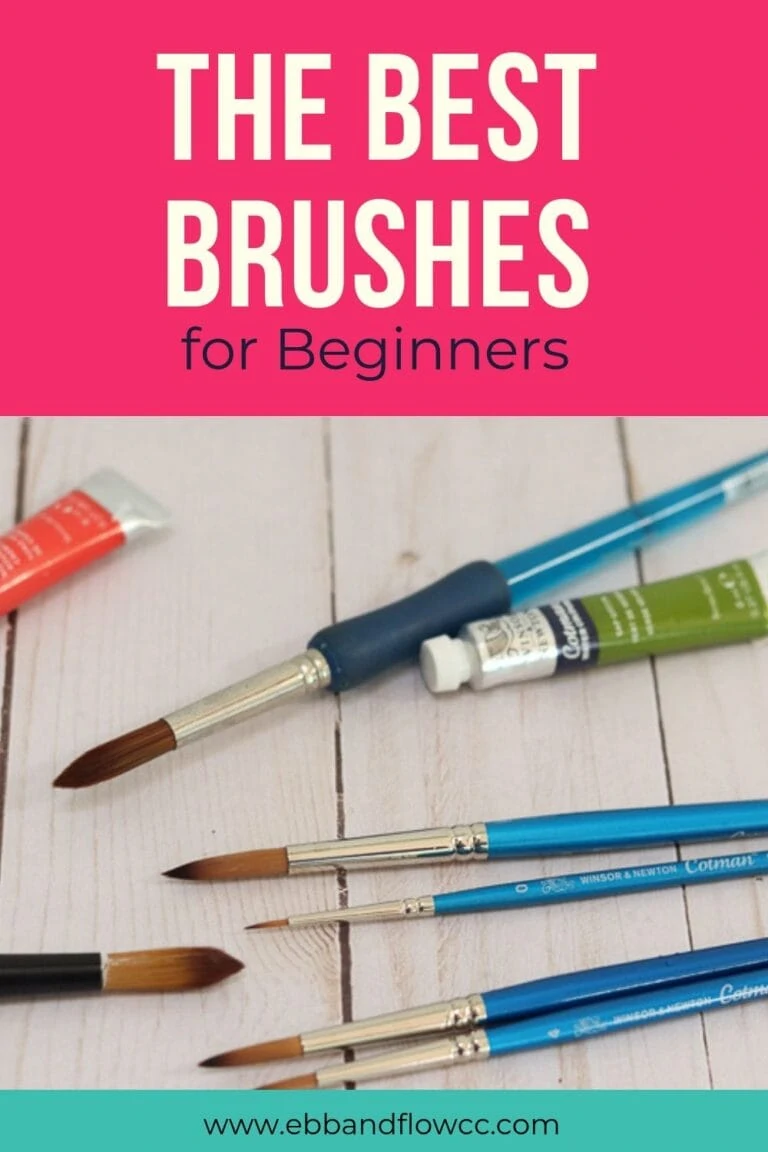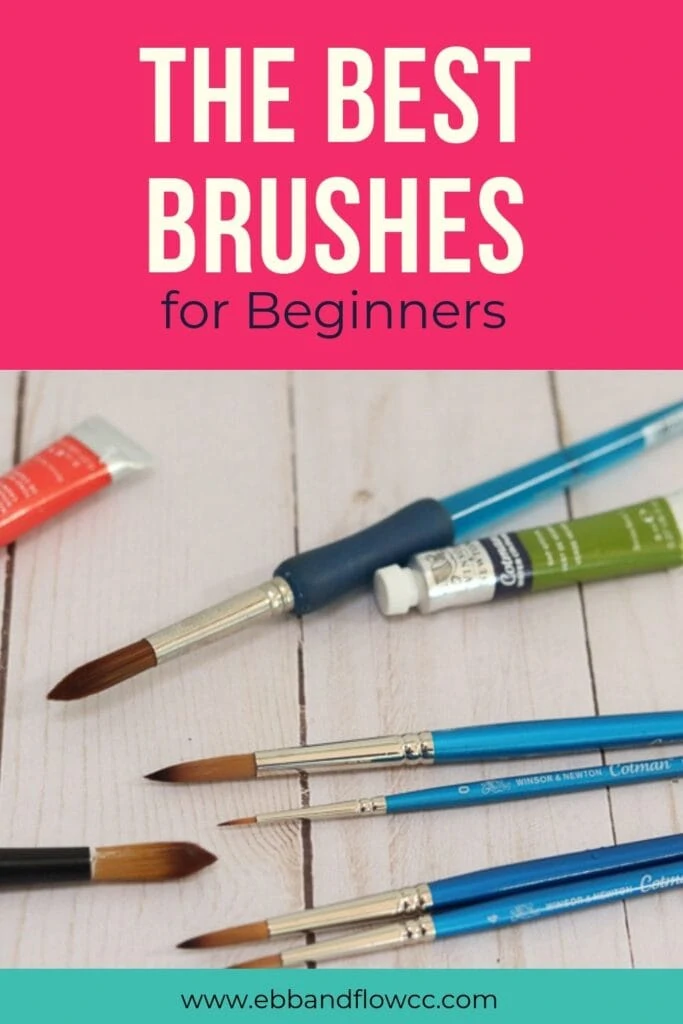 This post contains affiliate links. By purchasing an item through an affiliate link, I earn a small commission at no extra cost to you. As an Amazon Associate I earn from qualifying purchases.
I've included links to Blick where available because they often have better prices than Amazon. Plus, it's so much fun to shop at Blick!
The Best Watercolor Brushes for Beginners
Watercolor brushes are a key part of succeeding in learning to watercolor paint. You will want soft brushes that hold a lot of water.
Synthetic VS Natural Hair Brushes
Watercolor brushes are available with synthetic or natural hairs.
Although natural hair brushes are often suggested for watercolor, I think it's important to keep supplies affordable when you're starting out with watercolor.
I suggest buying a few synthetic brushes to start out with. Plus, synthetic brushes are better to mix paint with.
You can also try a synthetic version of natural hair. I just bought this synthetic squirrel brush and I'm surprised how much I love it. This brush holds so much water!
Brush Shapes
Specialty shapes aren't necessary with watercolor paint. My suggestions are to buy a few round brushes, a filbert, and a flat brush.
This brush pack is nice if you just want to buy a set. These brushes keep their shape and have a nice bounce back. (Blick link)
The Winsor & Newton line of brushes were the first nice brushes that I tried, but I've also discovered the Princeton line of brushes and love all of the Velvet Touch brushes.
Brush Sizes
Brush sizes are a matter of personal preference. I love smaller brushes because I like to have control and add a lot of detail.
People who paint with a looser style typically prefer larger brush sizes.
Learn more about watercolor brush sizes here.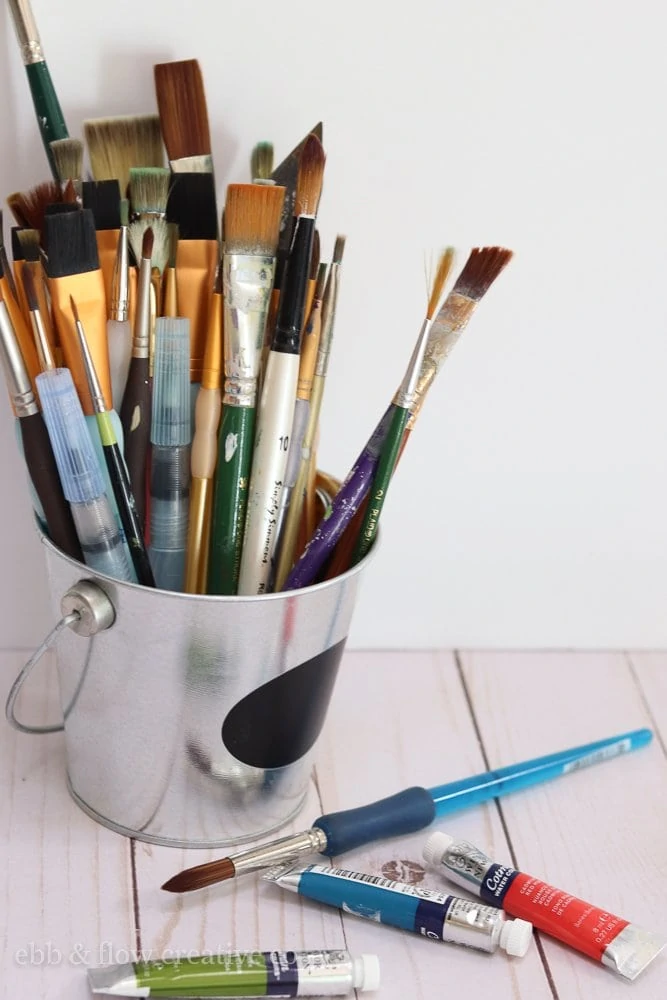 Round Brushes
If you only buy one shape of brushes, it should be round brushes. Round brushes are so versatile!
I mostly use round brushes for watercolor. Round brushes are great for creating shapes, as well as details. They easily make leaf shapes and are great for florals.
These hold a nice amount of water, which makes them perfect for watercolor. They're pretty affordable too.
My favorite sizes are 2, 6, and 10. If you like painting larger paintings, though, bet larger brushes. I've realized that I'm pretty unique in my preference for small brushes.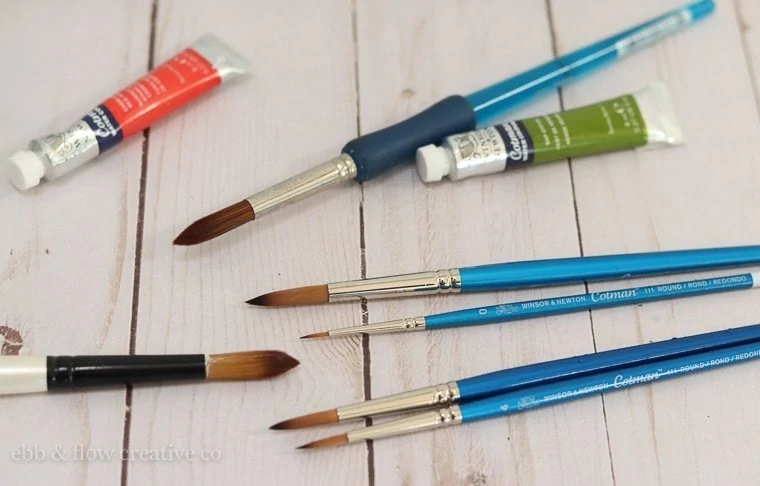 Liner Brushes
These are tiny round brushes that are used for line works and detail. If you can only buy one, start with the 0 round brush because I find it to be pretty versatile.
The 00 round brush is great for even finer lines.
Of course you can skip these if you don't work with tiny details.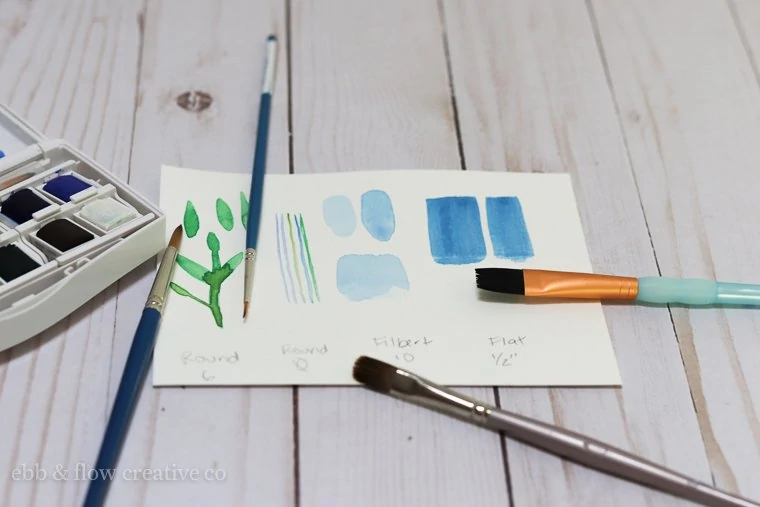 Filbert
Filberts have a rounded tip and are great for filling the larger parts of the paper. They're also great for creating larger florals and leaves.
I like the 3/8″ size of filbert the best.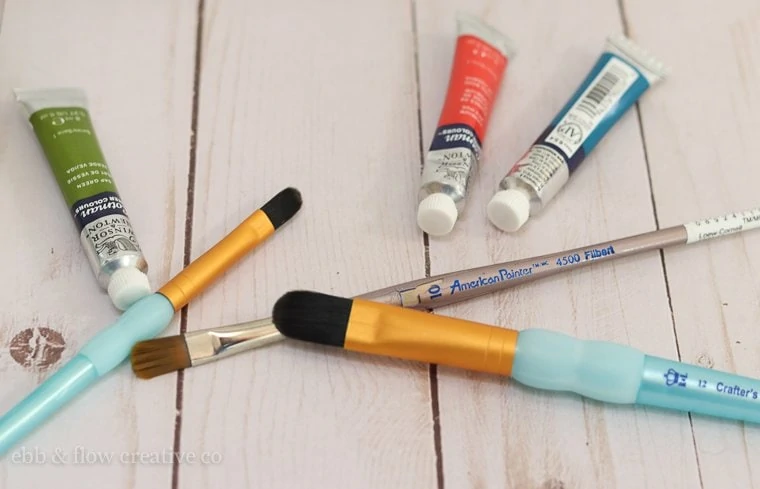 Flat
Flat brushes are used for washes. They're great for quickly filling backgrounds.
I like the 1/2″ size the best.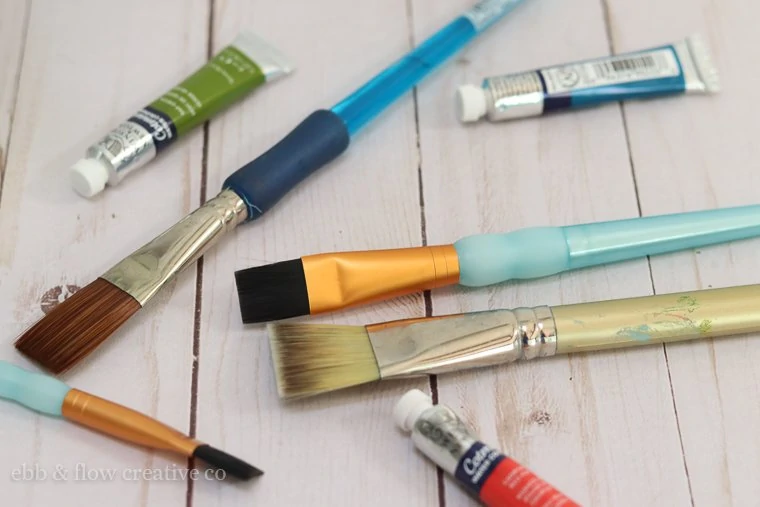 Waterbrushes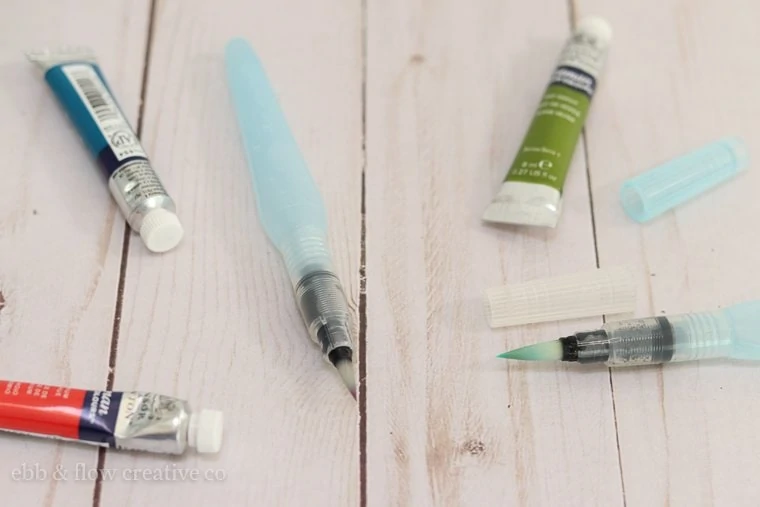 Waterbrushes are not necessary, but I wanted to talk about them here.
Waterbrushes hold water in the handle, making them great for creating on the go. The brush is a little stiffer than a normal paintbrush, so they're great for lettering.
You even can fill the handle with ink for lettering.
Since the brush is a bit stiffer, I don't love them for normal watercolor use. I would skip them unless you're into lettering or if you travel a lot.
Paintbrush Care
Keep your paintbrushes in shape with these easy tips.
Clean with water. Soap is usually not necessary.
Lay brushes flat to dry so that water does not sit in the ferrule (metal part) of the brush.
Don't use nicer brushes to mix paint It can ruin the shape of the brush.
Don't leave brushes sitting in water.
Get more tips for watercolor brush care here.
You Might Also Like:
Pin for Later!