The best watercolor palette depends on personal preference. Today, I'm sharing a few of my favorites and the reasons why I like them.
Watercolor palettes are mostly used for mixing colors, but they can also be used for storing watercolors.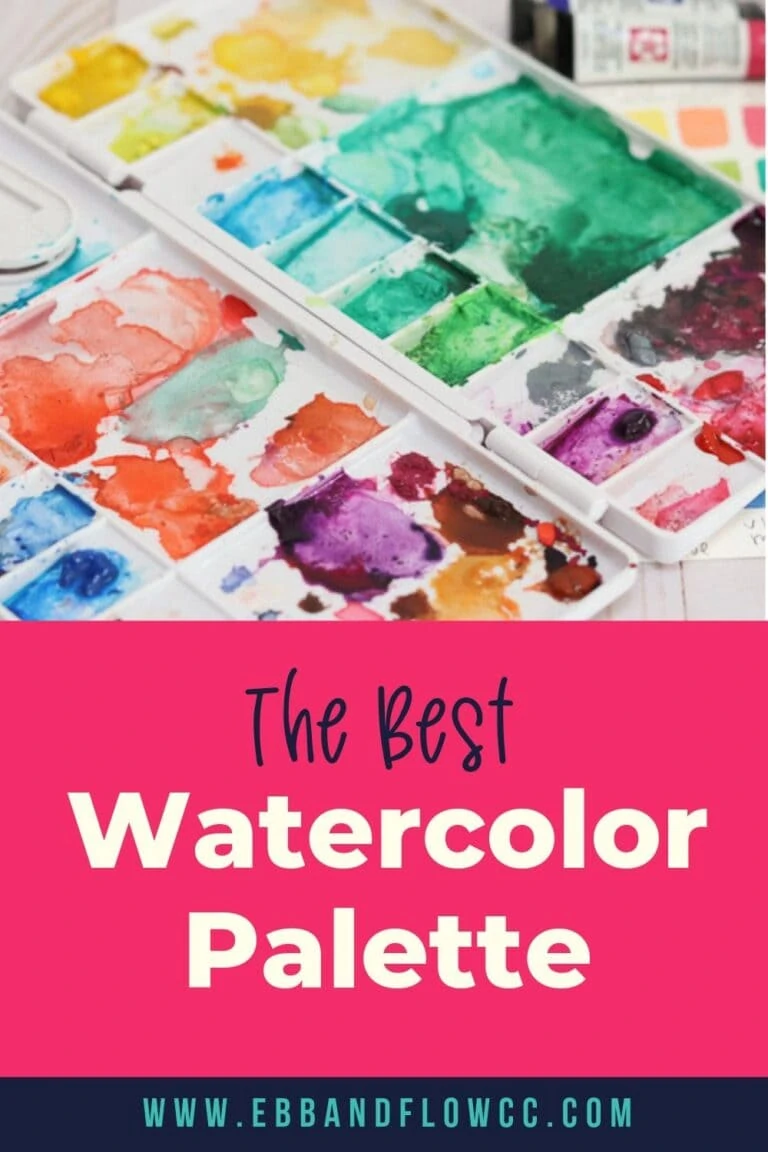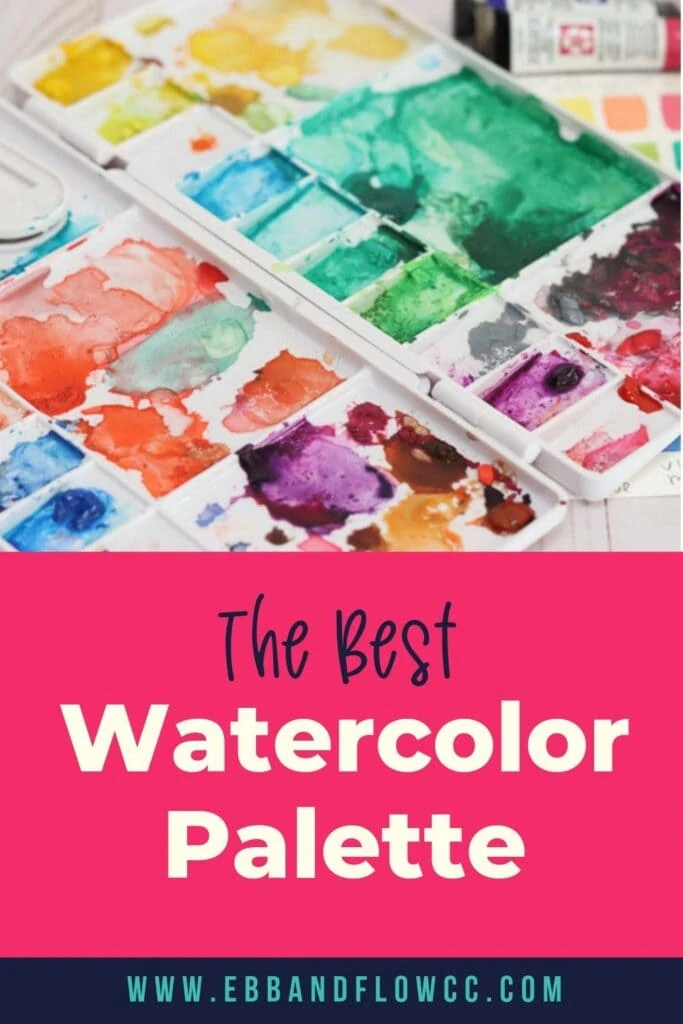 This post contains affiliate links. By purchasing an item through an affiliate link, I earn a small commission at no extra cost to you. As an Amazon Associate I earn from qualifying purchases.
I've included links to Blick where available because they often have better prices than Amazon. Plus, it's so much fun to shop at Blick!
The Best Watercolor Palette
Most Portable Palette
This portable watercolor palette closes and is perfect for travel since it has a thumb hole. This folding palette can also be used to hold paint from watercolor tubes. (Blick link)
Each side has plenty of space for mixing colors and it's easy to divide the space into color palettes (ie: all the yellows in this section, all the greens in this section.)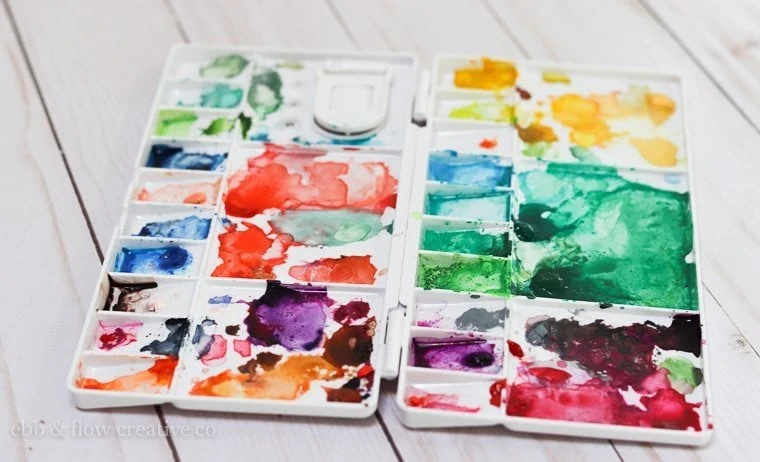 Pros
Inexpensive. Art supplies start to add up, so I love finding inexpensive supplies.
Great travel palette. The lid shuts and protects your paint.
Cons
Stains easily. Plastic palettes stain a lot easier.
Not air tight. If you have a pet, you may notice stray hairs get in.
Since the plastic isn't rigid, dry paint peels off easily. It's nice when you're cleaning it, but this isn't something I like when I open it...
Most Budget Friendly Palette
These ubiquitous art palettes come in handy for so many things. This mixing palette is also great for acrylic paint! (Blick link)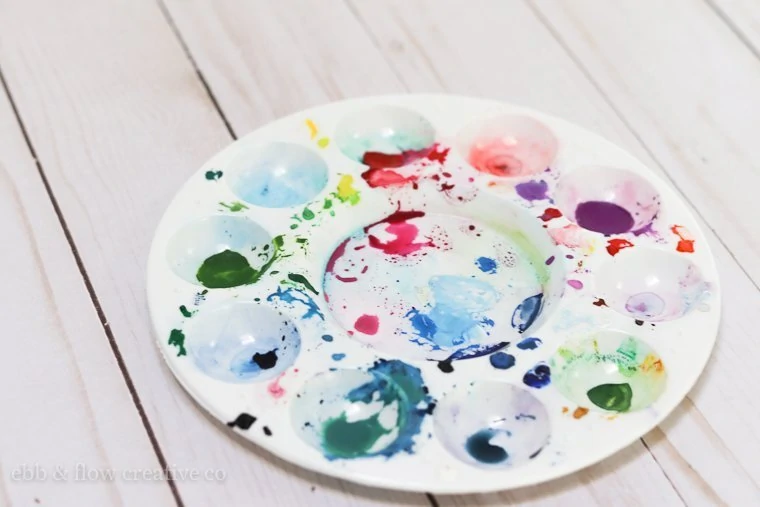 Pros:
Cost. These palettes are so inexpensive that if you ruin them, it's not a huge deal to buy a new one. I've started buying them in 12 packs because I use them so much.
Easy to find. Even the worst art supply shop carries these palettes.
Comes in different sizes. I have a smaller 6 well palette too.
Plenty of space for color mixing.
Cons:
Stain easily. Especially with liquid watercolor paint.
Not as pretty as some of the other options.
Best Looking Palette
This enamel mixing tray is actually a meat tray, but I've also seen them used as paint palettes, so I gave one a try. And I am in love. (Blick link)
They're gorgeous and remind me of the vintage enamelware that I love to collect.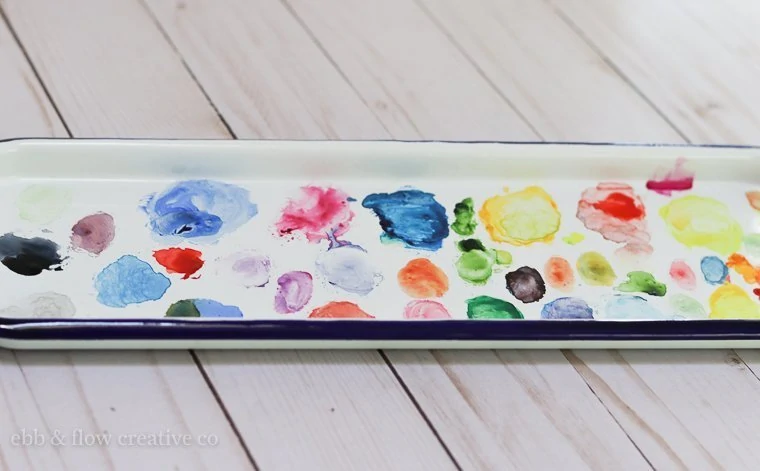 Pros:
Beautiful to look at. Perfect for photos and definitely Instagrammable.
Plenty of space. There is so much space to mix on this tray. Perfect for large amounts of paint! Or just tons of color.
Easy to clean. Paint wipes right off.
Cons:
More expensive. This is the most expensive palette I own so far.
Harder to find. I found mine at my grocery store, but I've never seen them in normal art stores. However, online shops carry larger versions.
Possibly too big for small work areas. This tray takes up so much space.
Only use with watercolor. I haven't tested it, but I don't think I would want to use gouache or acrylics with this palette. It's too pretty to ruin.
Least Likely to Stain Palette
This ceramic palette is also beautiful! The durable ceramic finish will withstand staining. (Blick link)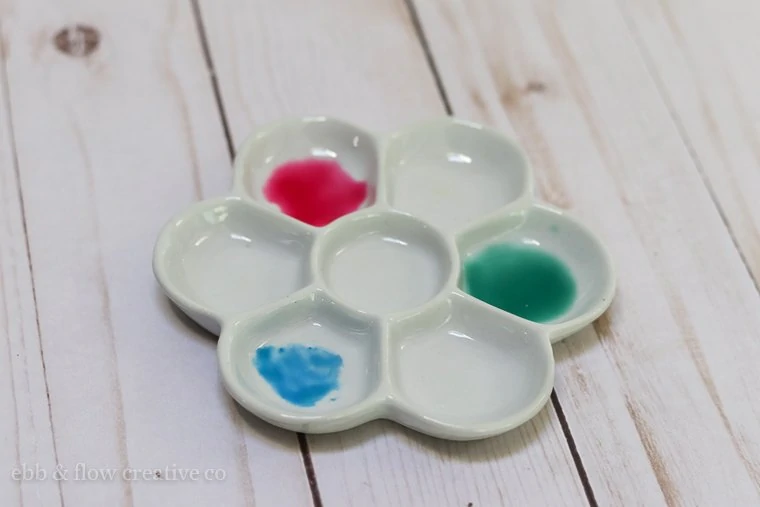 Pros:
Gorgeous to look at. It looks like a flower and feels so substantial.
Harder to stain. If the ceramic stains, I haven't seen it happen so far.
Easy to clean. Paint washes right off.
Cons:
Size. The one I bought is much smaller than I thought it would be, but there are larger versions.
Breakable. If it falls, it's going to shatter.
Not travel friendly. There's no way you want to pack this for travel. It's far too delicate and heavy.
Palette Paper
Palette paper is a new-to-me option. I have yet to use it, but I'm excited to use it for acrylics and gouache. (Blick link)
Pros:
Disposable. So no mess to clean up.
Works with the Sta-wet palette (see details below).
Keeps paint wet longer.
Cons:
Wasteful. Besides the paper you're wasting, you're also wasting paint.
Best Palette for Keeping Paint Wet
This sta-wet palette is perfect for acrylic gouache or acrylics, but it can also be used with watercolors to keep them wet in a dry climate. (Blick link)
Pros:
Keeps paint wet. Like I said, great for paints that easily dry out or hot days.
Seals tight. Which sound really nice for keeping stray dog hairs out of my palettes.
Cons:
Cost. This is the most expensive palette on the list.
Size. This thing is as big as a pad of paper, so if your desk area is small, this palette is probably not going to work well.
What's your favorite paint palette?
You Might Also Like:
Pin for Later!