Use these easy Etsy SEO tips to get your products found! Learn how to use keywords that potential buyers use to find your listings.
Get more Etsy shop tips.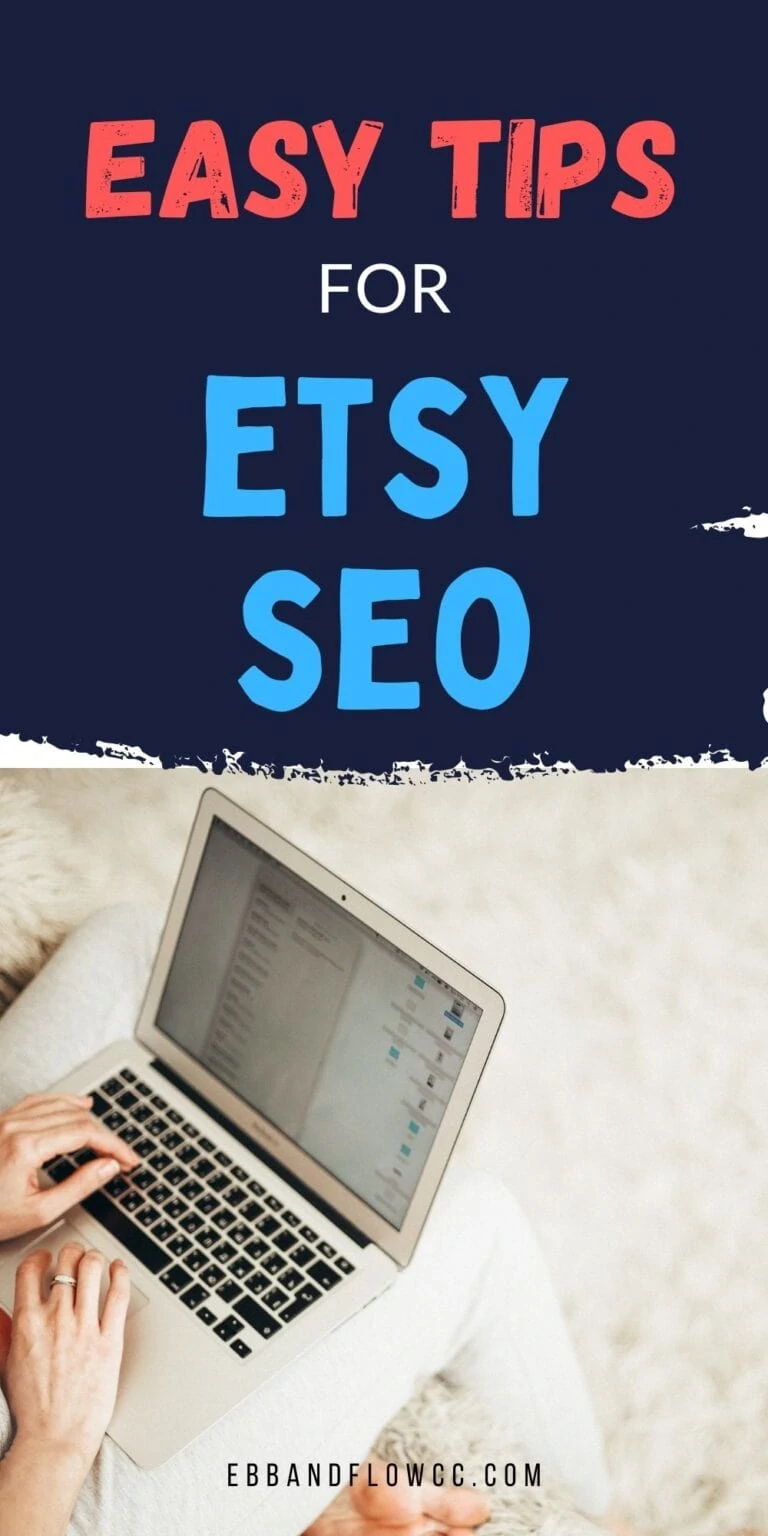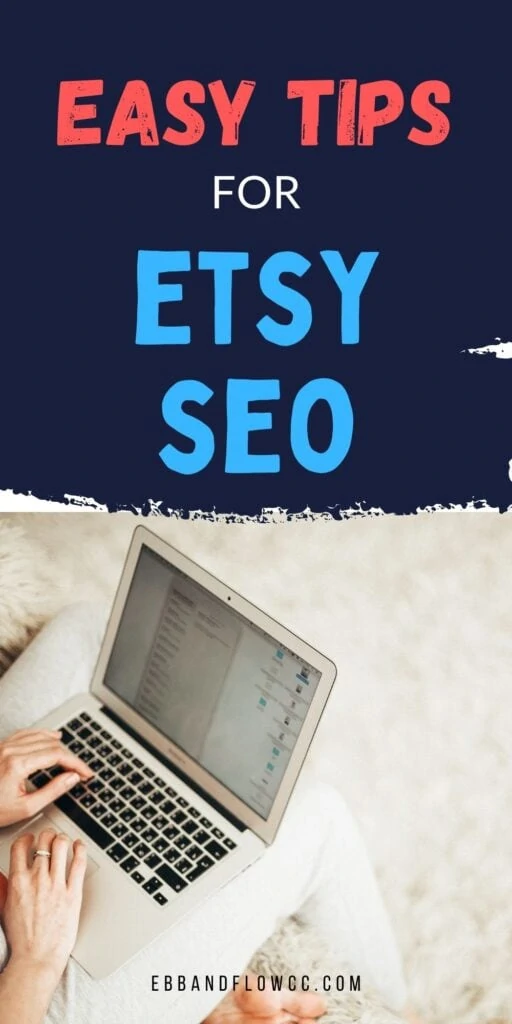 This post contains affiliate links. By purchasing an item through an affiliate link, I earn a small commission at no extra cost to you. As an Amazon Associate I earn from qualifying purchases.
What is SEO?
SEO stands for search engine optimization. That sounds scarier than it is.
It simply means the words that you use to find things. You use SEO keywords every single time you search for something online, whether you use a search engine like Google or a shopping site like Etsy.
These are the words that potential buyers use to find you.
Longtail VS Shorttail Keywords
When you're not sure about what you're looking for, you probably use shorter keywords.
When you know exactly what you're looking for, you probably use longer keywords (longtail keywords.)
For instance, when you start shopping for a "digital planner", that's probably the word that you search for. As you shop and learn more about digital planners, you narrow down your preferences.
Once you narrow it down, you might search instead for a "feminine digital planner for GoodNotes". And if you find one that fits your needs, you will probably buy it.
Longtail keywords will be easier to rank on Etsy. So get really descriptive with your keywords.
Etsy SEO Tips
Learning SEO can feel overwhelming, so I'm going to try and make it as simple as possible for you. If it feels too difficult, you're probably overthinking it.
SEO can take some time to work. On Etsy, it can take a month or longer to see results, so be patient. On Google, it can take 9 months to a year!
Try to please both Google and Etsy where possible. This might mean duplicating your listings with different photos and different item titles.
Use words that normal people use. Don't use technical words for your field. No one is searching for words that they probably don't use regularly.
What works well on one Etsy seller may not work well for you. You will see a ton of very successful Etsy shops using minimal SEO. That doesn't mean that it will work for you. In most cases, their shops have been around for a long time and they have plenty of sales in their history.
Test things out all the time. Take note of what works and do more of that!
Places to Include SEO Keywords
There are many places to include keywords for your shop and each listing. Don't worry if you can't get 100% of these though.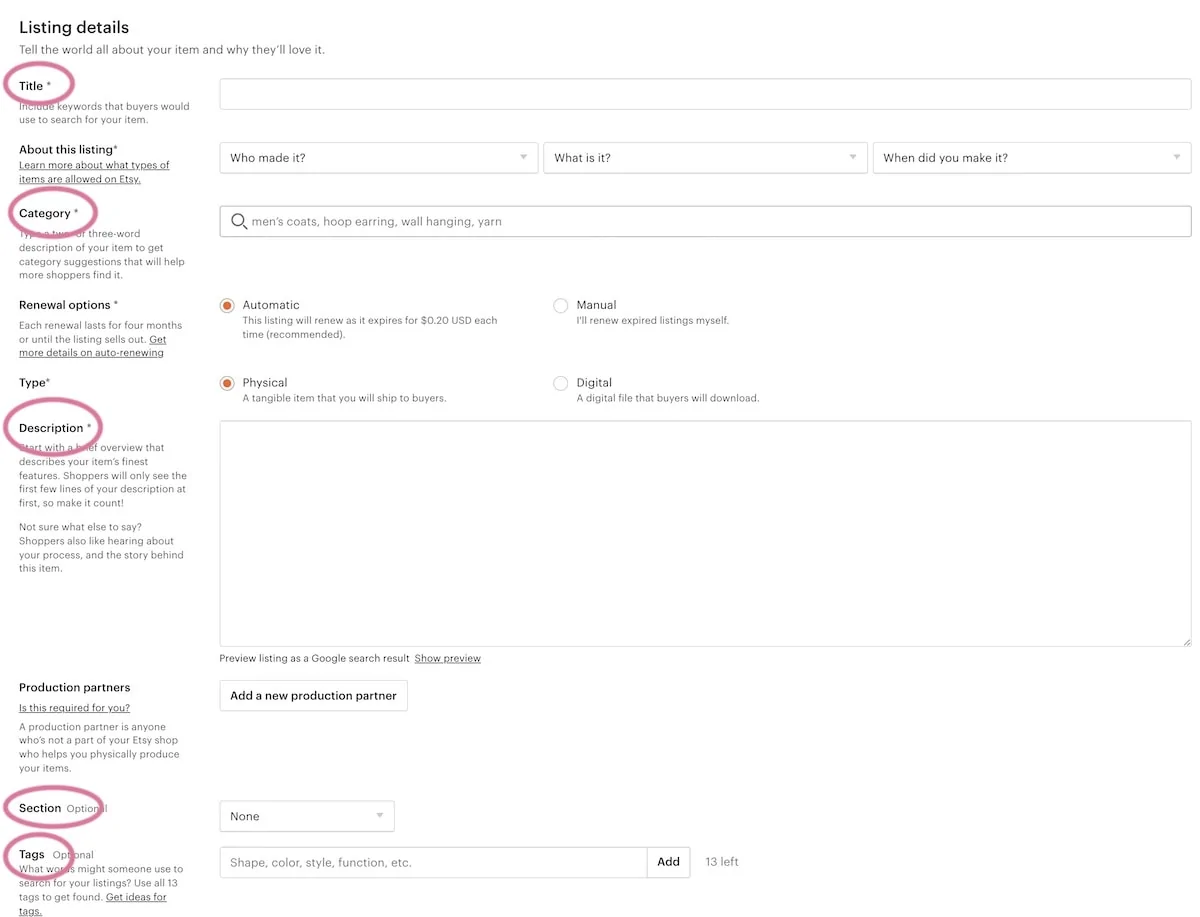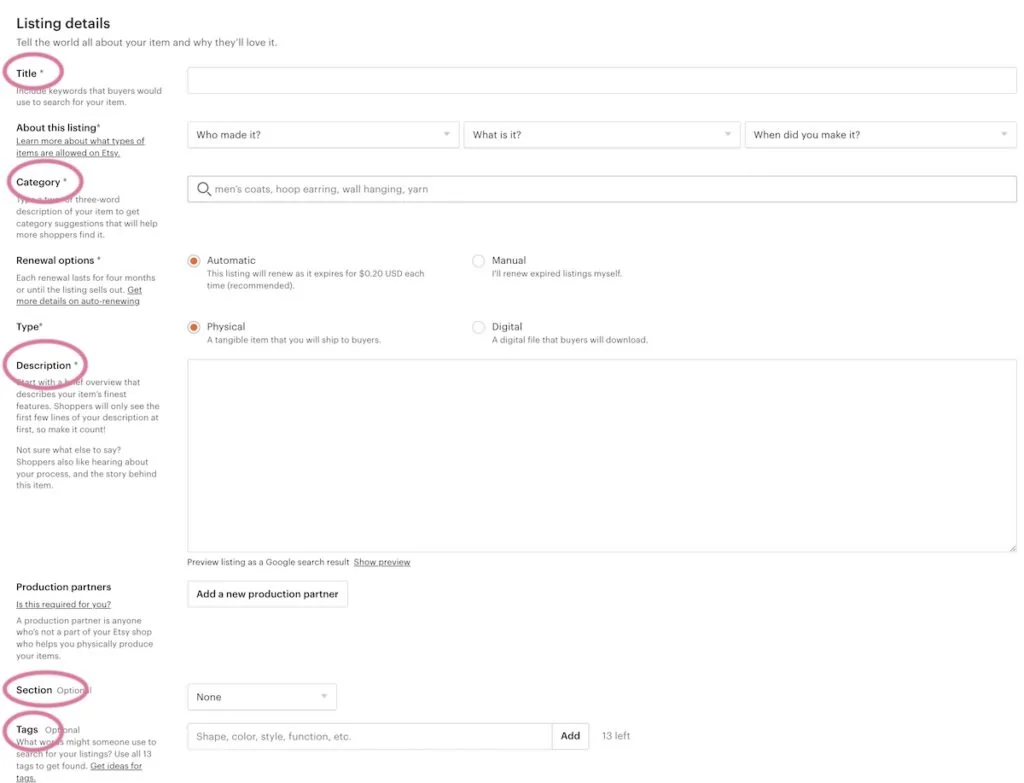 Shop Name and Description
Your shop name is a great place for more keywords. If you sell knitting patterns and your name is Nana's Knitting Patterns, there's no question about what your shop sells.
If you're like the rest of us though, your name doesn't reflect your products. And that's okay.
Just make sure to add it to the shop description if possible.
Shop Sections
Don't use cutesy names here or curlicue symbols. It might look cute, but it kills your SEO. Stick to what it is.
This also helps potential customers know exactly what you sell. Don't make them think too much.
Item Title
Alright, this is an area where it can go either way for accounts.
Some accounts do great with a very brief title name. Others do great with a ton of keywords and even keyword stuffing.
I try to marry both ideas and turn the title into a conversational sentence. So for my digital planner example earlier, I would call it a "Feminine Digital Planner for GoodNotes, Perfect for Floral Loving Goal Getters."
DO NOT use a cutesy name. No one is searching for your painting named "Lilith", but they are searching for "watercolor portrait of a lady".
This is also not the place to add your item number if you use them. Don't waste that space on something that means nothing to customers. (There's a place to add an SKU at the bottom of the listing info.)
Item Category and Attributes
This can be a tough one for digital download shops because we don't really fit in. Do your best and test a few different categories to see what works.
If your item accurately fits in a category or the attribute section, add it.
Item Description
Here's your time to shine. Add your keyword and variations of the keywords in the product description. This is also where you add all of the information about your product.
Ideally, you want your main keyword as close to the beginning of the description as possible.
Use keywords in every single place possible without keyword stuffing.
If you read it out loud and it sounds weird, you're not doing it right. You shouldn't sound like a robot.
Tags
Tags are another great place to add keywords. Keep in mind that you have a 20 character limit, so long words have to be broken up.
Don't repeat words. Use synonyms where possible.
Materials
This is another tricky one, but if it fits, it can work for you. The materials section is much easier to fill out for physical item sellers.
Remember to use words that normal people use. Don't say "6mm filigree chain". Say something like "silver chain."
For digital downloads, I normally put the file type, which is a keyword. So PDF or SVG works.
Other Places that May Matter
I'm not sure how much Etsy cares about these, but they can't hurt.
Image Names
Image names matter for Google, so it's possible that it matters for Etsy. Images that are properly named can show up in the Google image search.
Don't leave your images named IMG-4358. Change it to your keyword. If nothing else, you might get some google traffic to your listing.
Digital Download File Names
Once again, no clue if this helps, but it's helpful for your customer.
Keyword Research
They are many ways to find your keywords.
The easiest way is to open Etsy and start typing your general item name in the search bar. As you type, the word will autocomplete and may give you tons of ideas or variations for your word.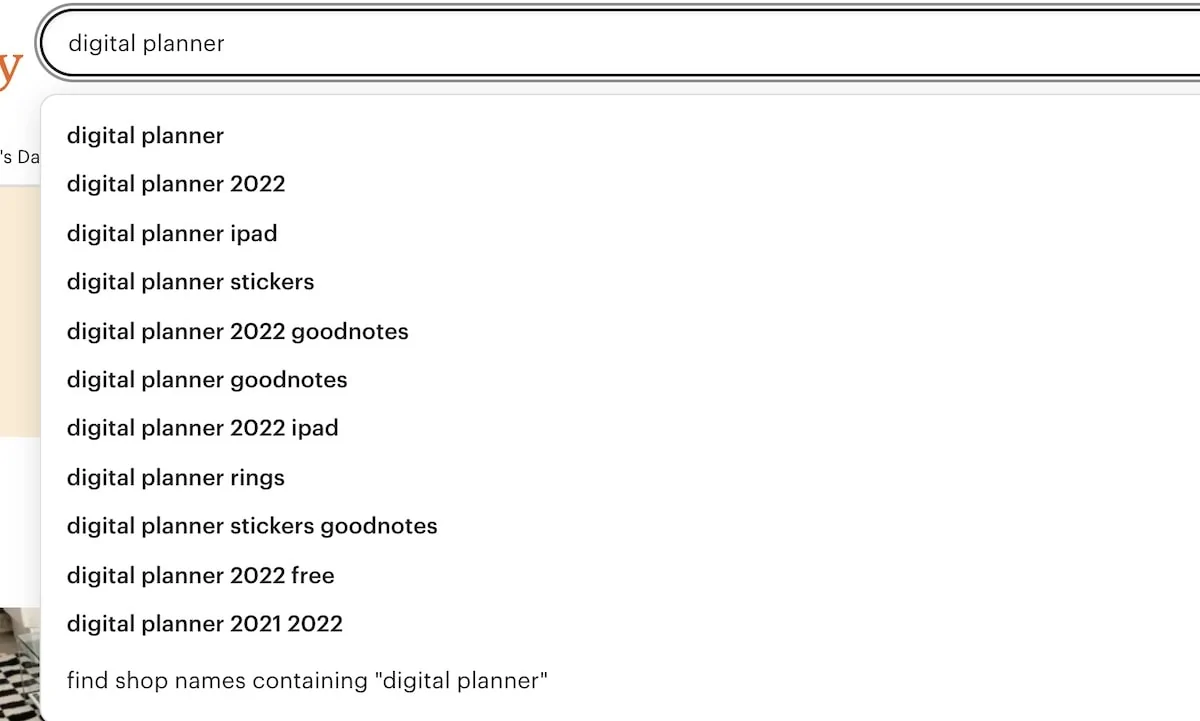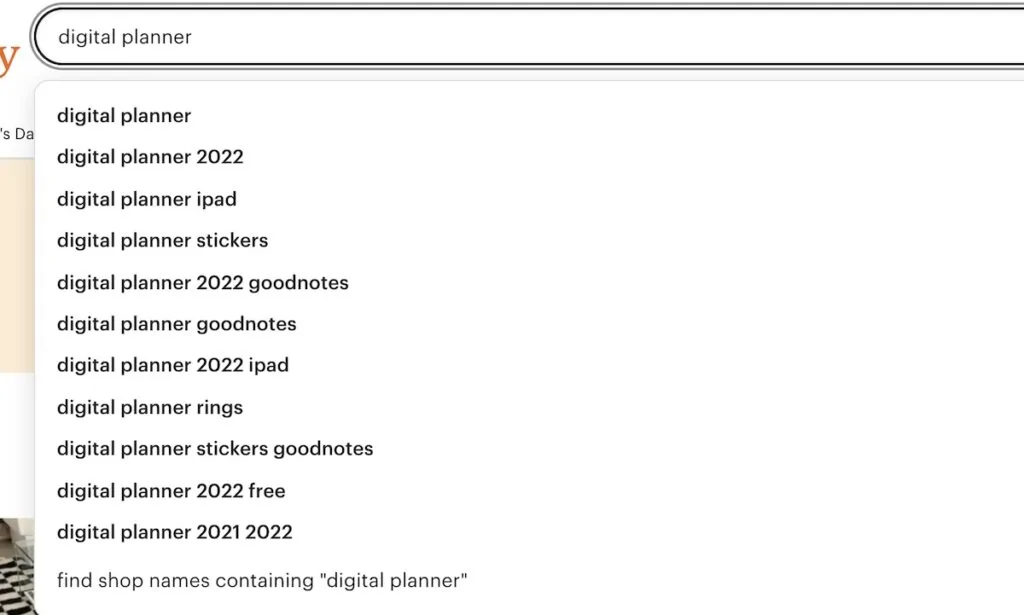 You can also find products similar to yours and see what keywords they are using.
You can also search Google or even Amazon to look at keywords.
Don't use words that don't accurately describe your product. (If you love that keyword, instead consider making your own version of that keyword for your shop!)
Choose keywords that are likely to be searched for, but are not super competitive. For the digital planner example from earlier, trying to rank for "digital planner" is going to be really hard.
But it might be easier to rank for "pink digital planner." Or "GoodNotes digital planner."
Paid Tools
There are a ton of paid tools that will help you do your research. My current favorite is E-Rank, but I've used Marmalead, Crest, and Sale Samurai as well.
You don't need more than one tool. They will give you conflicting information and you might end up more confused than when you started.
And just because you use these tools and get a perfect score, it doesn't mean that you've chosen a good keyword.
Etsy Ads
If you run Etsy ads, this is also a great place to find good keywords. It shows you exactly what people are searching for to find you. It also shows what you rank for.
This is also my secret way to find new product ideas. You can find some gold in those keywords!
You Might Also Like:
Pin for Later!