Wondering if Etsy is worth it? Read more about the pros and cons of starting an Etsy shop.
Learn more about Etsy with these simple tutorials.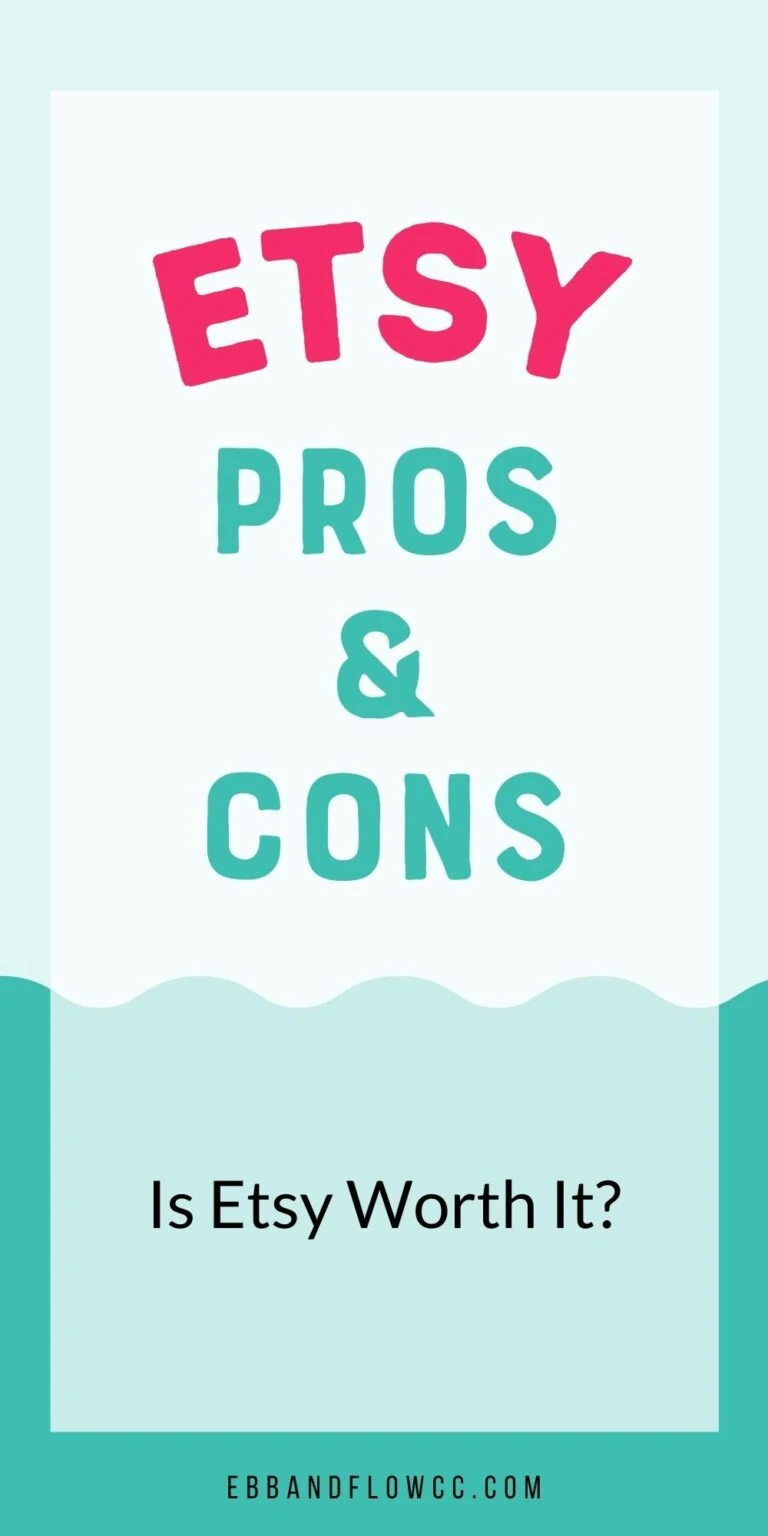 This post contains affiliate links. By purchasing an item through an affiliate link, I earn a small commission at no extra cost to you. As an Amazon Associate I earn from qualifying purchases.
I've had an Etsy shop for a few years now and I just started a second shop for this blog. In that time, I've learned so much.
In addition to my Etsy shop, I also sell at places like Creative Market and Design Bundles. I also have a Shopify store.
This gives me a lot of experiences to compare Etsy to.
You might also like this post on how to open an Etsy shop.
Pros and Cons of an Etsy Shop
As with anything, Etsy has its good stuff and bad stuff.
Pros
Built-in Audience. Etsy already has shoppers who are looking for cool products, so it's much easier to sell on their platform than somewhere like Shopify where you have to drive your own traffic.
Works Well with Google. Etsy items show up for Google searches all the time, so you're also getting traffic from google. Since Etsy is a trusted website, Google shows these items more than items from a tiny, unknown shop.
Trust. Etsy is a trusted name and website. People know it, have shopped there before, and are comfortable putting in their credit card number. They might hesitate if they don't fully trust you or your website.
Great Analytics. Analytics is my favorite way of knowing what is working and what isn't. Some platforms limit the data they show you, but Etsy shares everything. I love their analytics.
Digital Products Allowed. This means that you can make a passive income on Etsy instead of slaving away making products every day. This also means you can sell more items.
Easy to Use. Etsy is by far the easiest platform to use. You don't have to worry about navigation issues (Shopify is so confusing.)
Ads are Easy to Use and Affordable. Etsy ads are one of the easiest platforms I've ever used and actually make a difference for not that much money.
Cons
Fees. You're not charged a monthly fee like Shopify, but you are charged fees for each listing. It's not much, but it can add up over time.
No Way to Add Customers to Email List. Repeat customers are one of the easier ways to make money, but it's hard to get those customers on your email list.
Handmade Items Only. They do allow digital and print-on-demand, but if you want to sell wholesale items, you're not allowed unless you're selling craft supplies.
Some Niches are Saturated. Saturated niches can be harder to be seen in. You will really need to study SEO (search engine optimization) to be successful.
Etsy Can Shut You Down. Shops have been shut down by Etsy. However, there are very clear rules that are easy to follow. Most shops that have been shut down seem to be for selling things that aren't allowed. Read the Seller's Handbook if you are concerned.
Is Etsy Worth It?
I think Etsy is still worth it. The built-in audience alone is worth all of the cons. If you've ever tried to build traffic for a website, you know how hard it can be.
The fees are minimal and there are ways to get Etsy customers on your email list (like offering coupons to subscribers.)
Get 40 Free Listings When You Open an Etsy Shop!
Click here to get 40 free listings when opening a new Etsy shop.
You Might Also Like:
Pin for Later!