This epic list of digital products to sell on Etsy will give you plenty of inspiration for starting a passive income business.
Get more tips for starting an Etsy shop.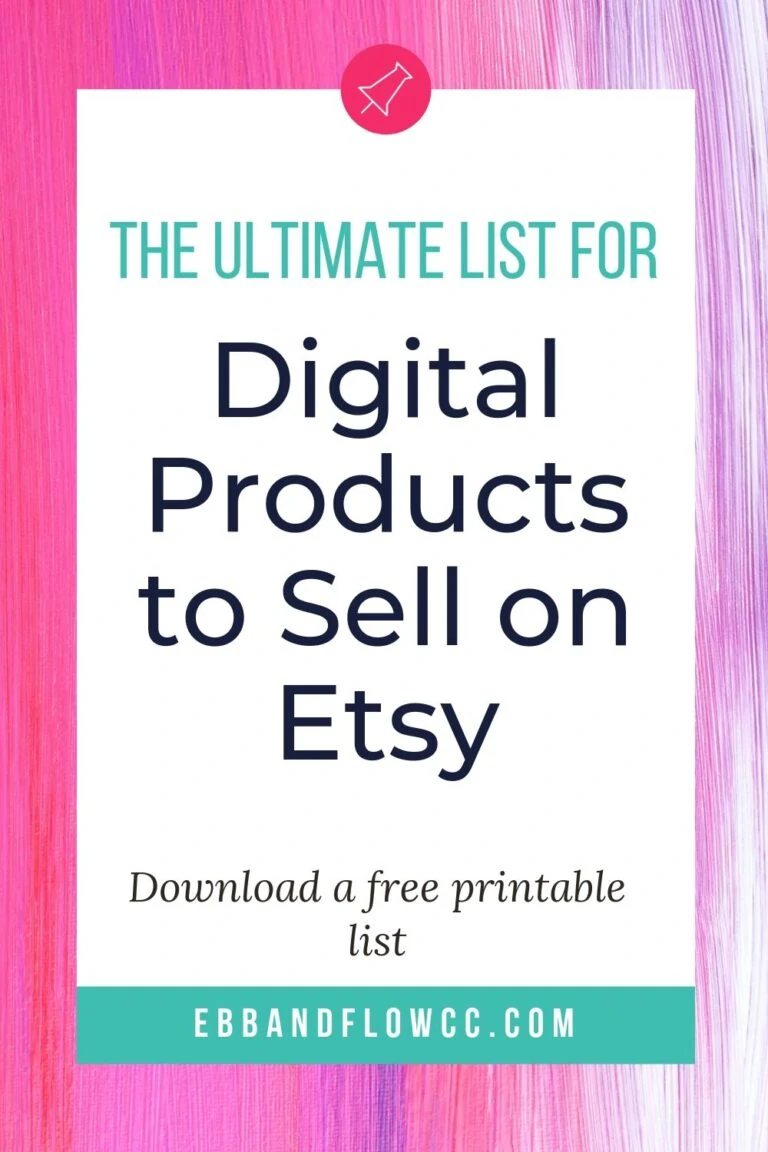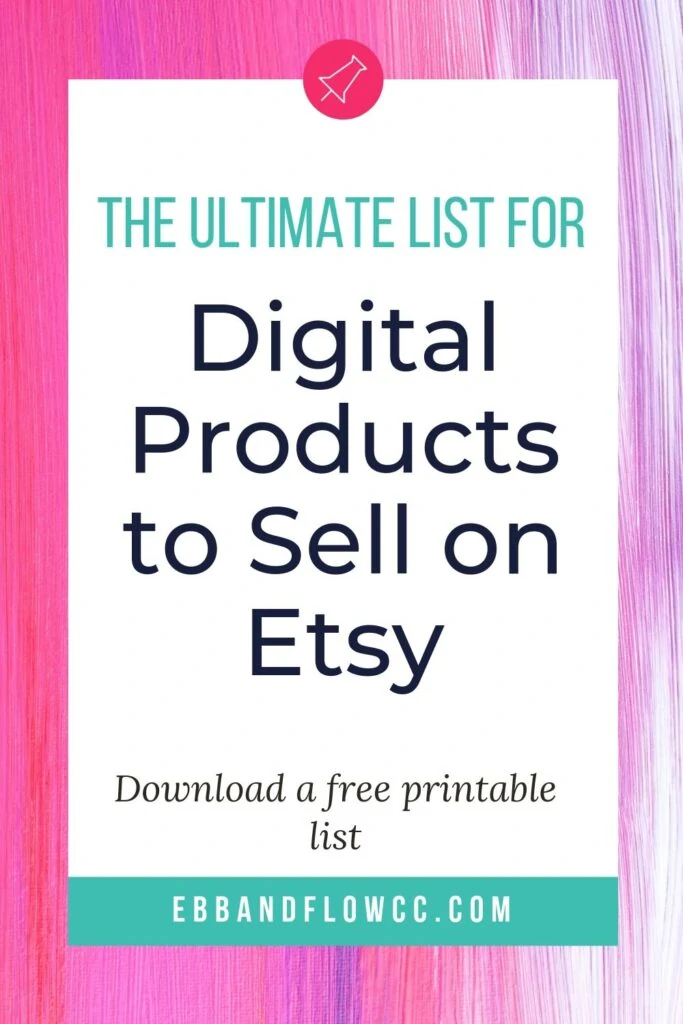 Passive income is my favorite type of income. I spent a year painting furniture to sell and I've earned more income from blogging about them than the actual furniture sales.
And even after that furniture has left me, I will continue to make money from those tutorials.
But this isn't about passive income through blogging. It's about choosing digital products to sell on Etsy.
This post contains affiliate links. By purchasing an item through an affiliate link, I earn a small commission at no extra cost to you. As an Amazon Associate I earn from qualifying purchases.
Why Sell Digital Products?
Low overhead cost. Besides software for creating the products, your costs are pretty minimal. That means that your profit is a lot higher than when you have to buy supplies.
Time. Making physical products takes time, then it sells and you have to make another one. Digital products are made once and sold over and over again.
Ease. I can sell stuff while I'm sleeping. As a person who has a chronic illness, this feels good that I don't have to hustle on days when I don't feel well.
It's fun. I love creating digital products so much that I gave them away for years on my other blog. I even give some away on this blog!
Convenient to Buyers. I love providing convenient products for my customers. They can buy a digital product the day before a big event and just print it out. No need to wait on shipping. And no need to pay for shipping!
Best of all, Etsy has customers who visit every day looking for digital downloads. There's no need to drive your own traffic!
Interested in setting up an Etsy shop? Read these easy tips.
My Experience Selling Digital Products on Etsy
I started selling digital downloads on Etsy about 2 years ago. Since then, I've sold over 1500 products. I make between $50 and $200 a month without a lot of effort.
The only effort is listing the item and answering the occasional question from customers.
Being an Etsy seller is only part of my business strategy and it gets quite neglected.
I believe that my sales would be much higher if I put more effort into my shop. Etsy rewards those who use the platform consistently. So the more you upload, the more sales you get.
Selling digital downloads on Etsy is totally worth it!
Confused about how to make images for Etsy? Read more about it!
So which product should you make?
The best-selling Etsy stores are ones that have thousands of items. What category can you make a ton of items for? What are you interested in? What do you LOVE making?
I started with planner printables, but I quickly bored of making them because although I use my planner like crazy, I don't spend time embellishing it with stickers.
On the other hand, I do love crafting with vinyl, so cut files do better for me.
Other Considerations for Selling Digital Products
Do your market research before you get started. Search for digital downloads and see what stands out to you. Do you see a gap in the market that you can fill?
Stand Out from the Crowd
Look at other digital products for inspiration, but not to copy. You're looking for the gap in the market. With thousands of sellers on Etsy, you need to stand out.
For instance, if everything is watercolor florals, go with boldly colored geometric designs. If everything is black and white, add some color and graphics. (There's a reason I chose bright colors for Ebb and Flow CC branding!!)
Did you know that there are a lot of other options for places to sell digital downloads, besides Etsy?
Seasonal vs Evergreen
Seasonal products are products made for special occasions or holidays. They sell better during that season.
Evergreen products are products that can be used every day.
My best products are seasonal products. Sure the evergreen products sell all year, but the seasonal products do fantastic in that season.
Have a mix of both unless your niche is specialized.
Digital Products to Sell on Etsy
This list does not include services because services are not passive income. However, services are a "digital product" that you can sell on Etsy as well. These are generally custom-made items you make for the customer.
Scroll down to download the printable PDF version.
Art
Printable artwork is popular because it appeals to the budget-conscious crowd. The art ranges from simple quotes and typography to detailed original artwork.
Art for specific rooms. Printables for nurseries, kitchens, offices, and bathrooms are all popular on Etsy.
Photos. Landscape and floral photos do well.
Quotes. (Check for copyright before making.)
Get easy tips for creating art prints to sell on Etsy!
Cut Files (SVG's)
Not all Cricut and Silhouette owners know how to design their own designs. Plus, sometimes it's just easier to buy a design.
Quotes. General sayings are popular on Etsy. Be sure to check copyright information before starting your design. You'd be surprised at the dumb words that are copyrighted. You can use fonts that you have the rights to use or hand-letter them.
Images for t-shirts. Cut files for kid's shirts are really popular.
Images for decor. Think about images for sign-making or other decor items.
Digital Scrapbook
Scrapbook Kit
Backgrounds
Clip Art Images
Ebooks
Personally, I wouldn't sell an ebook on Etsy, but there are plenty of people that do. (Gumroad seems to be the better choice, though Etsy has its own traffic.)
Cookbooks
Meal Plans
Exercise Guides
Tutorials for Your Niche
Workbooks
Graphic Design Elements
There's a huge market for graphic design elements because they make design projects easier. Some are easier to make than others. For instance, fonts and mock-ups require more skills than something like background patterns.
Clip Art (Illustrations and graphics)
Stock Photos
Logos
Textures
Fonts
Backgrounds
Mock-Ups
Etsy Cover and Header Images
Brushes
Pre-sets
3D Print Files
Get tips for selling Procreate brushes here.
Other Printables
Labels
Coloring Pages
Stickers
Teacher Printables
Checklists
Chore Charts
Paper Dolls
Paper Crafts
Party Supplies
You can target so many different events, like baby showers, birthday parties, holidays, and weddings.
Invitations
Party Games
Party Decorations
Party Favors
Gift Tags
Greeting Cards
Patterns
Embroidery Patterns
Knitting Patterns
Crochet Patterns
Quilt Patterns
Sewing Patterns
Woodworking Plans
Cross Stitch Patterns
Planners
Planner printables can also be made for specific planner types, like the bullet journal, Erin Condren or Happy Planner. You can also target specific events that need to be planned like weddings, parties, or even gardening.
Calendars
Planner Stickers
Planner Page Inserts
Planner Kits
Wedding Planners
Spreadsheets
Are you a whiz at Excel or Google Sheets? Share the love with pre-made spreadsheets.
Budgeting
Inventory Tracking
Business
Household
Wedding
Templates
Logo Templates
Resume Templates
Business Card Templates
Paper Craft Templates
Social Media Templates
Web
Website Themes
Plugins
Branding Kits
Premade Banners
Premade Logos
Psst: Want to learn how to make your own digital downloads? This post has a downloadable cheat sheet for sizes and formats!
Selling Digital Products on Etsy FAQs
How does Etsy digital download work?
On the seller's end, you create the design and package it up. You list it after doing the SEO (search engine optimization) research. This helps your product get found.
You upload the file (Etsy allows 5 files with a max of 20 MB each.)
On the buyer's end, they purchase the item and it is available for instant download. Sometimes they get an email with the link, sometimes it just pops up. It is always available in their user account under purchases.
I've had problems with guests who don't have an Etsy account not receiving their download link. In those cases, I upload the zipped file to google drive, share it, and send them the link in the conversation area. (Make sure they've paid!)
How do you make files smaller for uploading to Etsy
If you've created a PDF in Adobe Illustrator, turn off the capabilities for editing the PDF. This protects you from theft (resellers) and it also makes the file a LOT smaller.
Zipping files also makes them smaller.
Flatten the image as much as possible.
Break the download into different zip files if possible.
The last option is to upload a file that links to a google drive where it's uploaded and shared. Then create a PDF with the link to upload to Etsy.
How do you handle returns on digital products?
It's stated in my policies that I do not accept returns on digital products.
However, every now and then I have a customer who can't open the product or has another problem that can't be solved after troubleshooting the product.
I refund the money because it's not worth getting a bad review. It's also not worth it to spend hours helping someone for a $4 item... Just refund the money.
How much does it cost to sell on Etsy?
Etsy costs $.20 to publish a listing, a 5% transaction fee, and 3% plus a $.25 transaction fee.
Make sure that your product is priced high enough to cover these costs, plus still make a profit.
Here's a handy calculator to help you with pricing.
I'm afraid that my product isn't good enough.
Just do your best and get a product out there. You'll never know if you don't try. And if your first item doesn't embarrass you, you waited too long to put it out.
What if I don't know where to start?
I highly recommend this affordable course on making printables. Tracie teaches you how to make printables with cheap and free software.
This course is perfect for beginners who don't have access to expensive software but still want to make printables.
You will love Tracie's down-to-earth teaching style. I've taken a lot of courses and I love that she never includes fluff. Plus she keeps the information simple without overwhelming people.
Download a Printable List of Digital Products to Sell
These downloads are for personal use only. Please do not redistribute or sell.

Dear teachers and students: this download will not work if you are trying to access it when you are logged into your school email account. Try a personal email account instead.
Interested in opening your own online store with Etsy? Get 40 free listings with this link.
You Might Also Like:
Pin for Later!