How to Sell Procreate Brushes
Get easy tips to sell Procreate brushes online. Learn about where to sell, what to consider, and how to price your brushes.
You might also like this post on selling Procreate palettes.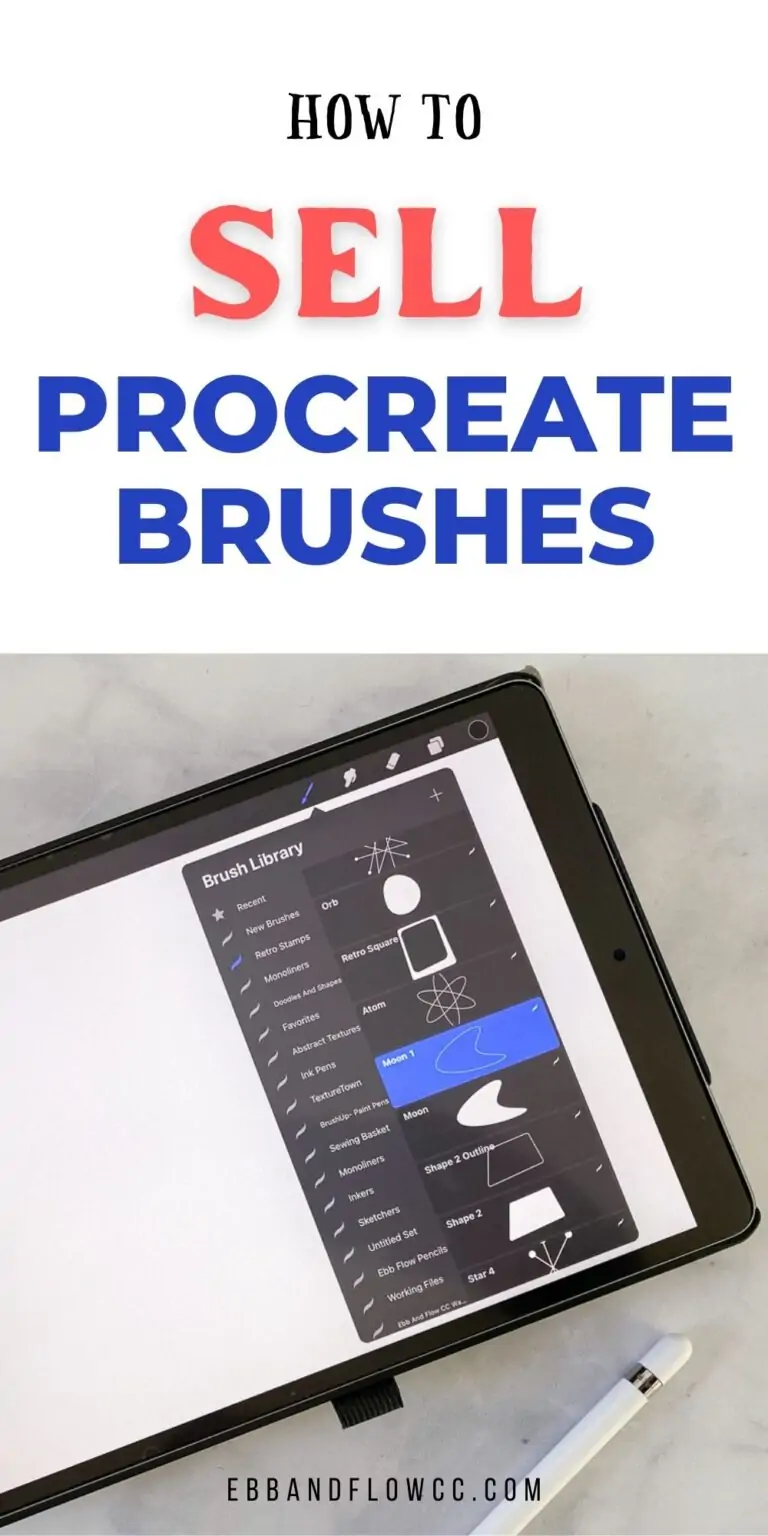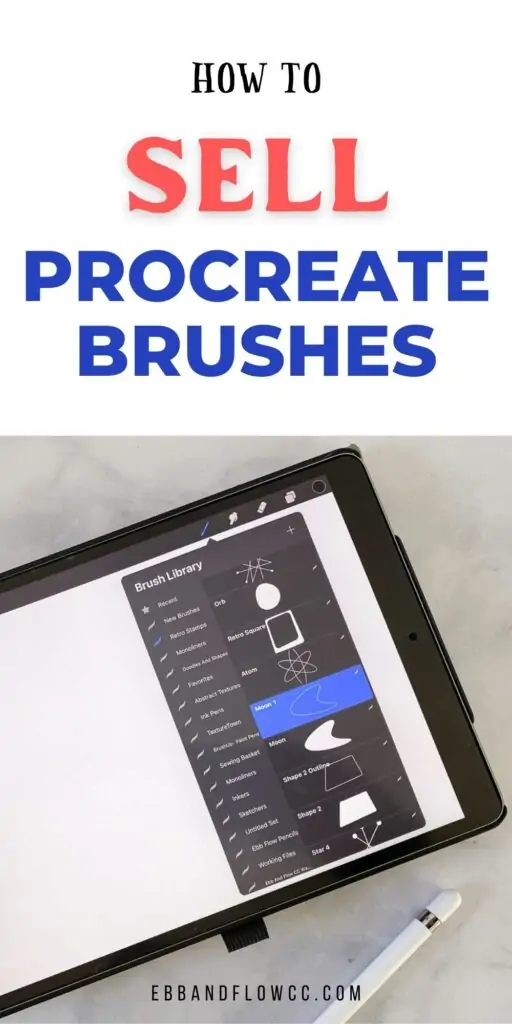 This post contains affiliate links. By purchasing an item through an affiliate link, I earn a small commission at no extra cost to you. As an Amazon Associate I earn from qualifying purchases.
If you're anything like me, you've fallen in love with making Procreate brushes. It's so much fun to play with the settings and create new brushes with unique properties.
Selling your Procreate brushes is a great way to earn some extra cash. Best of all, like all digital downloads, it's passive income!
Things to Consider Before Selling Procreate Brushes
There are a few things to consider before you start selling Procreate brushes.
Where to Sell
There are so many places to sell your brush sets. That post has more in-depth information, so I'll keep this part brief.
Online Marketplaces
Selling through online marketplaces is nice because they already have an audience. However, each marketplace charges a percentage of your sales, plus fees. Some of the places can also be difficult to get accepted as a seller.
Here are some of my favorites:
If you're interested in starting an Etsy shop, I have a whole series to help you get started.
Get 40 free Etsy listings here.
Your Own Website
With your own website, you are responsible for driving all of the traffic, but you also have more control and you get a higher percentage of the profit.
Shopify (Technically this can be through shopify, but it's better to host it on a sub-domain)
I sell Procreate brushes on Etsy, Creative Market, Design Bundles, and in my Shopify shop.
If this is all really overwhelming, start with an Etsy shop. It's pretty easy to set up and you have a built-in audience.
Research Products
When I say research, I don't mean copying others.
See what types of products are popular and determine if you can make them unique somehow.
Trends
Look for trends. Go shopping and see what you see a lot of. Look at items with surface design, like wrapping paper, fabric patterns, and stationery. Can any of those trends become brushes?
For instance, a few years ago llamas were everywhere. So a set of llama stamp brushes might have been a good idea.
Fill a Need
The best products are the ones that fill a need that currently doesn't exist. So for brushes, it would be brushes that you wish existed.
Basics
I also like creating basic brushes. You know, the ones you've made and use every time you draw in Procreate. Is there any way to bundle your faves into a set?
Stamps, Patterns, and Texture Brushes
I also like making and selling stamp brushes. With stamp brushes, the sky is the limit! It's possible to make really unique stamps, patterns, and textures.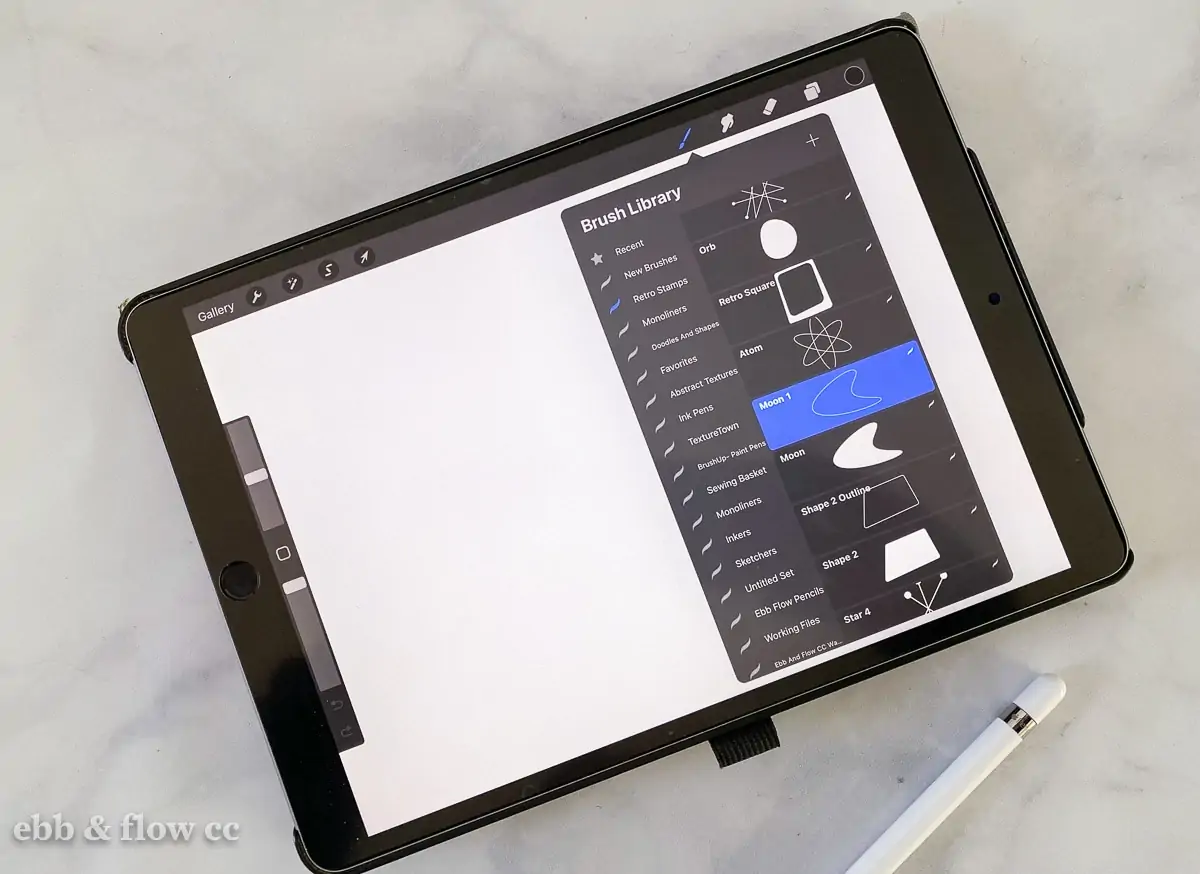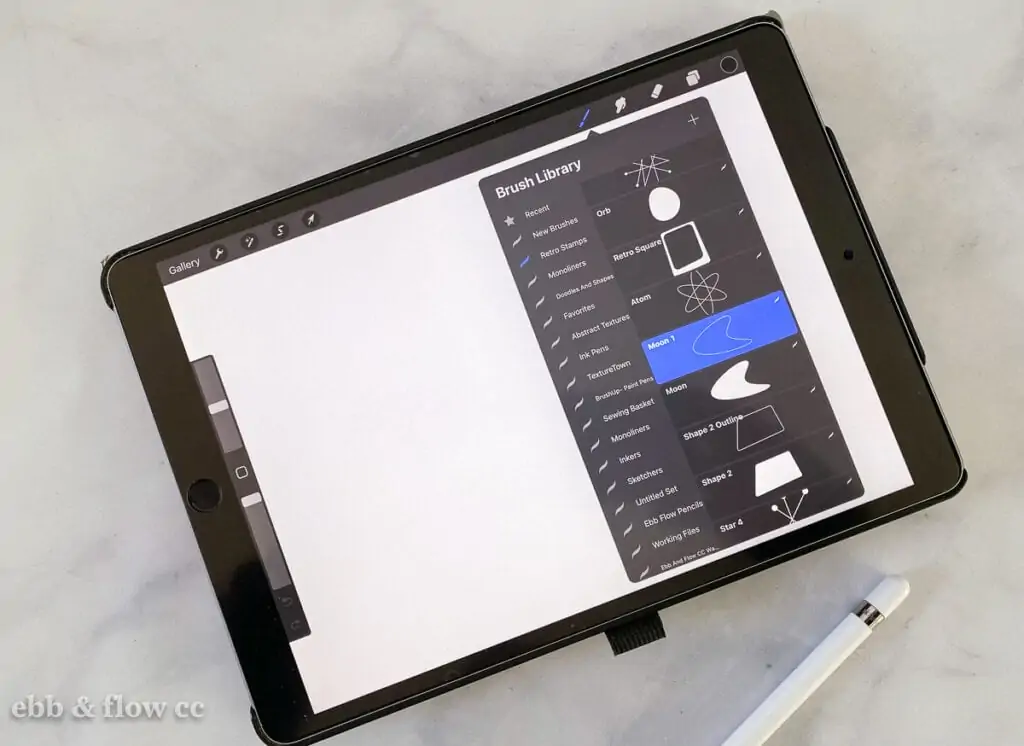 Pricing Your Brushes
Pricing digital items is hard because it doesn't fit into the normal handmade pricing formula that includes materials.
Some marketplaces will determine the price range. For example, Etsy seems to be on the lower end. Marketplaces like Creative Market have a minimum price that they suggest for most items.
It's a good idea to look at similar sets and see what they charge. There's usually a range.
Unless you are including a ton of free goodies, like paper textures or bonus brushes, your brush sets need to be in the middle range.
Don't be the discount seller. It hurts everyone. Value your work.
How to Sell Procreate Brushes
Now that you know where you're selling, what brushes you're making, and how to price them, it's time to get started making the brushes.
Making Your Brushes
I have an entire section of my blog dedicated to making specific brushes. It's too much to cover in this post, so here are some tips to make your brushes the very best for your customers.
Make sure that your version of Procreate is up to date so that you have all of the latest features. The newest version includes some really cool brush features.
Test, test, and test some more. This is my favorite part. Draw with the brushes to make tweaks.
Once you're happy with the brush, name it and give it a reset point. Just make sure that you're really done with it.
If you're selling a set with many brushes, make sure that they're different enough from each other.
I always have a set of "working files" in my brush menu. If you work like that too, make sure to move those final brush versions to a new brush folder.
If you have sets of brushes that kind of work together, package them together as a bundle at a discounted price.
Packaging Your Brushes
Once you've made your brushes and named them, it's time to package the files.
It's best to organize your brushes from the beginning. I keep folders for each brush stored on my iPad and my computer. This helps me upload the files to my shops.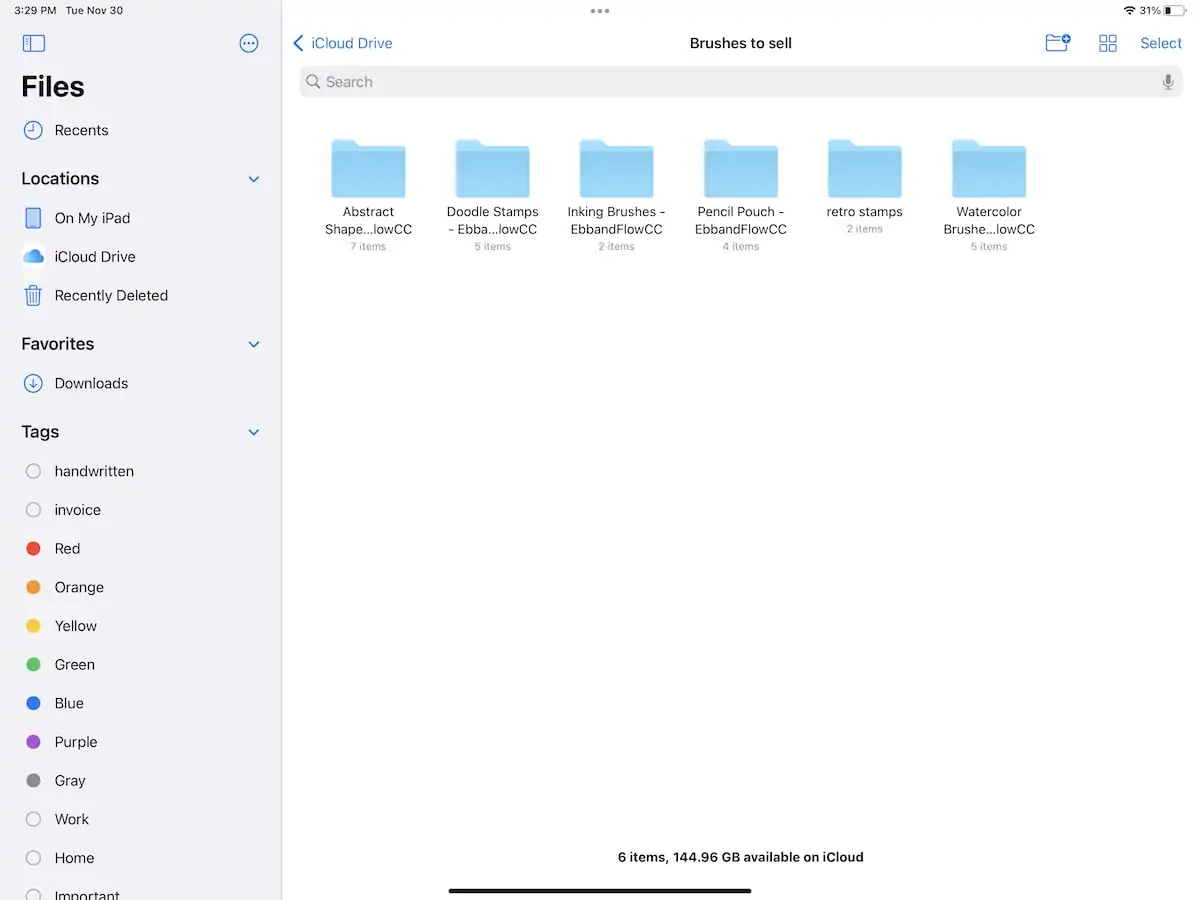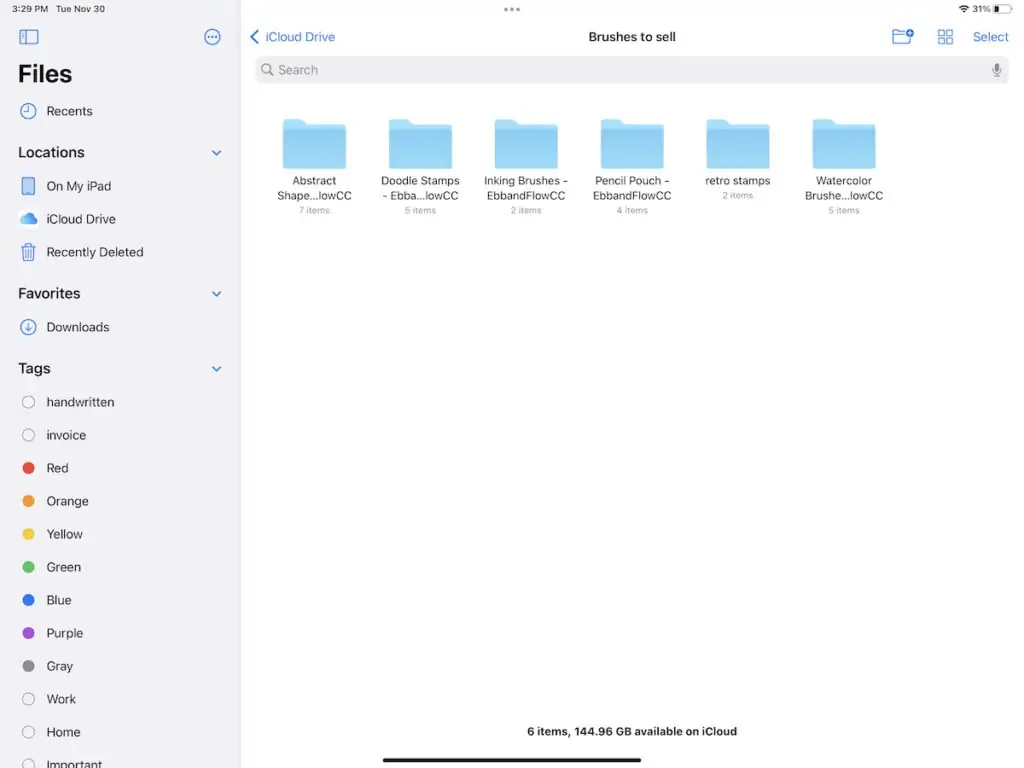 You can just sell the brush set, but I like to make my sets inclusive for people with older iPad versions, so I also include each individual brush. Make sure to put them in a folder to avoid confusion.
This takes more time, but I think it's a nice touch.
Saving Brush Sets
To save your brush sets, hold the brush name until the menu appears.
Choose share.
Select save to files and choose where it's going to go.
Click save. The files will be in your files folder where you saved it.
Saving Individual Brushes
It's a bit more work to save individual brushes.
Swipe each brush to the left and a few options appear.
Select share.
Choose where you want to save it as before.
Make sure that you move all of the individual brushes into their own folder to avoid confusion.
Etsy Size Limits
If you're selling on Etsy, be aware that you can only upload 5 – 20MB files.
Most stamp brush sets end up being larger than 20MB, so to get around that, upload the files to google drive (or Dropbox).
Then create a PDF with a hyperlink to that file to upload to the Etsy listing.
You might also want to include instructions for downloading your brushes.
Making Images for Your Brushes
Making the images for your brushes can take just as long as making the brushes.
It's really important though because the images sell your brushes for you.
Every marketplace has a specific size that they prefer, so look up the dimensions before you get started.
Here are a few tips for making your image:
Keep them simple. Customers should be able to tell at a glance what they are getting.
Try to stand out. If similar brush sets have images in black and white, use color.
Demonstrate the tone. If your brushes are whimsical, the images should convey that. If your brushes are more serious, the tone should match that.
Include pages with sample scribbles of each brush. If they have special features like color changing or special blending, make sure to include that!
Include artwork created with your brushes. It can be simple.
Some places allow video. Procreate records a timelapse of everything you draw, so you could use that for your video.
Done is better than perfect.
A Pep Talk for Getting Started
I think most creatives are a lot like me and never feel "good enough." So I'm here to tell you that you are good enough.
If you wait until you feel like an expert, you will never get started. Will your first product be absolutely perfect? Probably not to your own standards.
But will it be good enough? Yes!
The truth is that there will always be people who are way better at this than you.
There is one brush maker that makes me want to cry because she's so awesome. I will never be as good as her. But I try anyway because I really love making brushes.
You can do it!
You Might Also Like:
Pin for Later!