How to Create Digital Downloads for Etsy or Your Blog
Learn how to create digital downloads for Etsy or for giveaways on your blog. Etsy is a great place to build a passive income stream by selling digital downloads.
You can also create digital downloads to give away on a blog to build your traffic or email list.
Get more Etsy tips and tutorials here.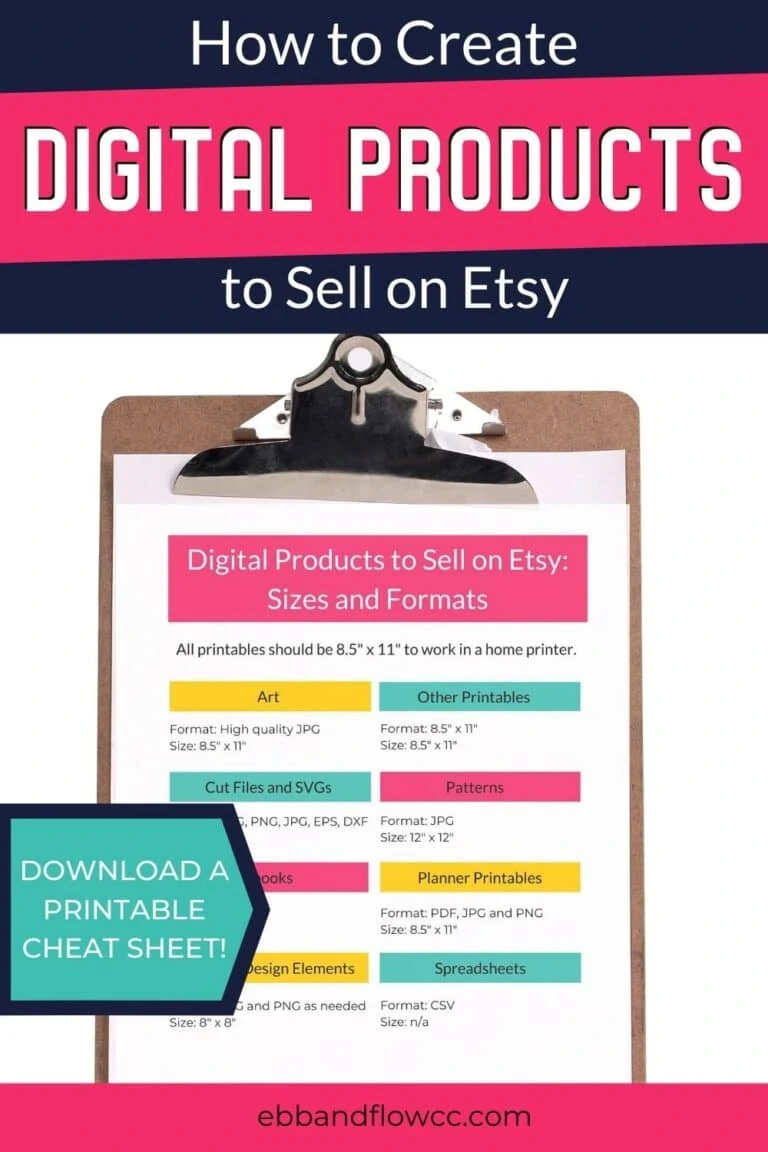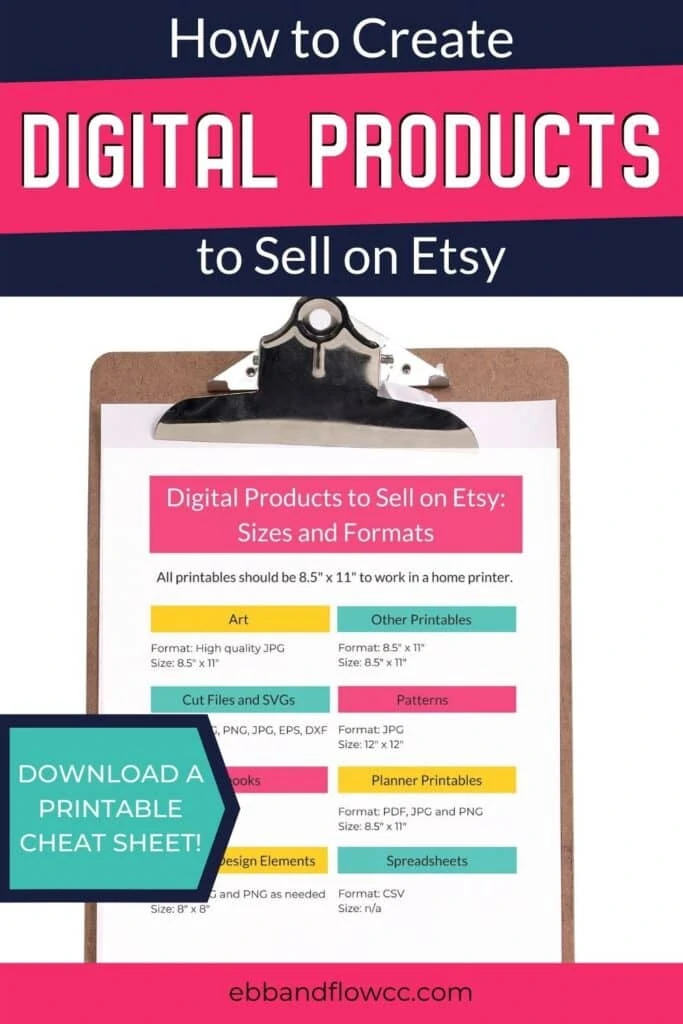 This post contains affiliate links. By purchasing an item through an affiliate link, I earn a small commission at no extra cost to you. As an Amazon Associate I earn from qualifying purchases.
You might also like this post on types of digital downloads to sell on Etsy.
Passive Income on Etsy Through Digital Downloads
What is a digital download?
A digital download is a virtual product that you sell. The item is delivered to the customer through a download, saving you the trouble of shipping a real item.
Here's an epic list of items that can be sold on Etsy.
What is passive income?
Passive income is the ability to make money without doing active work for it. Most passive income comes from creating a product and selling it over and over again.
This is different than service or retail type income where you do a job or create a product and sell it once. Passive income allows you to keep selling it.
Ads from blogs are another example. You write the post and the traffic to the blog post keeps making you money long after you created it.
Selling Digital Products on Etsy
There are many reasons why I love being an Etsy seller. Making passive income is my favorite.
Selling digital products on Etsy is fairly easy. After researching the product idea, you create the product, make mock-ups, and list it using good keywords.
Etsy already has an audience that is looking to buy digital downloads. Selling through Etsy is much easier than selling on your own website and driving your own traffic.
You might be interested in learning how to set up an Etsy shop!
How to Get Started Selling Digital Products on Etsy
It's important to do research before you get started.
Market Research
Research doesn't mean copying ideas. It means to look at what is selling and see what's missing.
If everything is pastel, try a brightly colored version. If everything is feminine, try a masculine version.
You can also do the opposite. Look at what's popular and come up with your own take on it. If it's already popular, your item may gain traction easier.
Consider pain points. If you're having trouble thinking about ideas, try to consider what problems your audience has and how a digital download could solve them.
For instance, a meal planner helps a busy mom plan out her weekly meals and makes grocery shopping easier.
Get Organized
Keep your thoughts and ideas organized with this digital products planning workbook.
This workbook is so helpful, even if you have absolutely no ideas right now.
Keyword Research
The next step is to do keyword research to find good keywords.
Choosing good keywords isn't as complicated as it seems. It just means using words that people would use to search for the product.
You can do this by using the search function on Etsy and seeing what the predictive search is.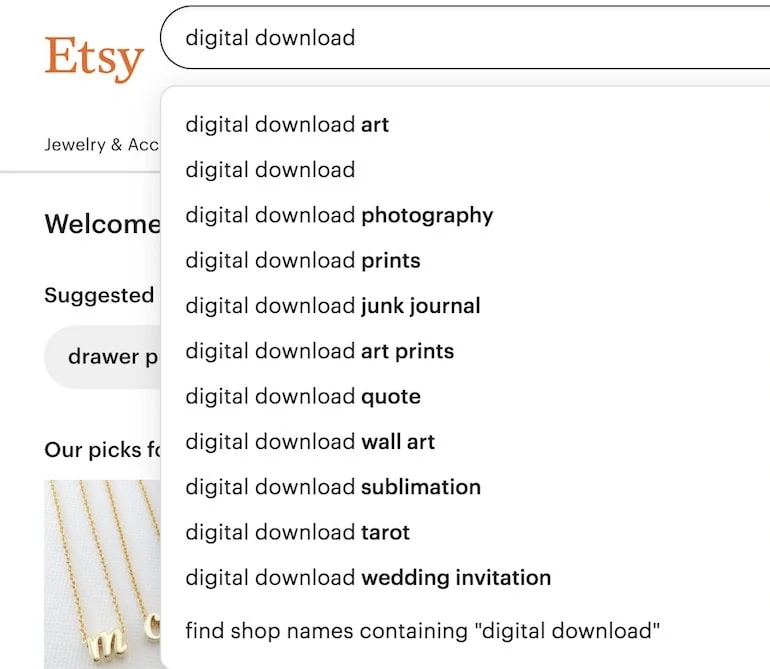 Searching Google is another good way to find ideas.
Pinterest is another valuable place to research. If it's popular on Pinterest, it will be popular on Etsy as well. The boxes under the search give you some good ideas for additional keywords.
Modifiers are also a good way to narrow down your scope. They can be descriptive (cute, floral, geometric) or related to who it's for (for him, for kids, for beginners.)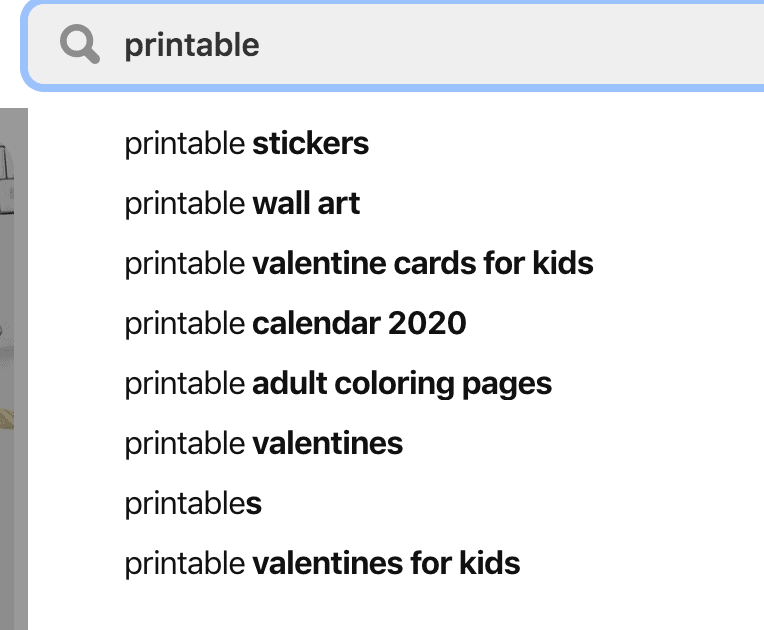 Want to open an Etsy shop? Here are 40 free listings.
Creating Digital Downloads for Etsy or Your Blog
There are many ways to create digital downloads to sell on Etsy.
Considerations for How To Create Your Digital Downloads and Printables
Type of digital download you want to create. For example, SVGs need to be made with different software than a spreadsheet.
Software knowledge. What program are you already familiar with? If you're a whiz at Excel, spreadsheets would be a great idea. If you're good with Photoshop and Illustrator, consider anything in the graphic design field.
Budget for purchasing software. If you're just starting out, you may not have a budget for an Adobe Creative Cloud subscription, so you'll either need to learn free design software like Inkscape or Gimp or use other free programs like Canva or PicMonkey.
Cheap or Affordable Software
Adobe Creative Cloud is the best for making digital downloads, but it costs roughly $600 a year, (which I definitely earn back.) However, when I was starting out, that was a hard thing to justify purchasing.
Adobe also offers smaller plans that only include Photoshop and Lightroom, or even just Illustrator.
Here are some free and affordable software options.
Canva– Free (There is a paid version that is still affordable and offers more options.) Great for printable art, simple ebooks, and other simple printables.
PicMonkey – $8 a month. Similar to Canva.
Gimp – Free. Gimp is open-source software that is similar to Photoshop and makes raster-based art. Perfect for cleaning up artwork, making graphics, printables, and art. FYI: Your computer needs a lot of memory to run this program. The learning curve may be a bit steeper than in the previous programs.
Inkscape – Free. Inkscape is open-source software that is similar to Illustrator. Perfect for making graphics, SVG files, and other simple printables. It makes vector-based art, meaning it can be scaled infinitely without losing quality. The learning curve will be steeper with this program as well. This is the program that I started with.
Affinity Designer – $50 for computer, $20 for iPad. Affinity Designer works in both vector and raster. You can make graphics, printables, art, and SVGs. The learning curve will be steeper and there aren't as many tutorials to learn from, so you may have to learn from Illustrator tutorials and piece together the information. I've only used the iPad version and only briefly.
Procreate – $10. Requires an iPad. Works great with the Apple pencil. Works great for creating simple printables and graphics. I love using Procreate because the pencil makes it feel like I'm drawing or painting with traditional mediums.
Google Sheets, Documents, and Slides – Free. Requires a Gmail account. Great for making simple printables, spreadsheets, and ebooks. Also great for storage and backup distribution when customers have problems downloading files.
My Favorite Places to Learn
For learning these programs, I highly suggest YouTube and Skillshare.
Skillshare has classes on everything from web design to watercolor. They have a ton of classes about Photoshop, Illustrator, Procreate, and even a few about Affinity Designer, Inkscape, and Gimp.
File Types
Before we get started talking about digital download types, it's probably best to review file types. If you know this information already, feel free to skip this section.
PDF – A PDF is a document file. This file type is best for printables like ebooks, planners, and calendars.
JPG or Jpeg – This is a picture file with a white background. JPG files are best for art prints and other graphics. Always save at 300dpi resolution.
PNG – A PNG is also a picture file, but it has a transparent background. The files are also a lot larger in size than a JPG. Use PNGs for cut files, clip art, and logos.
SVG – This is a cut file, but it can also be used with vector programs like Adobe Illustrator. SVGs can be used with a Cricut machine or even a laser cutter like a Glowforge. Silhouette machines requires special upgraded software to work with an SVG, so always offer the file as a DXF file as well, just in case.
CSV – This is a spreadsheet file. This is used for budget spreadsheets or any other kind of spreadsheets. If possible offer the customer a CSV and the Google Sheets version with the instructions to make a copy of the file.
AI – These are Adobe Illustrator files. Only sell these files at a higher price. Typically, I sell the graphic instead. But if you sell logos or design elements, you might want to include this file type.
Color Mode: RGB VS CMYK
When creating your file, you will be given 2 choices for color mode. (There are actually more, but for simplicity's sake, we're only talking about the main ones.)
CMYK has fewer color options than RGB, so it's important to choose the right option. For instance, if you wanted to print a pattern on fabric at Spoonflower, there are only so many ink colors available.
CMYK – Use for print files. If the end result should be printed, choose this. Printable art and invitations, for example, should be made using CMYK.
RGB – Use for computer files. If the end result is used on a computer, choose this. Logos for websites and vectors should be made in RGB.
Always provide the highest quality version possible. 300 DPI works great.
Types of Digital Downloads
Scroll to the bottom of this post to download a printable cheat sheet for formats and sizes.
Art Prints
Art prints can be created in several different ways. You can create art using a traditional medium like watercolor or gouache, then scan it in and clean it up using Photoshop or Gimp.
Get even more tips for creating art prints to sell on Etsy.
Another option is to create digital art prints in Procreate or Adobe Fresco.
You can also create art using Photoshop or Illustrator (or their free counterparts: Gimp and Inkscape.)
If you're new to creating printables, you can also create simple graphics using a free program like Canva. (Please read the licensing information about using Canva images and elements in items you sell.
Some of the best-selling art prints are just quotes and phrases in simple font combinations. (Be sure to check and make sure that your quote isn't copyrighted first.)
Format and Size
Most printers print at 8.5″ x 11″ or A4, so keep that in mind for sizing. Digital art prints should be available as high-quality JPGs.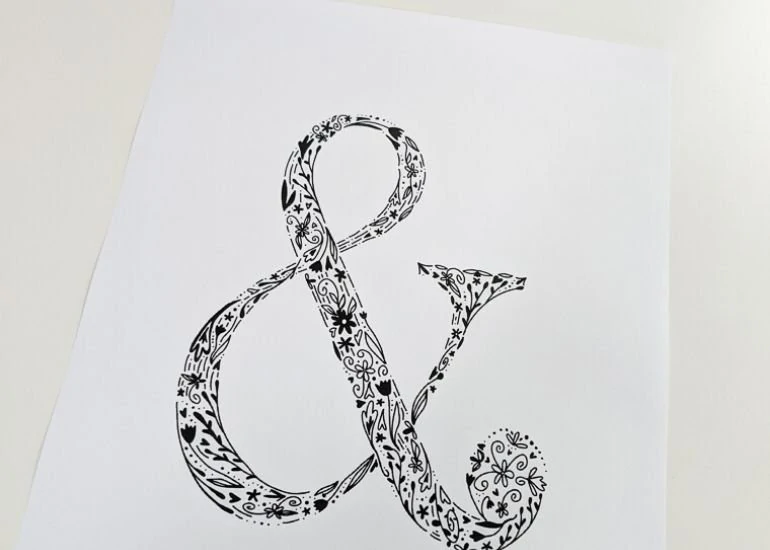 Digital Clip Art, Patterns and Graphic Design Elements
These can be made in the same manner as art prints. I prefer using Illustrator for most things, but a lot of people love using Photoshop.
I would not use Canva for these elements because it's going to be hard to change elements to avoid copyright issues using the limited design software.
Formats and Sizes
For clip art and graphic design elements, I generally make them about 7-8″ square. Patterns are 12″ x 12″.
Clip art and graphic design elements should include both JPG and PNG versions with transparent backgrounds. You can also include other file types like EPS or AI files, but if you do this, charge extra. You're giving away a lot with those 2 files.
Patterns should be JPG files.
See my tips for removing white lines from patterns.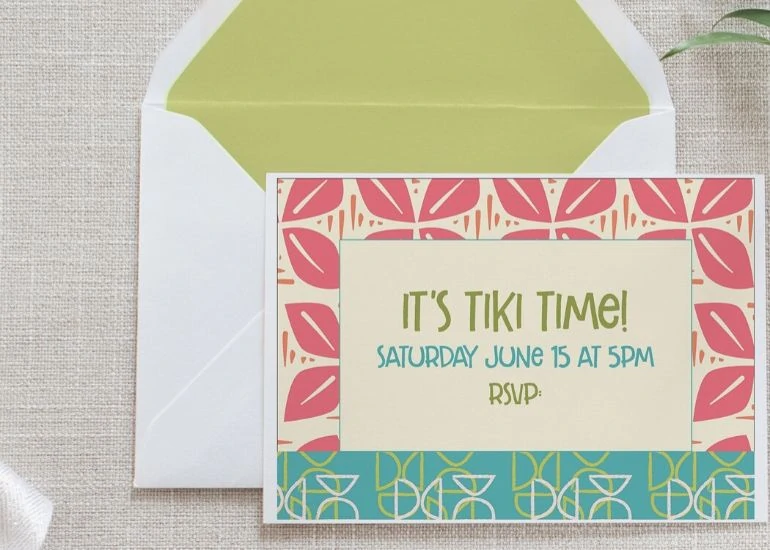 SVGs or Cut Files
The initial work for SVGs can be done in Procreate or Adobe Fresco, but it will need to be made into an SVG using Illustrator (or Inkscape.)
I usually prefer using Adobe Illustrator to create my designs, which are created in vector (it can be scaled infinitely without losing quality.)
When using Procreate or Adobe Fresco, you will need to create the image in layers using black, then import it into Illustrator and use the Image Trace tool.
If you're using a font in your design, be sure to merge the letters and expand them into a shape. If you don't merge the font, each shape will be its own cut file. (Cursive fonts get all cut up and separated.)
Format and Size
SVGs are scalable, so it really doesn't matter. However, I usually make mine 12″ x 12″.
I always include SVG, PNG, JPG, EPS, and DXF files. DXF files can be used with Silhouette.
Keep in mind that you're not supposed to sell Silhouette files.
Canva Pro now allows you to make SVG files!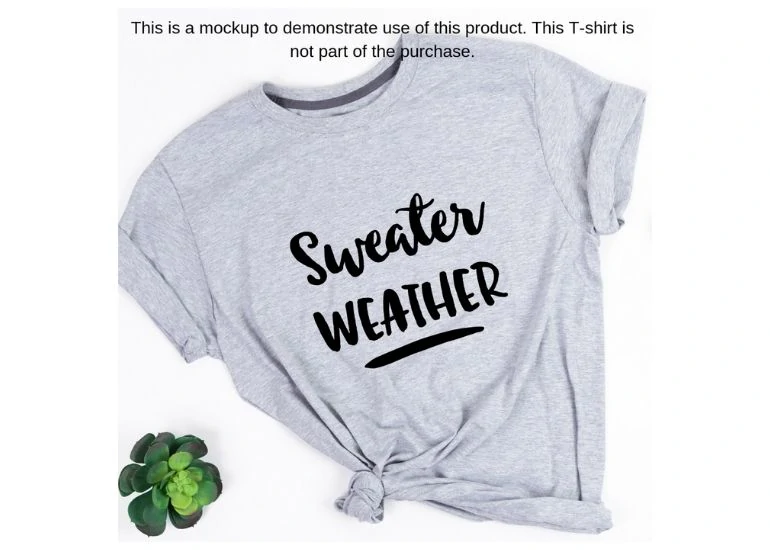 Planner Printables and Other Printables Like Checklists
I typically create these in Illustrator, but when I was first starting out, I used Canva and even Inkscape. You can also use Photoshop or even Microsoft Word.
Format and Size
For planner pages, I always size them to 8.5″ x 11″. Be sure to leave an extra .25″ around each edge to make sure the entire image can print.
I normally save these as PDFs. If they're planner stickers, I also provide PNGs and JPGs in case the buyer wants to use a Cricut or Silhouette to cut them out.
If you have the software to make the PDFs fillable, take the time to do that. Buyers really like fillable PDFs.
Spreadsheets
Spreadsheets are great for creating budgets or other organizational printables. You can make them in Excel, Numbers (on Mac), or even using Google Sheets.
Format and Size
These need to be saved as .csv files so that anyone can open the document no matter what software they use. Consider adding information on how to import the files to the various software options.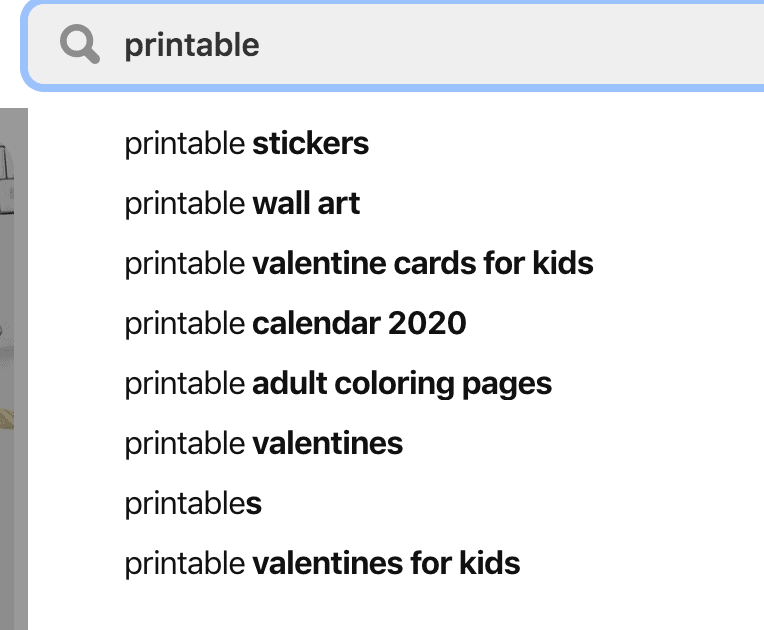 Ebooks
Ebooks can be created using sophisticated software like Adobe InDesign or Illustrator, or simpler software like Canva, Microsoft Word, Google Docs, or even Google Slides.
Format and Size
Unless you plan on selling on Amazon, save your files as PDFs.
To make your PDF smaller, use smaller photos. When saving in Illustrator, toggle the switch off for "Preserve Illustrator Editing Capabilities." This flattens the document, but it's also a good way to slow down theft.
Other Tips for Creating Digital Downloads
Tips for Packaging Files
Etsy allows you to upload 5 files that are 20 MB each, so the files need to be small.
If your file is larger than 20MB, you will need to upload the files to Google Drive and share the link in a PDF.
All files should be placed in a zip file. This allows the file to be smaller but also allows Etsy to distribute many different types of files.
Before compressing the files in a zip file, separate the different types into their own folders. Name them with the product name and your business name.
I use this format: "Product Name – My Brand Name"
For different file types, the folder would then have folders inside it named something like "JPG Files" or "PNG Files."
Zip the file and name it in the same format. To zip a folder, select it, right-click, and choose compress. Then rename it.
Design for Printing at Home
When designing your digital downloads, keep in mind the restrictions of printing at home.
Avoid giant blocks of color where possible to save ink
Leave margins because most printers can't print to the edges
Consider offering black and white designs or designs with minimal color to cut down on ink use (especially if your customer base is older – we still think that ink is crazy expensive.)
Use standard printing sizes for your customer's country. In the US, we use letter size (8.5″ x 11″), but many other countries use A4.
Tell your customers how to print at the right size. I normally suggest scaling to 100% for best results when printing.
How to Price Your Digital Downloads
Pricing digital downloads can be tricky because it's made once and then sold over and over.
Competition. Take a look at your competition and go somewhere in the middle, unless your product is far superior with added value. Then price it on the higher end and explain in the listing why it's worth it.
Don't Underprice Yourself. There's a tendency to want to underprice items, but keep in mind that it will lower your perceived value.
Cover Your Fees. Make sure that even if you run a sale, your Etsy costs will be covered, and you'll still make a profit.
Sales and Coupons. Running occasional sales is a good way to boost income, but don't be the shop that is always on sale. It trains customers to wait for the sale and never pay full price. Your work is worth the full price.
Consider Selling Bundles to Make More Money. Bundles of several products can be priced at a higher price point than a single product. Bundles offer the customer a discounted price for buying a lot of items. For instance, maybe 1 sticker set is $3, but you offer 5 sticker sets for $9.
Distribution Methods
Etsy takes care of distribution, but there are always customers who have trouble accessing the files, so other methods need to be considered. Guest customers tend to have the most trouble accessing their files.
For bloggers, don't store these files on your blog. They take up valuable space and slow down your site.
You can use any storage solution like Dropbox or OneBox. I prefer to use Google Drive. Upload the file, get the shareable link (make sure the checkbox turns green), and copy the link to share with the customers.
For a blog, I add it at the bottom of the post with a colored box around it. (Scroll down to see how I added the Printable Size and Format Cheat Sheet.)
Licensing Considerations: Things to Avoid
Avoid any licensing items that can get you in trouble. You're going to see a ton of Disney items, but it doesn't mean it's okay. It's one thing to be inspired BY something, but avoid using characters or likenesses.
Fonts and purchased graphic design elements are other things to consider. Make sure that the fonts and graphic design elements you have purchased are allowed to be used for works being sold.
Another thing to keep in mind is that you can use the element as part of the design, but it needs to be changed.
I like this article from Creative Market that clarifies ways to properly use elements. Their licensing has changed since then, but it gives you a good idea of how to use elements in a fair way for the designer.
If you have any questions, you can contact the company or person that you bought them from for clarification.
Custom Work
When you have a digital design shop, you have the option to offer custom work as well. Custom work is not passive income, but it can be a great way to earn some extra income. Here are a few things to keep in mind.
Clarify file types before you even start. This saves you from saving the file in all the format types when they only want a JPG version.
Charge for your time. It's one thing to make a small tweak that will take seconds, but some of the customizations I've been asked to do would have taken hours. Customers usually walk away, but that's okay. I would rather lose the sale than be underpaid and undervalued.
When your whole shop is priced pretty low, it's hard for the customer to understand that your time is worth money. So be ready for people to walk away.
Be clear with the number of revisions you will offer.
Send a watermarked screenshot of the finished product for their revision. Never send the full version until you've been paid.
If they accept it, create a custom listing for that item and send the customer the link through Etsy messages. Don't worry about keywords and tags, but do include the important information (sizes and file types.)
Save Time with an FAQ Section
Save yourself time by writing up an FAQ on how to open and use different file types. If you have a website, host it there. You can also add it to the listing itself.
Save the file in a Word doc to copy and paste into any messages you receive.
Offer instructions on how to open a zip file because there are people who don't know how to unzip files.
You might be interested in learning about other places to sell digital products, besides Etsy.
Refunds on Digital Products
I have it stated in my shop policies that I don't offer refunds on digital products, but every now and then someone will ask.
It's usually because they can't figure out how to unzip a file or open it. If they've gone to the trouble of asking for a refund for a $3 item, they are definitely the kind of person who will leave a bad review.
So I always refund it anyway. It's not worth a bad review.
Don't let this scare you though. With over 1000 sales, I've had 2 refunds the entire time.
Still looking for more information?
If you're still wanting more help on the "how-to" create digital downloads, I highly recommend this course by Tracie Fobes.
It's one of the more affordable courses around, but it's packed with information on how to create products. She even has advice on how to come up with printable ideas!
You might want to try her free email course first.
I've sold printables for years, but I still learned so much! The course impressed me so much that I immediately bought her course on growing an email list as well. This lady knows her stuff!
Download a Digital Download Format and Size Cheat Sheet
These downloads are for personal use only. Please do not redistribute or sell.

Dear teachers and students: this download will not work if you try to access it when logged into your school email account. Try a personal email account instead.
Printable Format and Size Cheat Sheet
You Might Also Like:
Pin for Later!