If you're into mixed media, you're probably wondering about the best white pencils for highlights. Read more about how I tested some popular brands to find the most opaque white colored pencil.
You might also be interested in the best white pens and ink.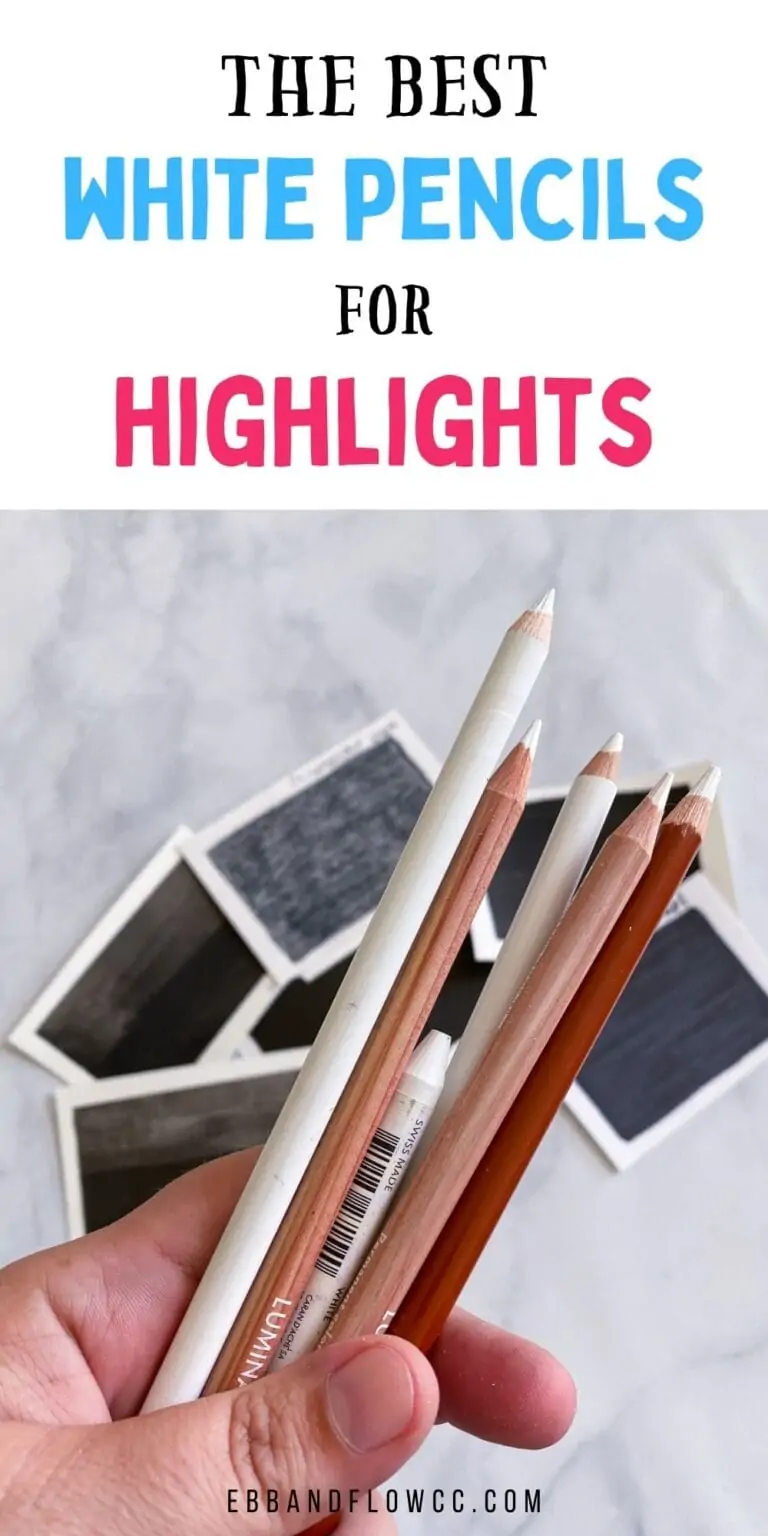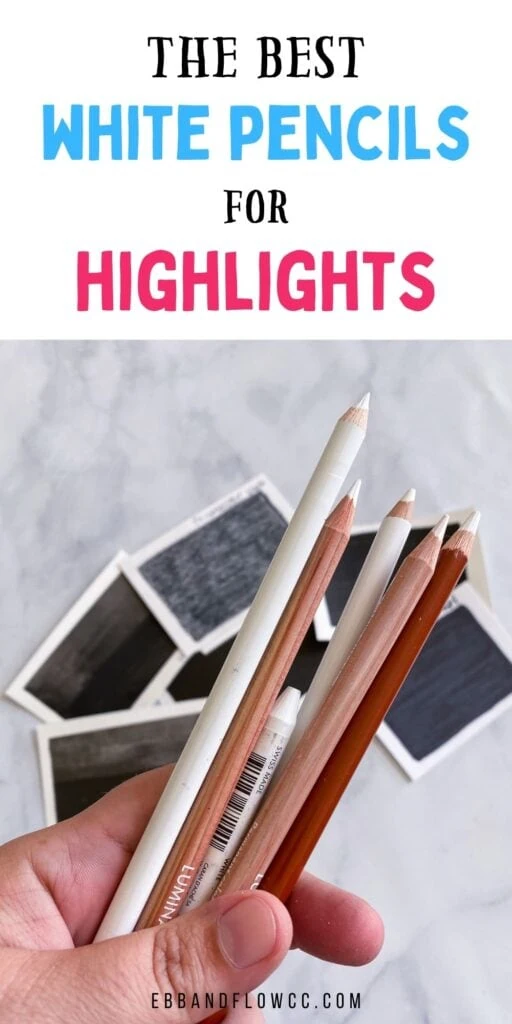 This post contains affiliate links. By purchasing an item through an affiliate link, I earn a small commission at no extra cost to you. As an Amazon Associate I earn from qualifying purchases.
I love doing these kinds of tests. It's super fun to experiment with different art supplies.
There are a ton of art media that white pencils can go on top of, so I tested a whole bunch of them.
How I Tested The Pencils
I chose 7 different media surfaces in black (and watercolor in indigo) to show how each pencil layers on top of them. To get the best results, I tried to make each surface as dark as possible.
The watercolor and the ink were a bit light, so I painted a 2nd layer on the bottom half of the paper.
Also, the liquid watercolor is very concentrated, but I think my bottle had dried up a bit, so it was even more concentrated than normal.
The colored pencil swatch probably could have been darker, but I'm not as familiar with colored pencils, so it's as good as I could get it.
Watercolor (Schminke Ivory Black)
Acryla Gouache in
Higgins Black Ink
Dr. PH Martin Hydrus (Carbon Black)
Posca Marker
Alcohol Ink (Black)
Prismacolor Premier (Black)
Watercolor (Schminke Indigo)
Most of the swatches are on watercolor paper, except for the alcohol marker, the posca marker, and the colored pencil swatches, which are on smooth mixed media paper.
Alcohol ink and posca pens don't do well on textured watercolor paper and I figured that I could get a smoother result with the colored pencil on smooth paper (I didn't.)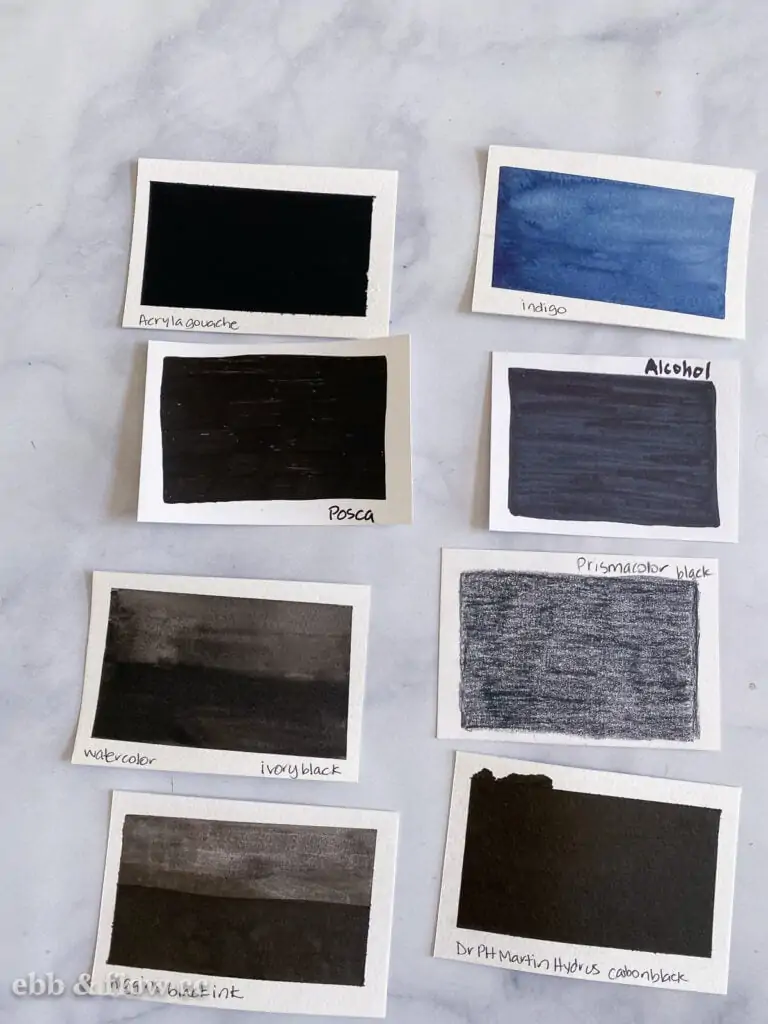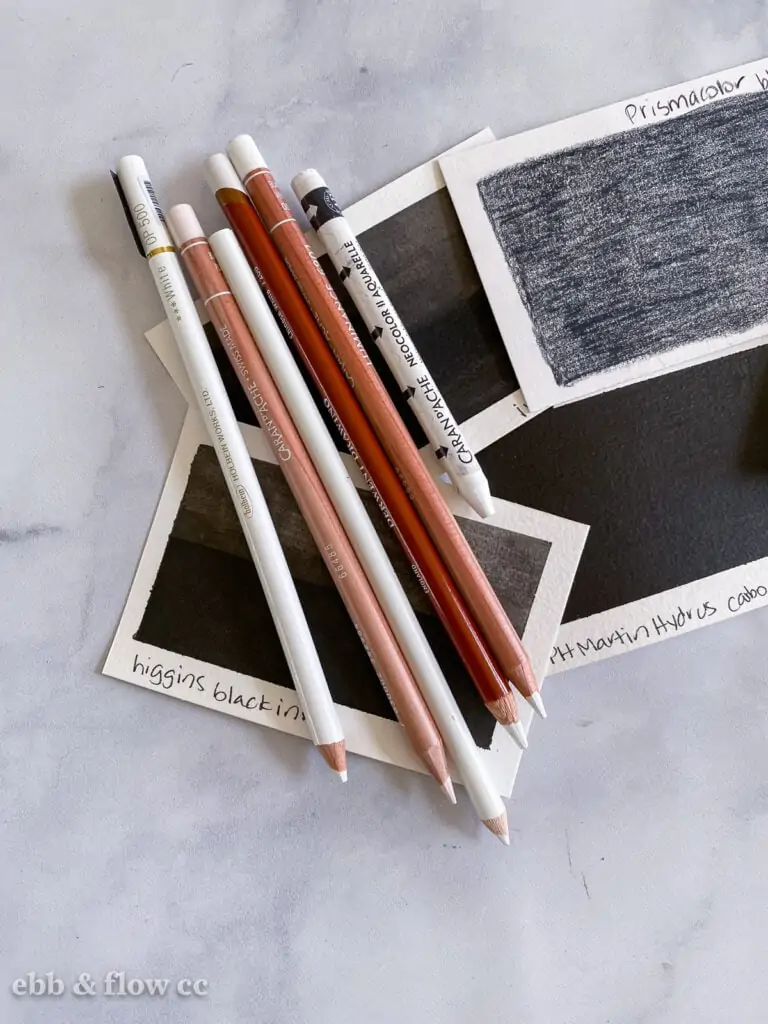 Best White Pencils for Highlights
I tested 5 colored pencils (4 brands) and 1 Neocolor II pastel. I included the pastel because I figured it would work well over certain surfaces and be an interesting thing to compare to the pencils.
Two Caran d'Ache Luminance pencils were included because the soft pink color is so pretty and creates a slightly different effect.
I'm not including actual prices because they will change, but I have compared the prices a bit.
Caran d'Ache Luminance in White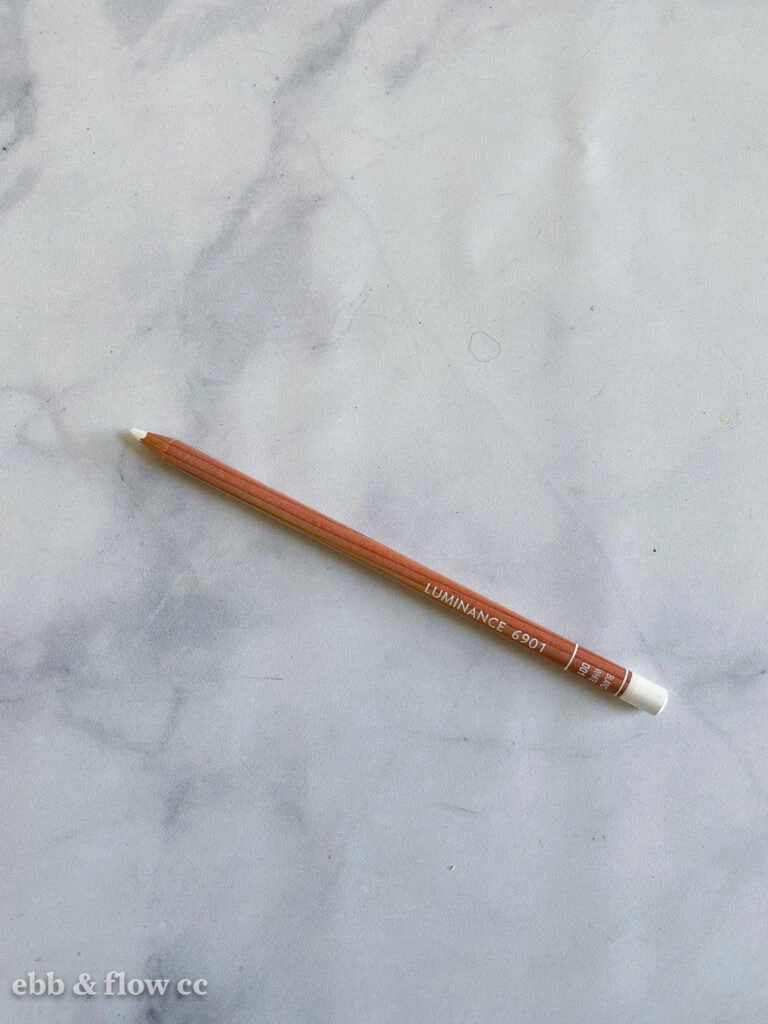 Caran d'Ache Luminance in White
Luminance pencils are wax-based and very creamy to use.
It's one of my favorite colored pencil brands, but it's also the most expensive brand that I tested.
Caran d'Ache Luminance in Pink White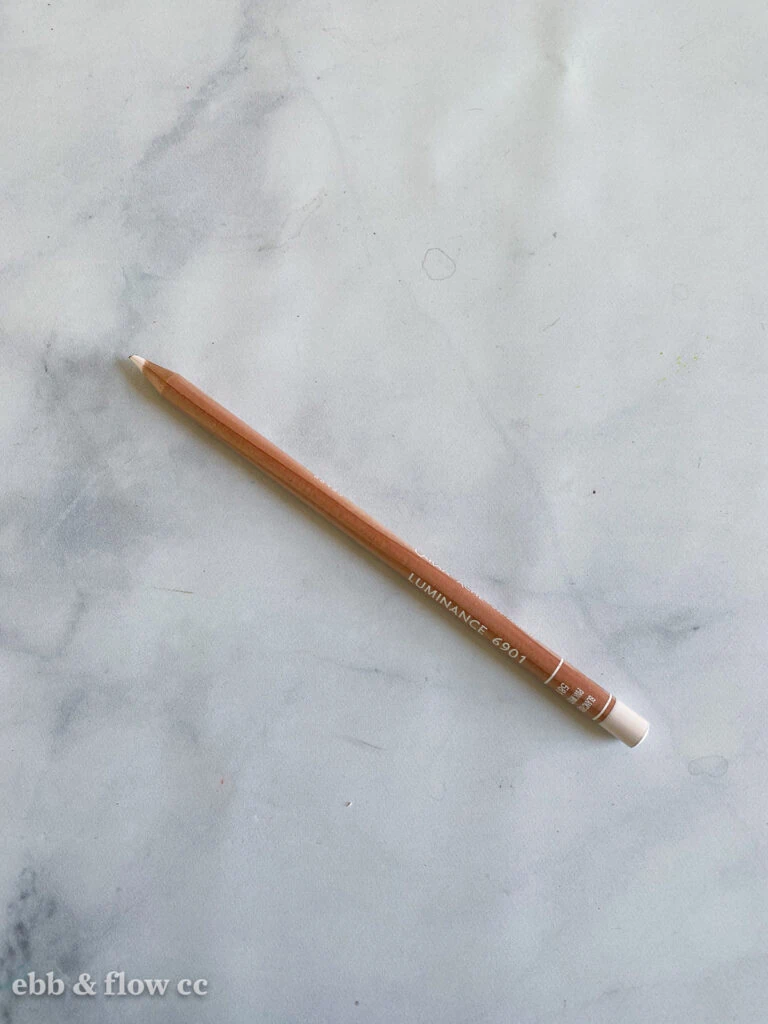 Caran d'Ache Luminance in Pink White
This is the pink white color that looks really pretty when layered over colored watercolors.
Derwent Drawing Pencil in Chinese White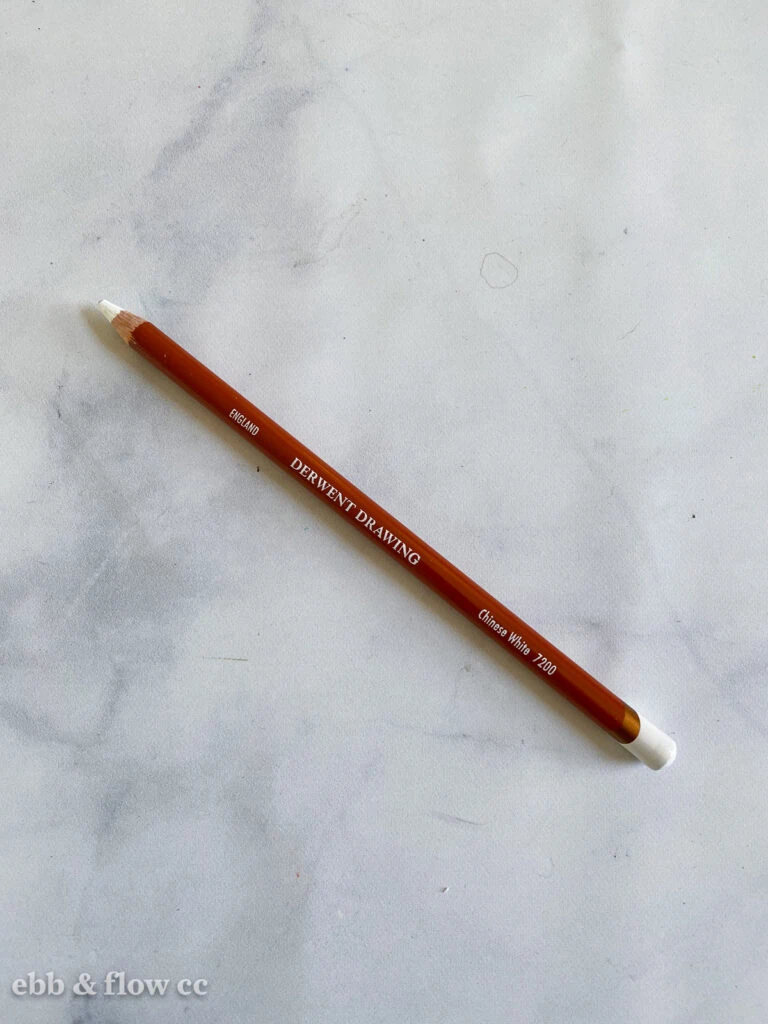 Derwent Drawing in Chinese White
The Derwent drawing pencils are wax-based and one of the least expensive pencils that I tested.
This is surprising because this is my favorite pencil. I love the creamy consistency.
Derwent drawing pencils are one of the few art supplies where I would recommend buying the whole set. The color palette for these pencils is really pretty, very muted, and nature-inspired.
This pencil created the most opaque white line over almost all of the surfaces.
Holbein Artists' Pencil in White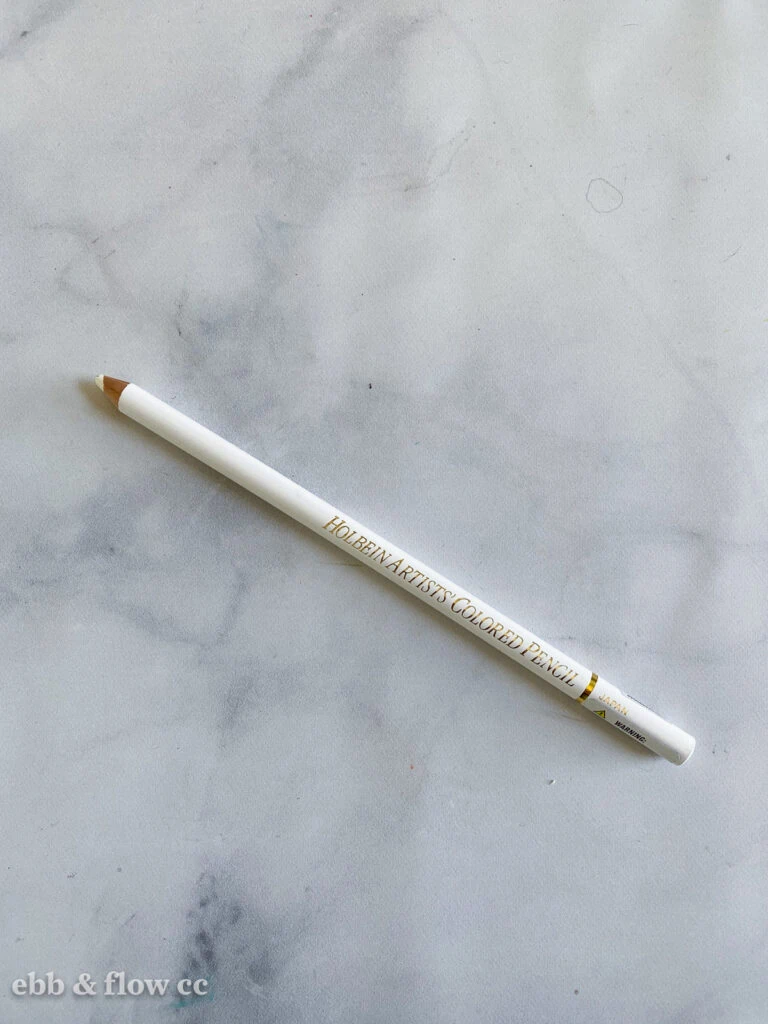 These colored pencils are oil-based and the second most expensive pencils.
Holbein carries a lot of pretty colors and pastels.
Prismacolor Premier in White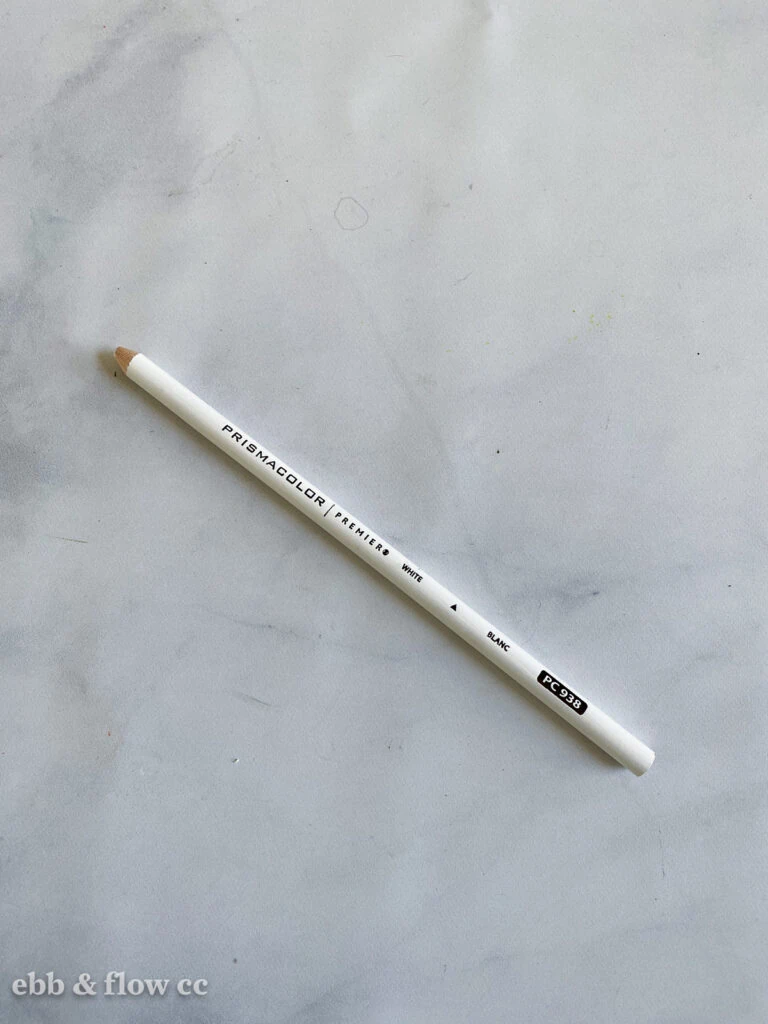 These pencils are one of the most well-known colored pencils. Prismacolor pencils are wax-based.
This was the cheapest pencil that I tested and it wears down the fastest. (I didn't resharpen any of the pencils, but look how dull it got from this test!)
Caran d'Ache Neocolor II in White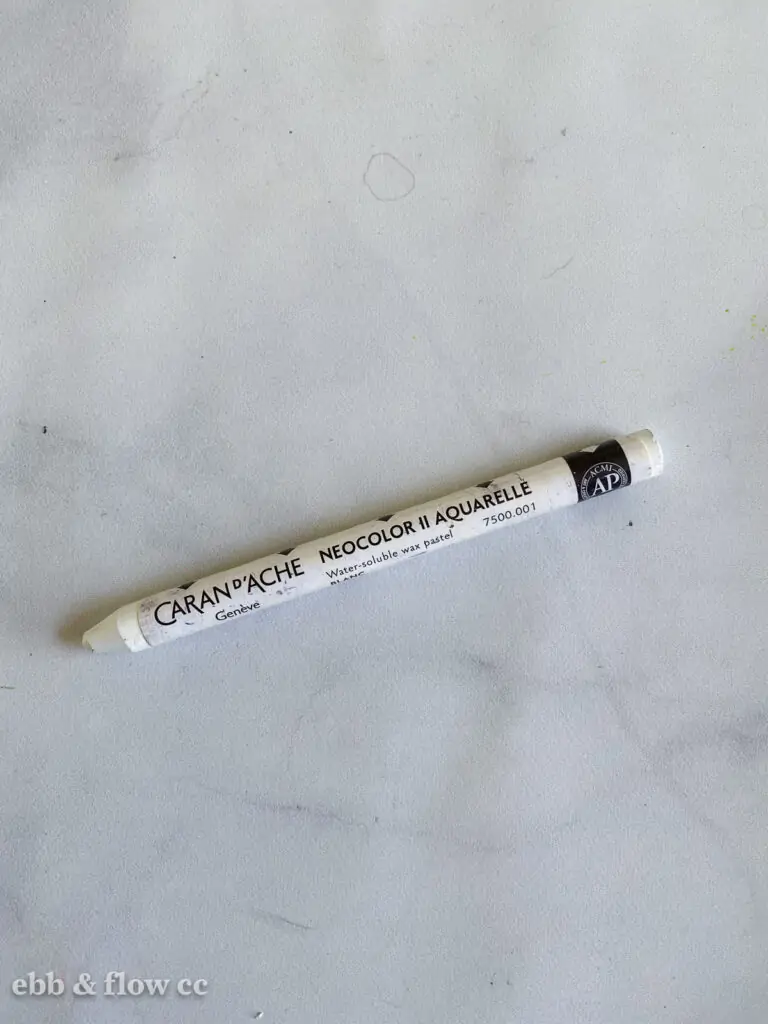 Caran D'ache Neocolor II in White
So this isn't a pencil, but I wanted to test it anyway because I use it in the same manner for highlights.
Neocolor II are water-soluble wax oil-based pastels. This highly pigmented crayon can be diluted with water.
When using neocolor pastels, it's very hard to get a fine line. They are very creamy, but they have a crayon texture.
They worked well over most of the surfaces that I tested.
Results of the Test
I tested the pencils and the neocolor II in order:
Caran d'Ache in White
Caran d'Ache in Pink White
Derwent Drawing in Chinese White
Holbein Artists' Pencil in White
Prismacolor Premium in White
Caran d'Ache Neocolor II in White
Watercolor
All of the pencils worked pretty well on top of the watercolor.
In real life, the Derwent Drawing pencil is slightly more opaque.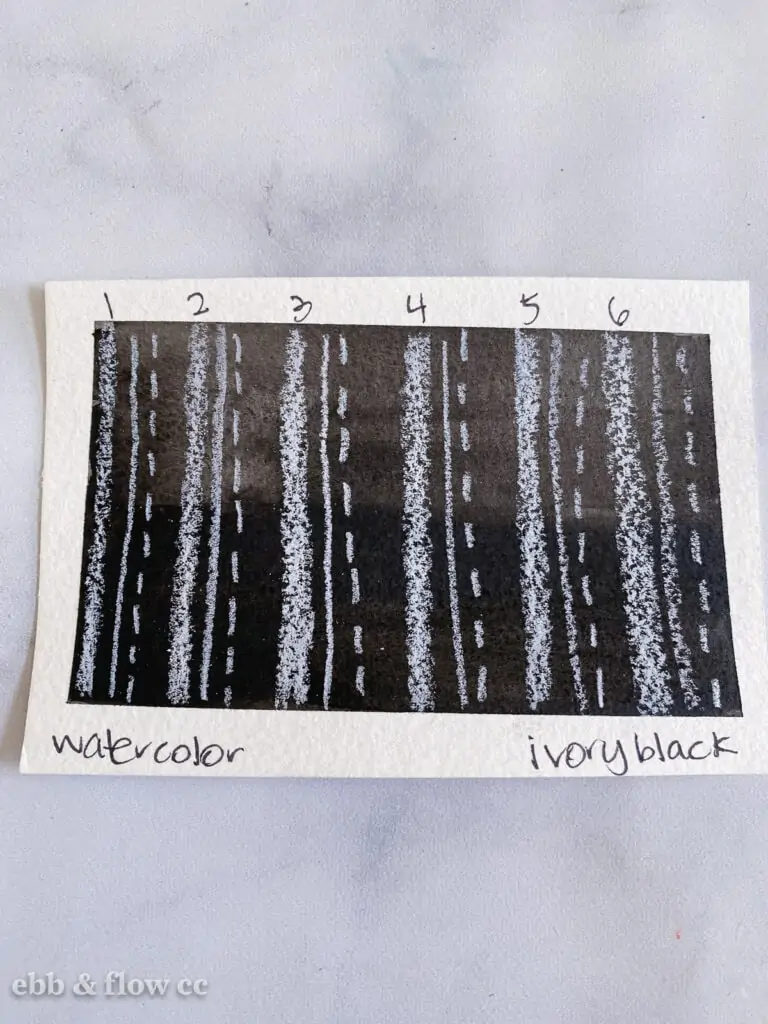 Acryla Gouache
The pencils all struggled a bit over the acryla gouache. I wonder if they would have done better over regular gouache.
The Derwent drawing pencil did the best of the pencils and the neocolor II did the best overall.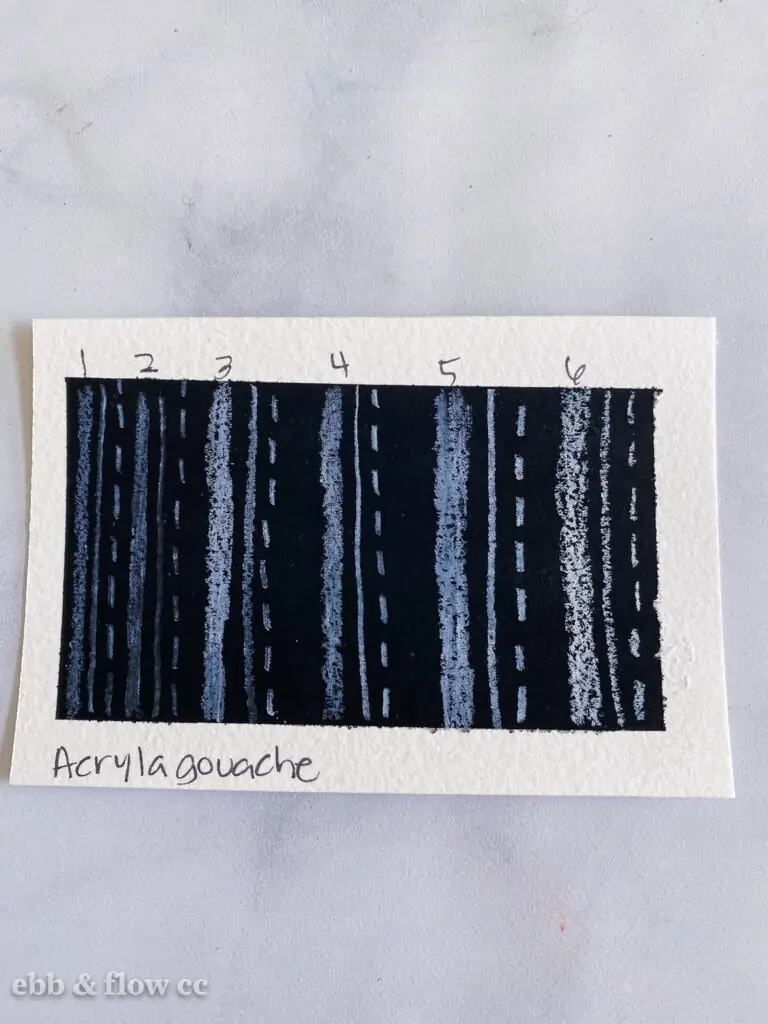 Ink
They all worked pretty well on the ink as well.
In real life, there's no real winner or loser. They all performed equally.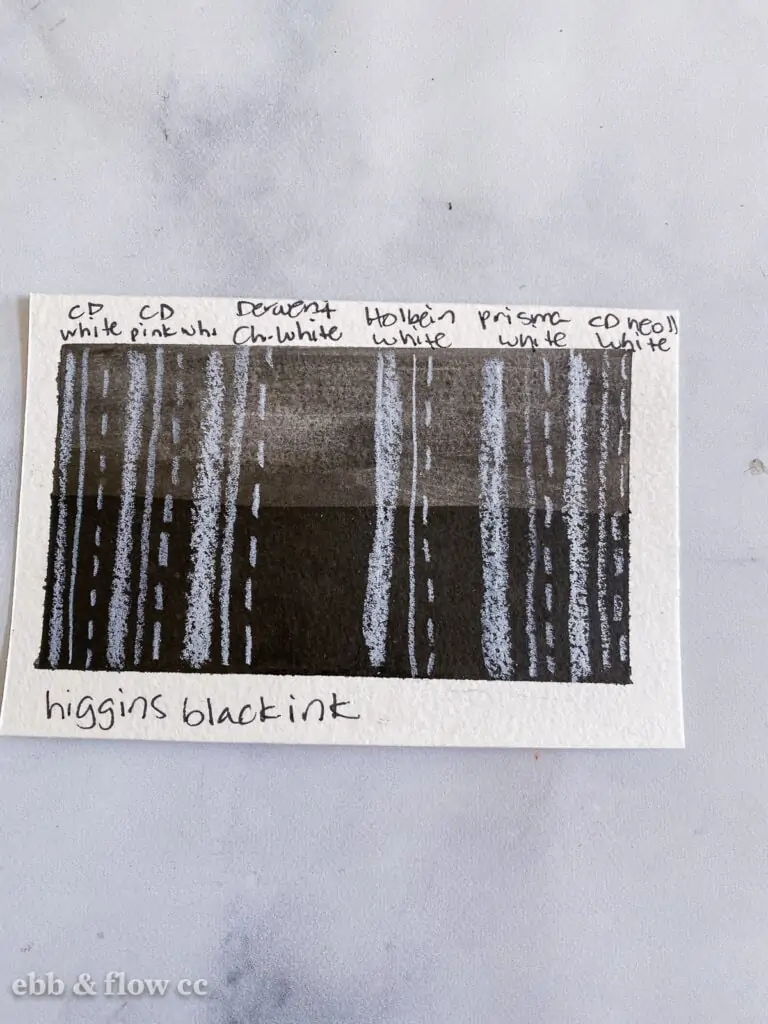 Liquid Watercolor
None of the pencils did that great over the Dr. PH Martins liquid watercolor. But to be fair, it's almost never used this opaque. It created a slightly shiny surface.
The neocolor II did the best overall.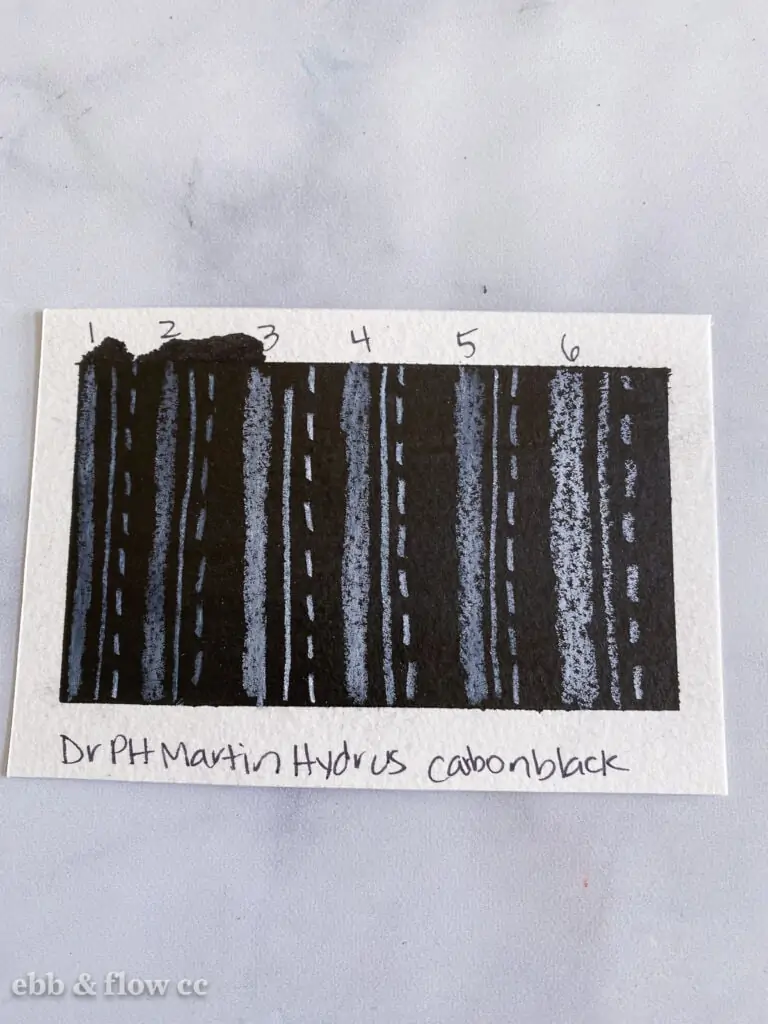 Posca
If I had to choose a winner, I would say that the Holbein pencil did slightly better than the other pencils.
They did create a neat texture over the posca though.
As usual, the Neocolor II did better than the pencils.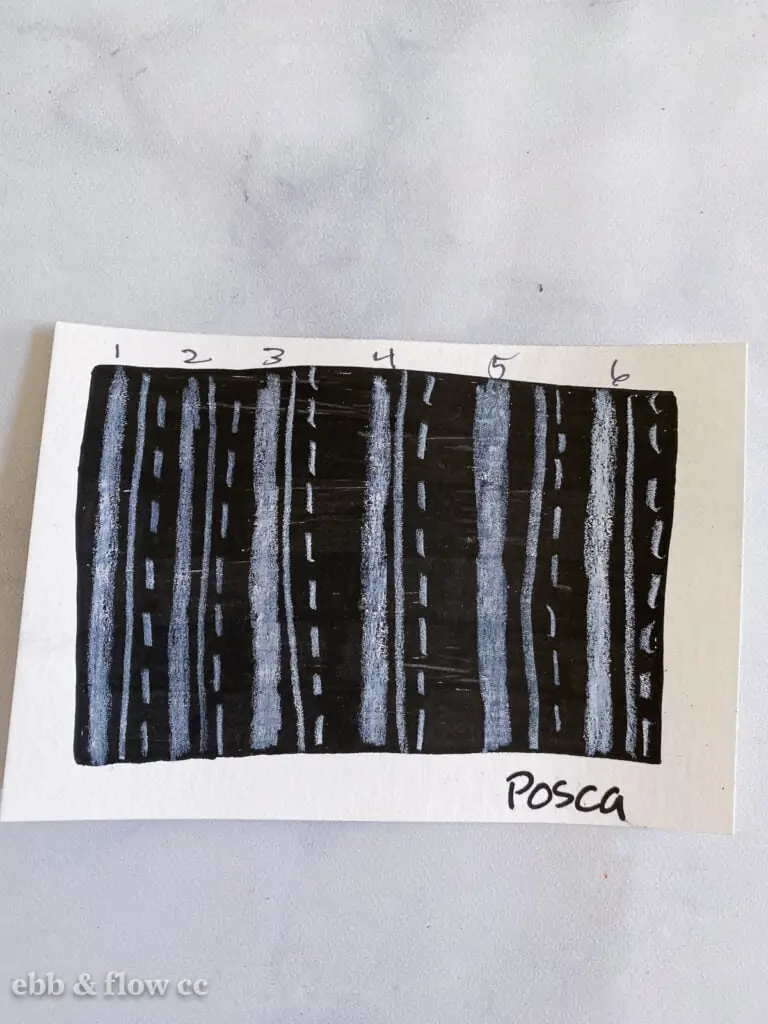 Alcohol Marker
On the computer, the Derwent drawing pencil did slightly better than the others, but in real life, they all look about the same.
The neocolor II produced the least opaque white in this instance.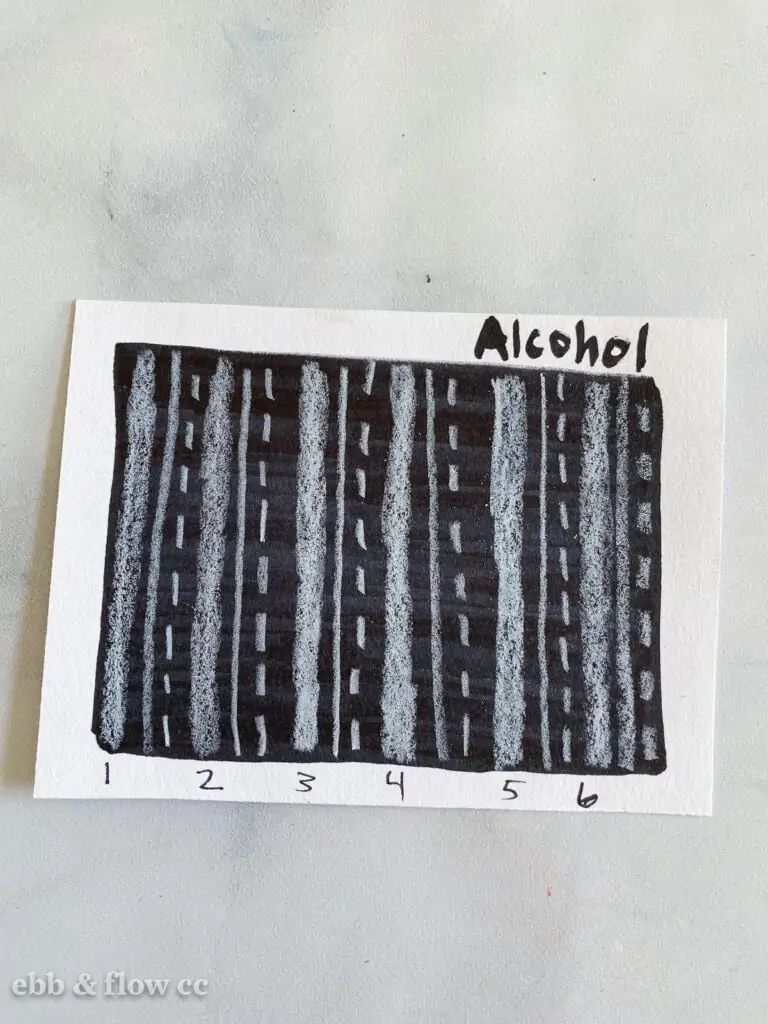 Colored Pencil
All of the pencils created navy blue lines over the black colored pencils.
The neocolor II wins this surface.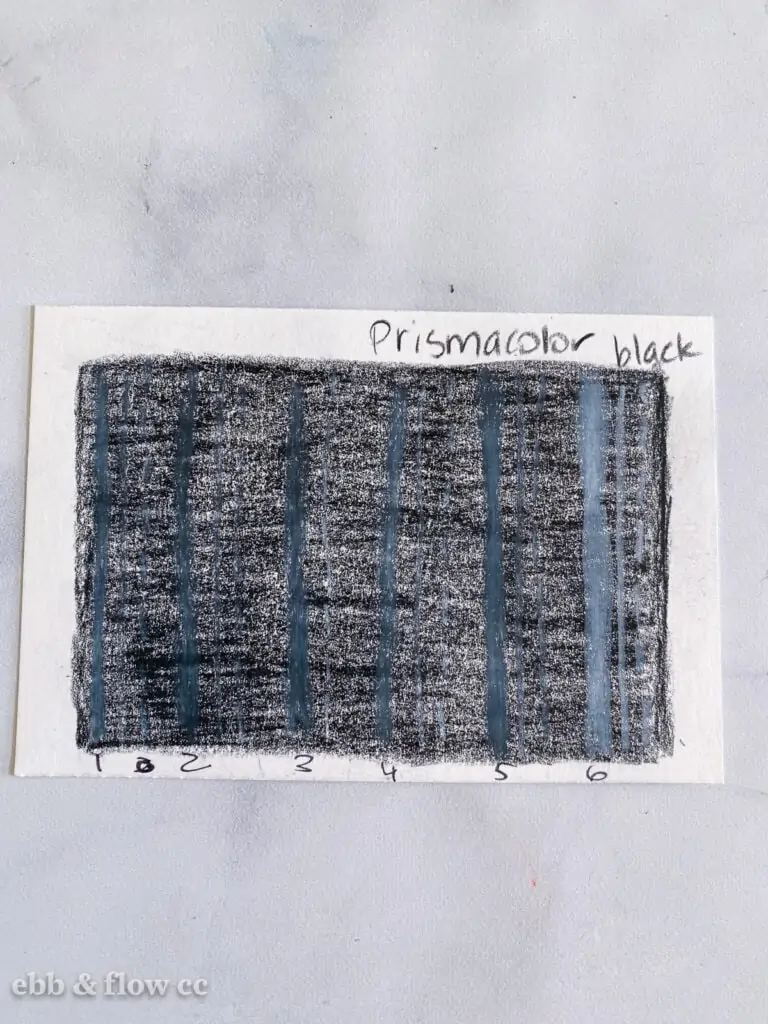 Indigo Watercolor
I wanted to include a colored watercolor example because the pencils show up a lot differently on a colored surface.
Indigo granulates which makes this swatch really pretty to look at.
The Derwent drawing pencil looks the most opaque in person, but the Caran d'Ache Luminance in white creates an interesting light blue color.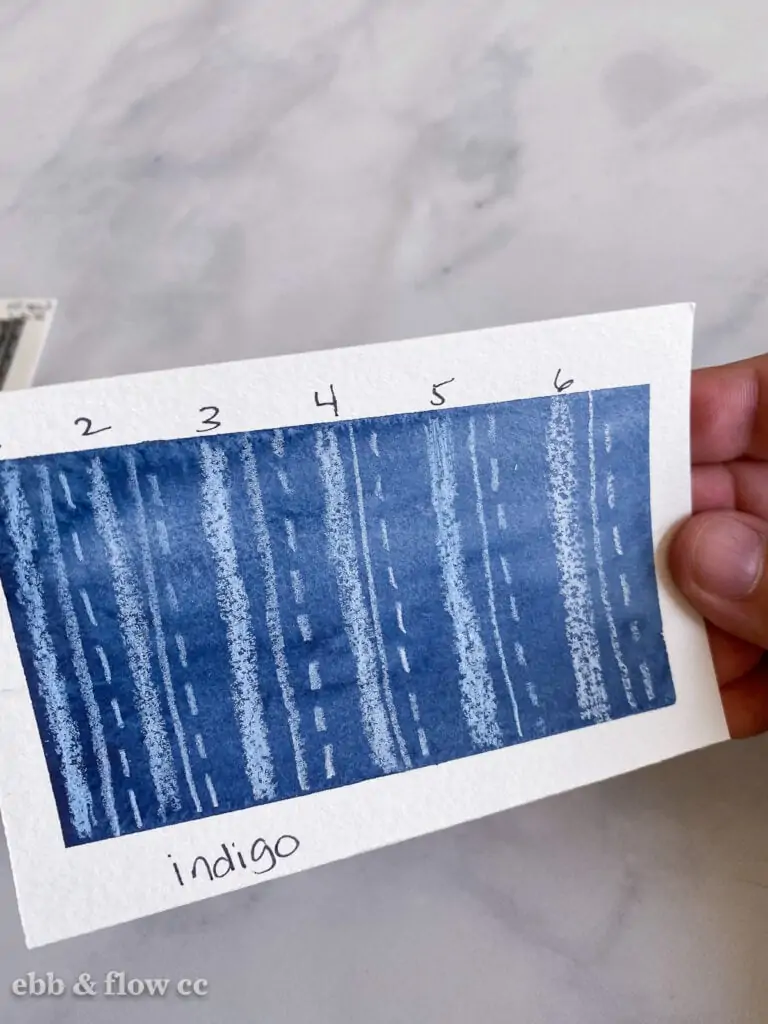 My Overall Thoughts
The Derwent drawing pencil was the best pencil in most of the cases. It's also really nice to use and doesn't need to be resharpened all the time. It just happens to be one of the most affordable pencils as well.
The Neocolor II worked great on some of the other surfaces, so I liked it as well. However, it's better suited for larger art pieces because it's hard to get fine lines.
What's your favorite brand of white pencil?
You Might Also Like:
Pin for Later!