Learn how to start a daily sketchbook practice and keep with it! It's a great way to improve your art skills and see progress in one place.
You might also like this post on my favorite watercolor sketchbooks.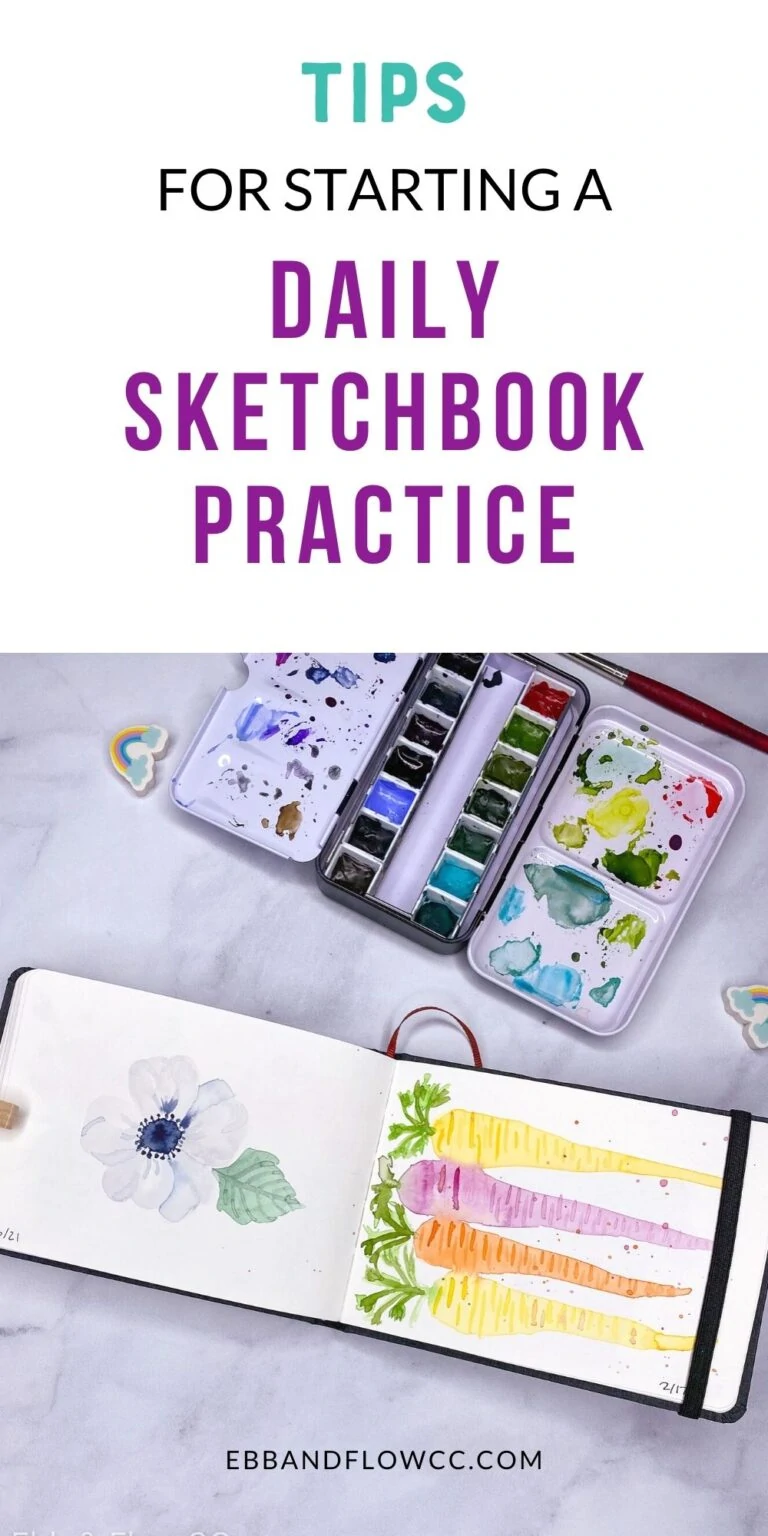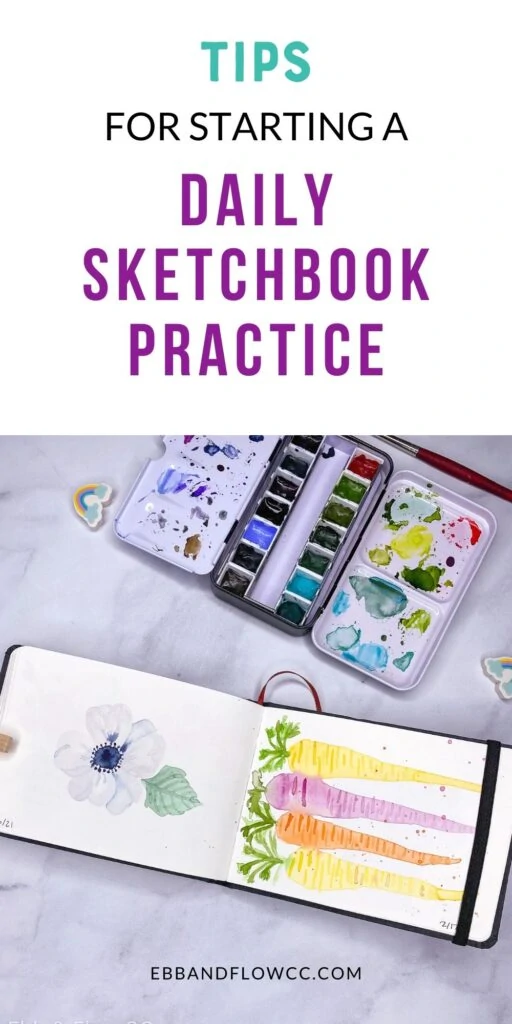 This post contains affiliate links. By purchasing an item through an affiliate link, I earn a small commission at no extra cost to you. As an Amazon Associate I earn from qualifying purchases.
Starting a Daily Sketchbook Practice
I recently started a daily sketchbook practice and I'm loving seeing how my art is progressing.
Plus, it's such a nice way to wind down after working all day. It's also a great way to warm up when I want to paint but I'm not sure what to paint.
Get easy watercolor warm-up ideas here.
I'm using watercolors in my sketchbook, but you can use whatever you want.
My last attempt was in Procreate, which was really convenient because an iPad is way more portable than paint.
Have Rules (or No Rules at All)
You can decide if you want rules for your sketchbook practice.
I set out to not have any rules, but I quickly realized that I wanted to only use watercolor, and all of my art needed to be in my small sketchbooks. I also try not to actually sketch my art first, but just paint the subject.
Some ideas of rules you can consider are: media to use, art styles to stick to, or subjects to draw or paint.
I've tried sticking to 1 subject before (flowers) and I got bored, so I decided to paint whatever I want this time. It's way more interesting for me this time around.
Allow Yourself to Make Ugly Art
This one hurts, but sometimes the art you make is going to be ugly. And that's okay. It's part of the process.
When I'm learning to draw something new, the first ones are so bad. Like, so bad that my kids make fun of me.
But I keep going and it gets better.
This sketchbook practice is like that too. Some days I just don't have it in me to create something beautiful. I usually make it up the next day.
Try New Things
The whole point of a sketchbook is to try new things. I've been experimenting with using ink with watercolor to determine my favorite style.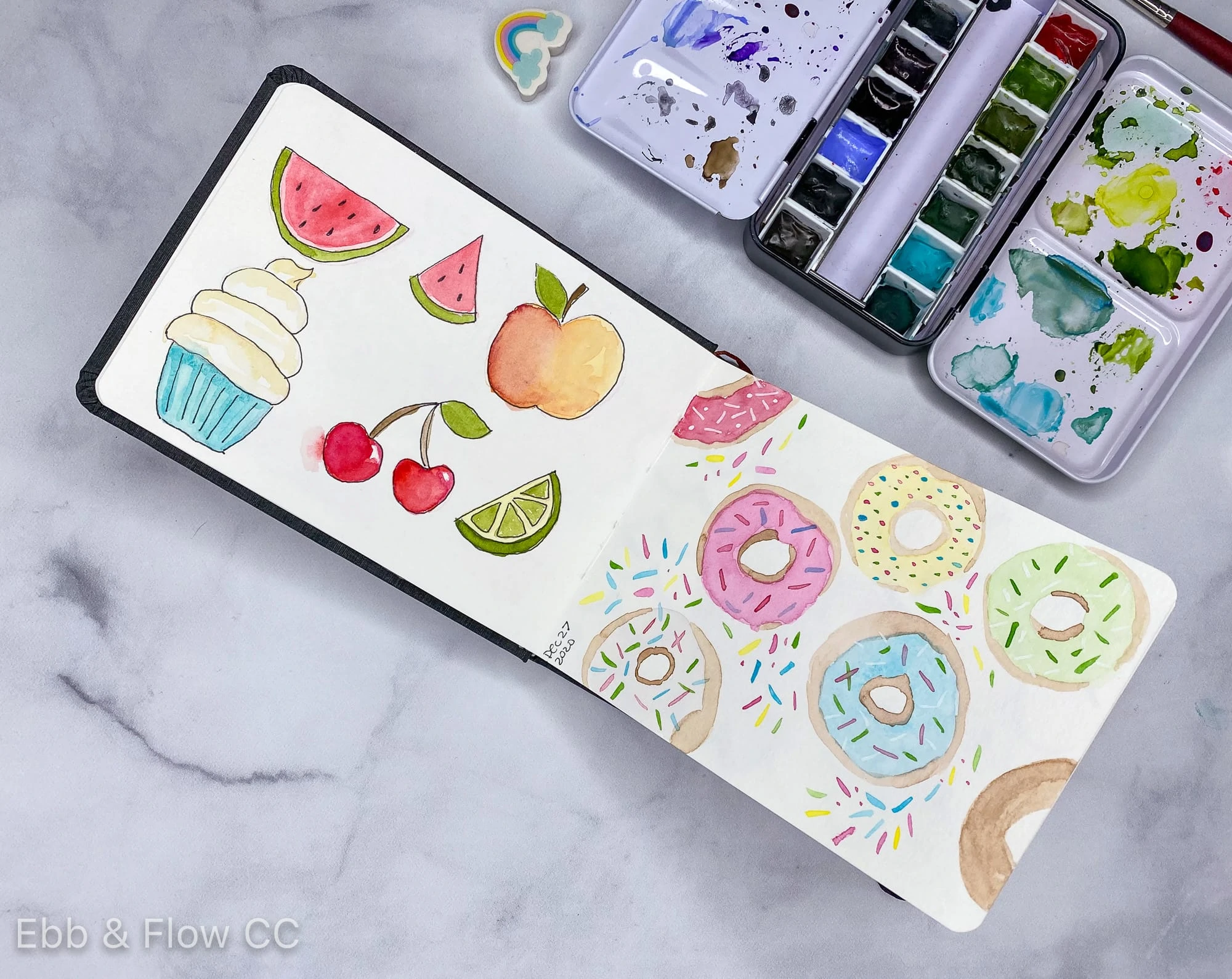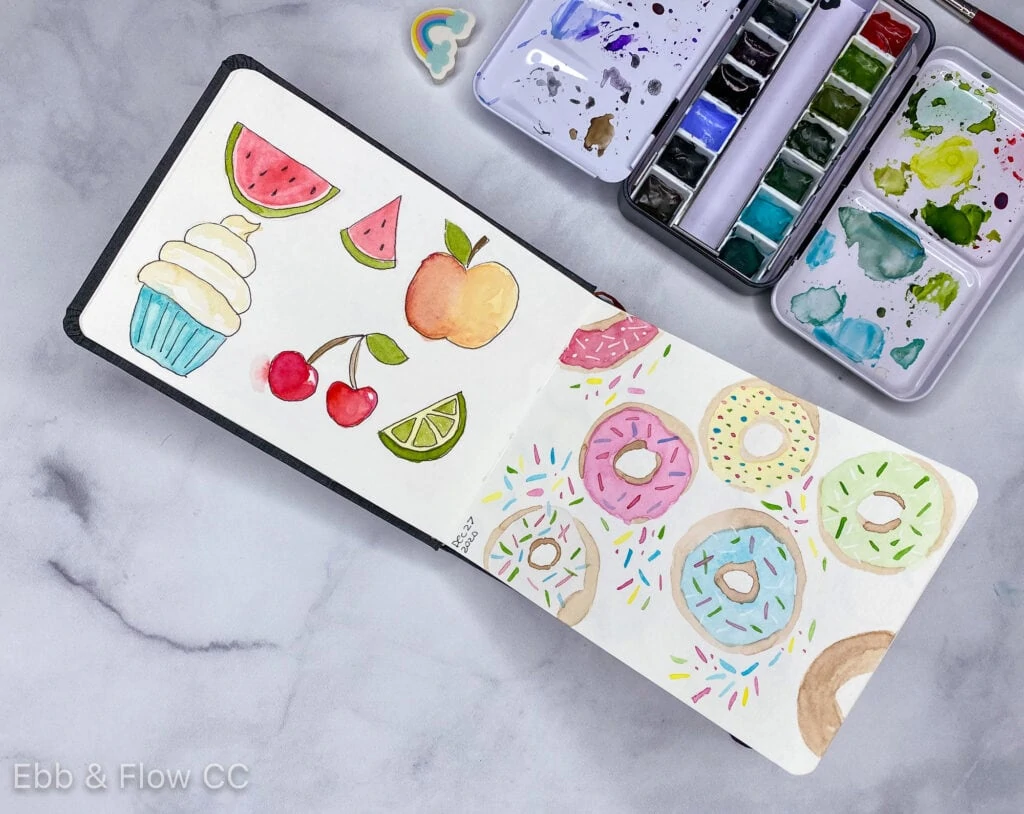 This is a great way to hone your style, by the way.
I also like trying new color schemes. There are 5 or 6 colors that I reach for constantly, so it's nice to try new colors.
This is also a fun place to try new techniques. I have a Skillshare membership and I love practicing the skills that I learn in the classes. (The carrots in the top image are from a Peggy Dean class.)
Skillshare is also a great place to get new ideas for sketchbook paintings. From there you can take what you learn and use it in your own work.
Make it Convenient
I recently read the book Atomic Habits, and this is the biggest lesson that I learned. If you make it convenient, it's easier to do it every day.
So I reorganized my entire art studio to be able to put my computer in there. Since I spend all day on the computer, it's easier to just move to another desk and paint now.
My art studio is in the basement and sometimes I couldn't be bothered to walk downstairs. (So lazy.)
Keep it Small
I recently bought a bunch of watercolor sketchbooks to try out and I quickly discovered how wonderful a small sketchbook is.
It's way less intimidating than a giant page.
If you have a hard time sketching every day, try a smaller sketchbook. It's surprising how much easier it is to create small art.
Allow Yourself Grace
Sometimes life happens and I fall behind. I usually just paint a few pieces to make up for the time I missed.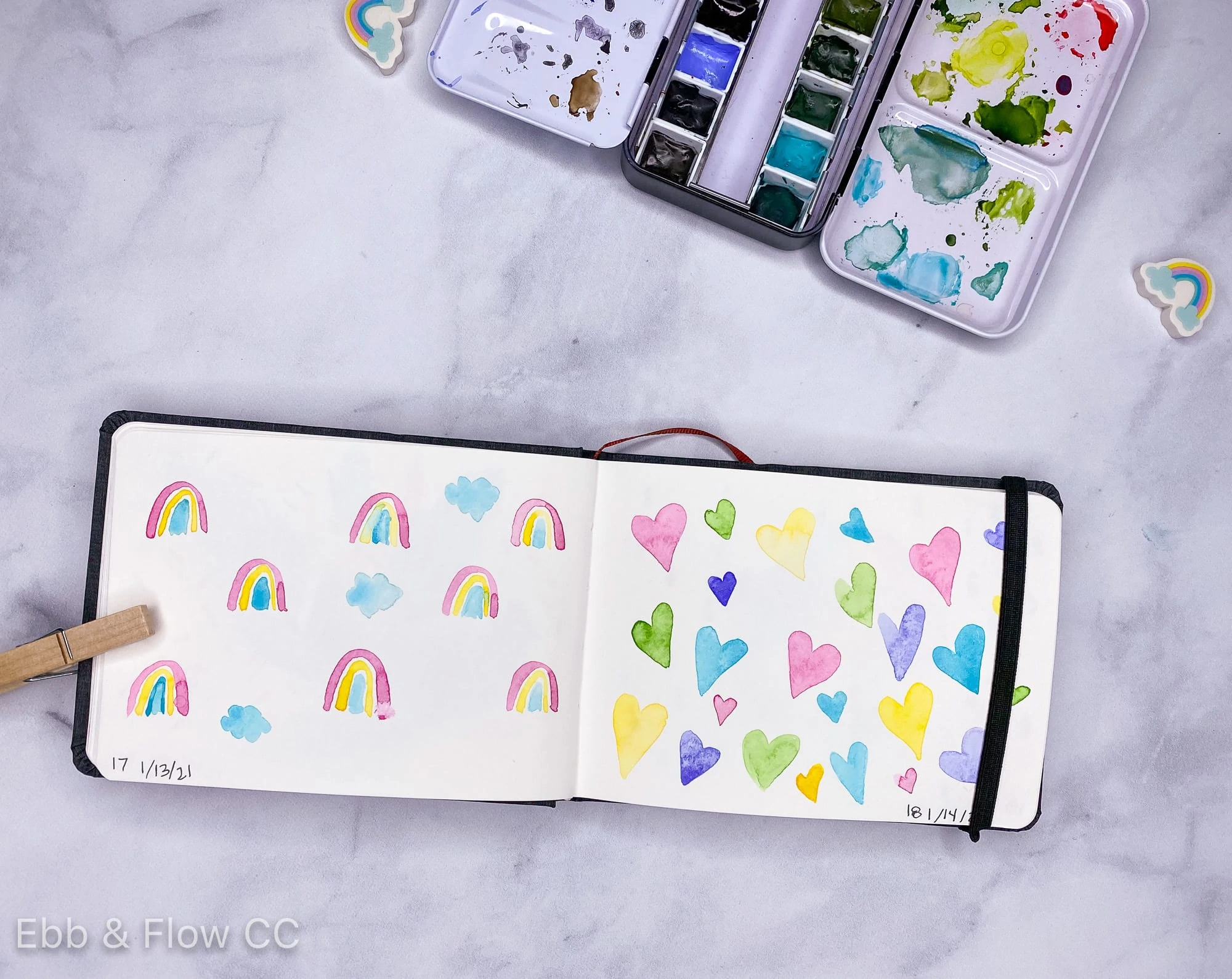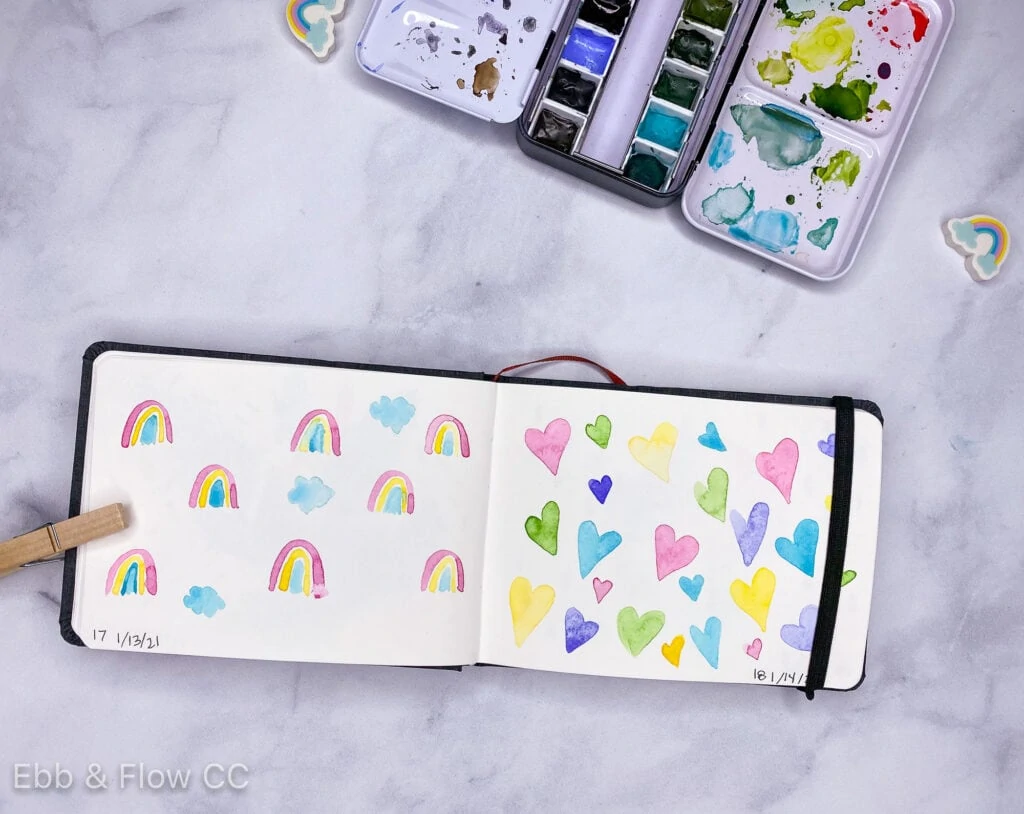 Some days, I'm not feeling very creative, so I just paint a quick pattern. Or something else really simple.
We all have our go-to thing that we love to paint. Paint that on those days.
Make it Just for You
My sketchbook is just for me. I don't plan on using the art for anything or sharing it with anyone.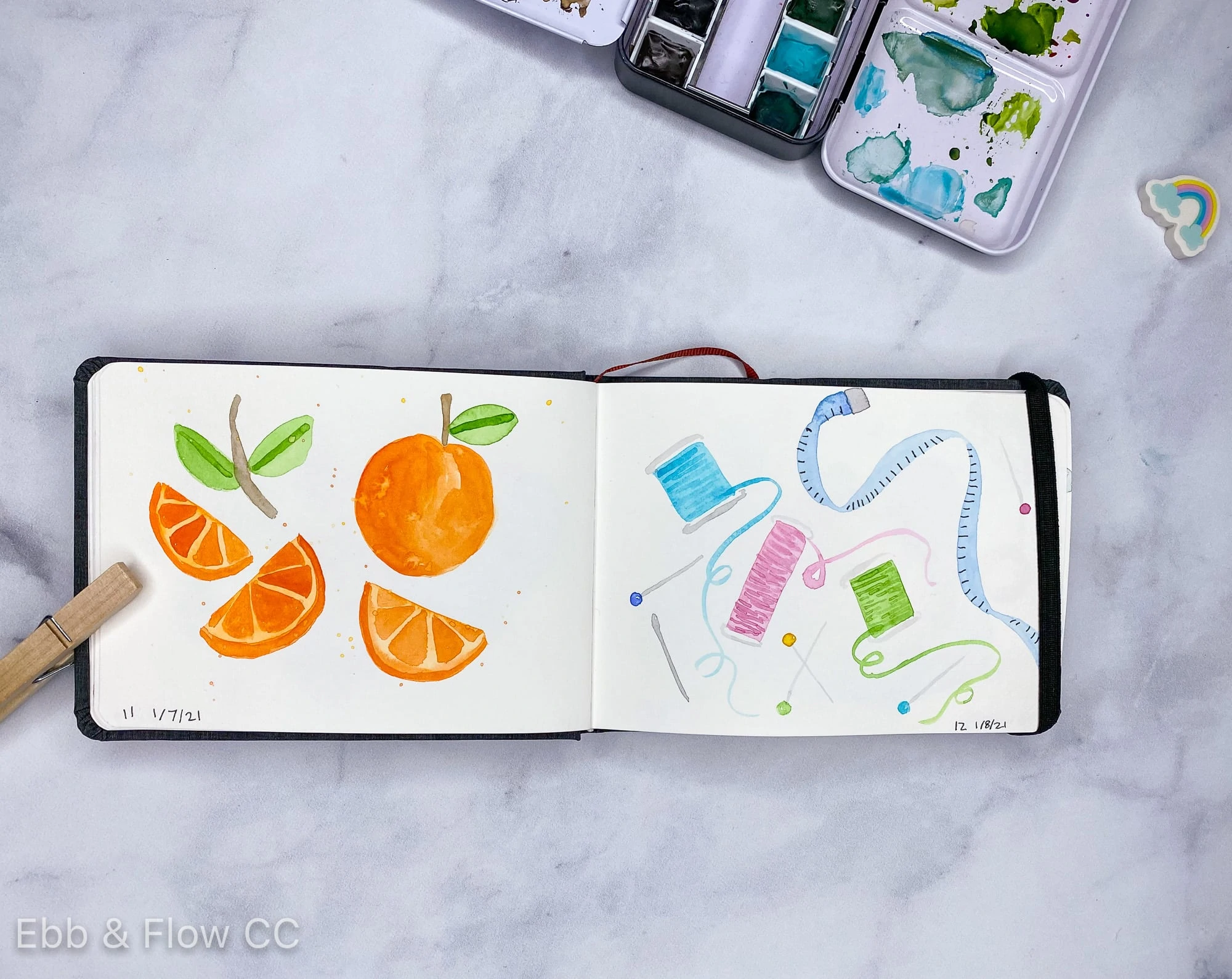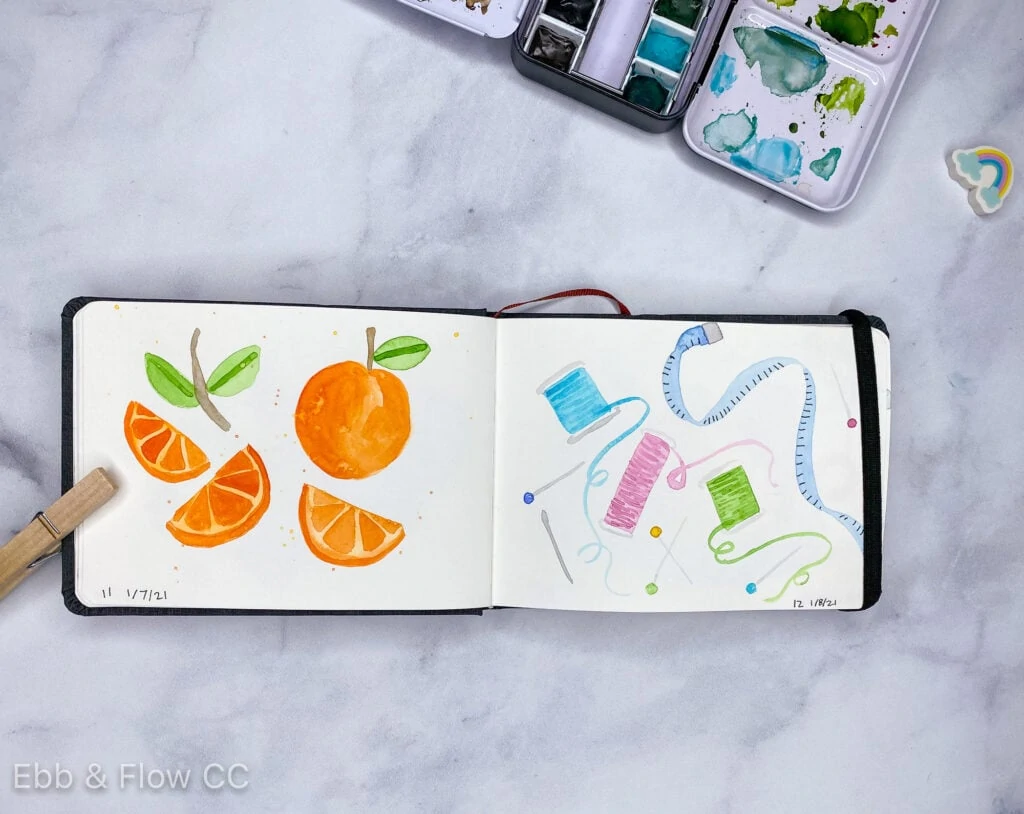 This removes the pressure to create something great. If it does turn out great, wonderful! But if it doesn't, try to learn from it and do it better next time.
If you love sharing your work on social media, then, by all means, do that instead.
Keep it Fun
Painting in my sketchbook is probably the best part of my day. It feels like a gift that I'm giving to myself.
Because it's so much fun, it's easier to bounce back after a hideous painting. It keeps me coming back.
Get easy abstract painting ideas for your sketchbook.
Have a Sketchbook Prompts List
Some days the ideas just don't come to me. So I made a list of ideas to use in my illustrations. I kept them very simple so that I can interpret them however I want.
Some days I paint the objects, other days, I might be more interested in lettering the word.
My list includes over 350 items and I sell the list in my Etsy shop if you're interested.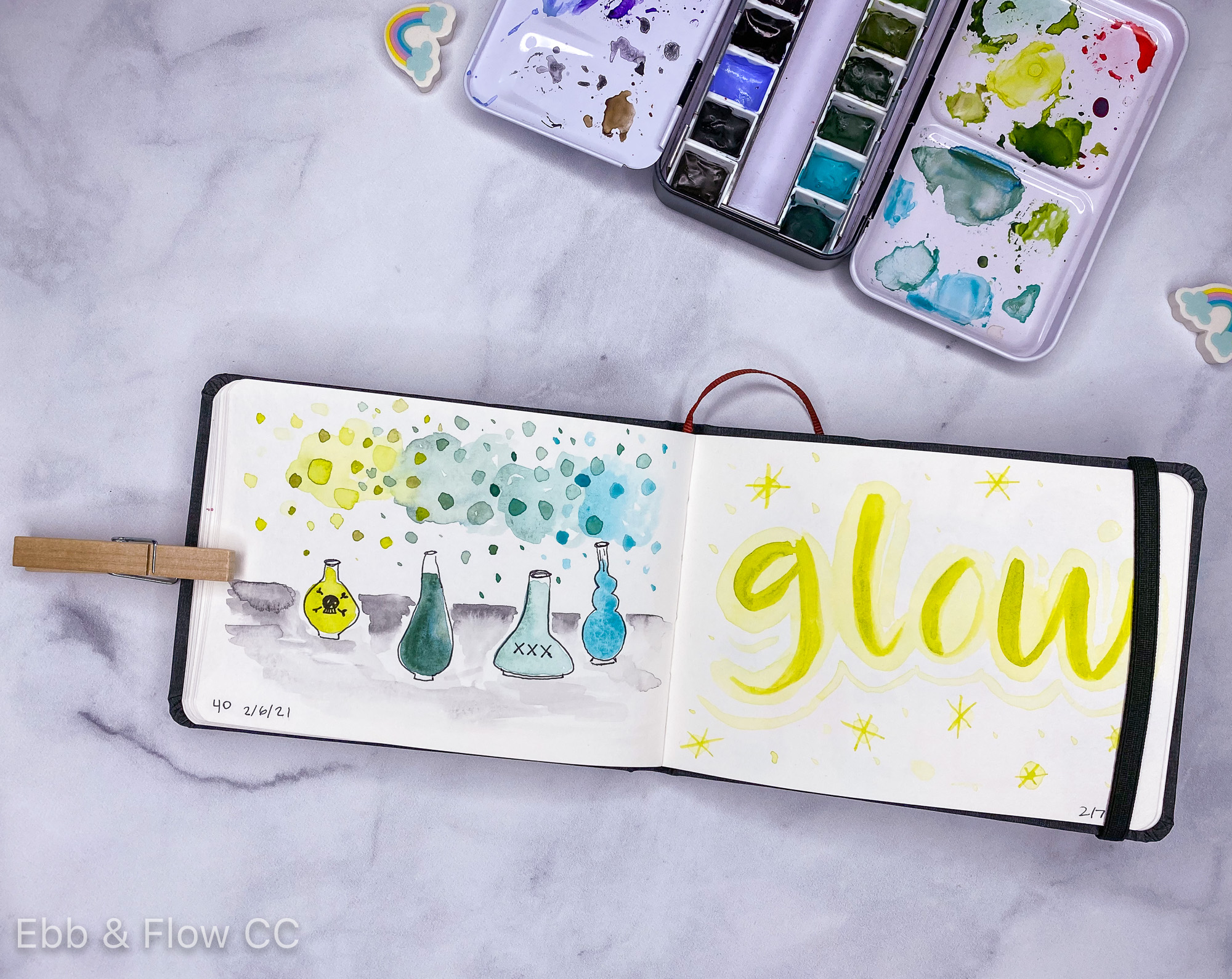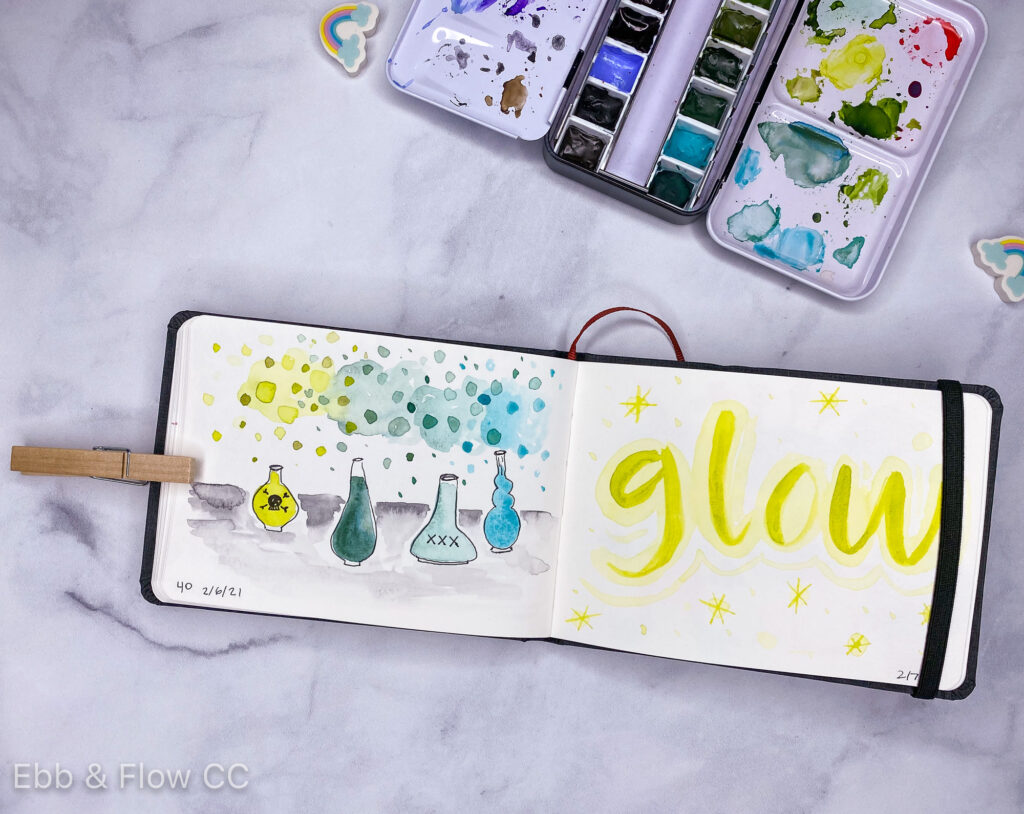 How do you keep motivated to make art daily?
You Might Also Like:
Pin for Later!