Learn more about the best waterproof pens for watercolor. I tested 10 different pens and inks to see which pens perform the best when used with watercolor paint.
You might also like this post on watercolor versus gouache.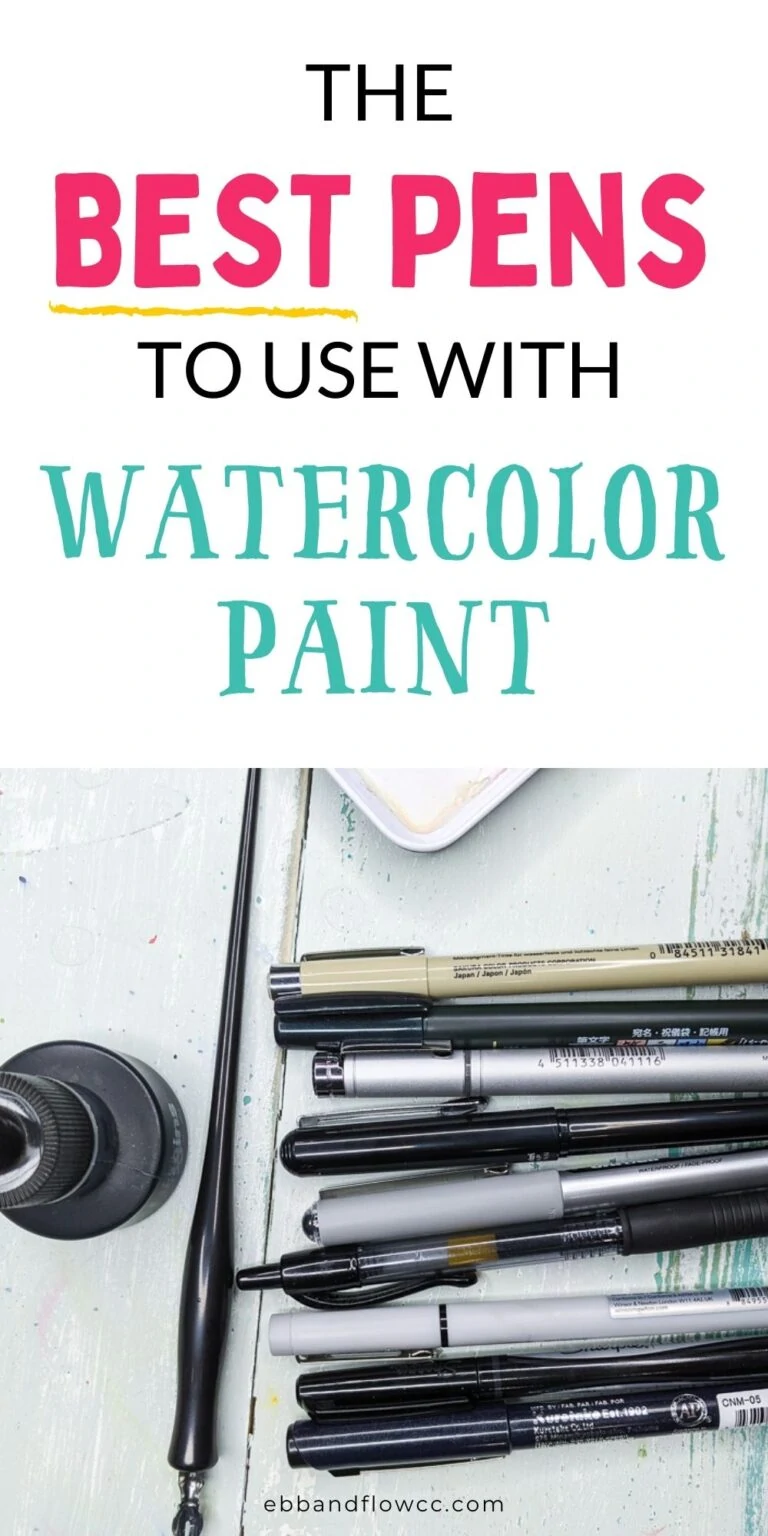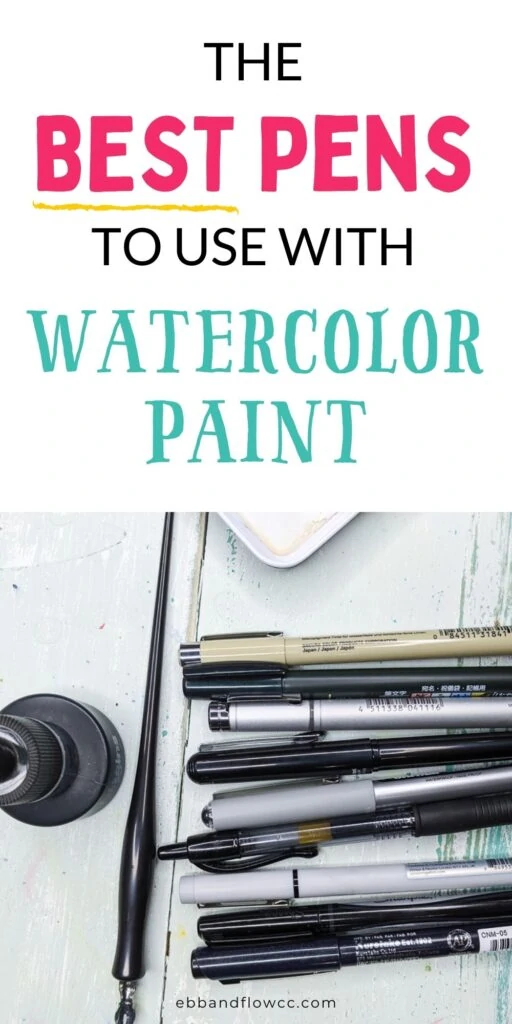 This post contains affiliate links. By purchasing an item through an affiliate link, I earn a small commission at no extra cost to you. As an Amazon Associate I earn from qualifying purchases.
Inking FAQs
Should I ink before or after using watercolors?
It's really a personal preference. Inking before using paint makes it easier to start over if you mess up the inking. It also makes painting easier because you're just filling in the areas.
However, there are also reasons to ink after painting with watercolors. Some of the colors can dull the ink if painted over the black. It's also easier if you don't have a waterproof pen handy.
For more information, check out this post all about when to ink with watercolor.
What's the difference between waterproof and water-resistant ink?
Waterproof ink will not smudge under water or paint. Water-resistant ink may need time to dry before it does not react to water or paint.
Are Micron pens waterproof?
Yes. Sakura Micron Pens work very well under paint and water. They also dry fast, which results in less smudging when inking.
Testing Waterproof Pens for Watercolor
I tested 9 different pens (and 1 ink) to see how well they work under watercolor. The pens tested were an accumulation from this list, pens I already owned, and a few extras that looked promising on Blick.
Waterproof Ink Testing Process
Each pen was tested for smudging right after writing with it. Then each pen was tested by applying paint over the ink after 15 seconds and then 30 seconds.
If the results were bad, the ink was also tested after 1 minute to see if the ink needed more drying time.
The pens were also tested over watercolor paint. (All of the inks performed well in this test.)
The weight of the pen varies depending on what I already had but also depending on the brand of pen.
The Testing Results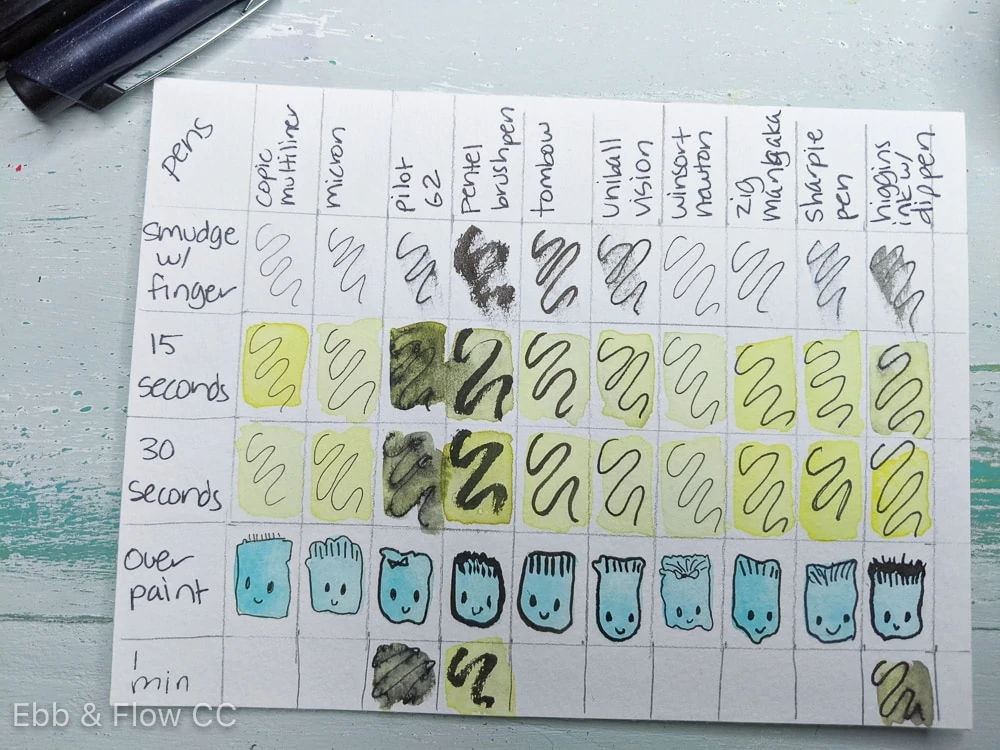 (I've provided links for both Blick and Amazon where possible. I like to order from Blick because it's so much cheaper than other places.)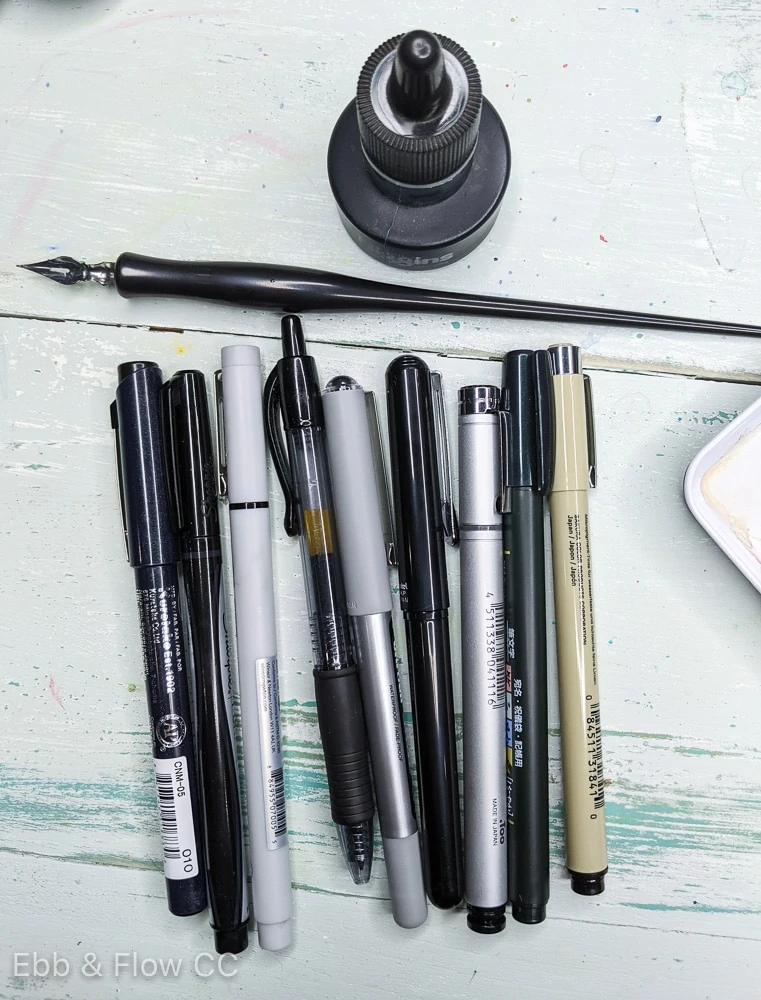 I also tested white pens over watercolor, so be sure to check that post out!
Overall Thoughts on Ink for Watercolor Paint
Of all the pens I tested for watercolor compatibility, I still love my Sharpie pen the most. It's affordable and easy to find in stores. Plus it performed really well under watercolor paint.
The Copic, Micron and Winsor and Newton Fineliners all performed well too. They can be found in most art stores, but cost more than a pack of sharpie pens.
This test also showed me how fun it is to play with different weights of pens. I love how the Tombow pen creates different weights depending on the pressure. I also really loved playing with my dip pen.
What is your favorite pen to use with watercolor paint?
You Might Also Like:
Pin for Later!