Learn how to sell Procreate palettes on Etsy. Procreate palettes are easy and fun to make. They're a great digital download to add to your Etsy shop.
You might also like this post on how to start an Etsy shop.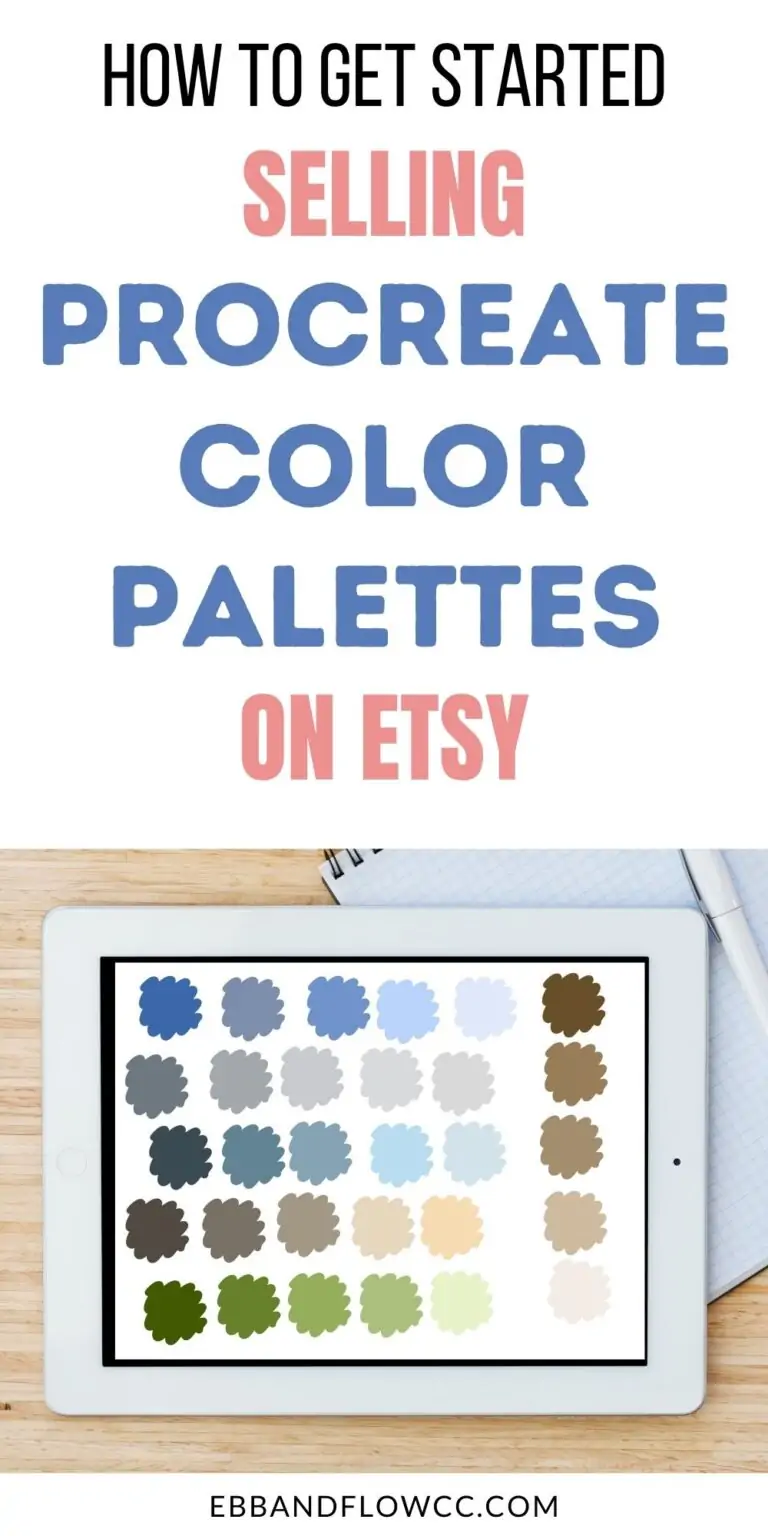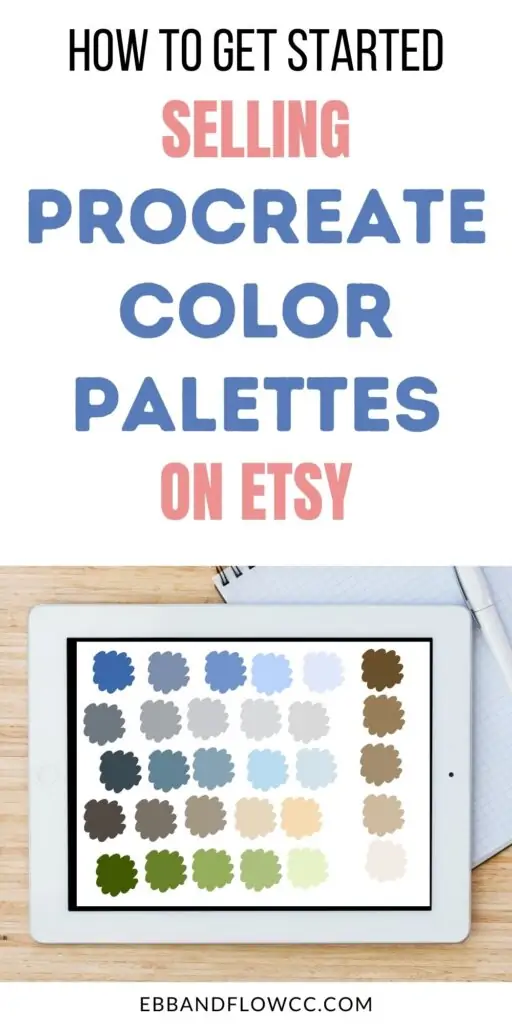 This post contains affiliate links. By purchasing an item through an affiliate link, I earn a small commission at no extra cost to you. As an Amazon Associate I earn from qualifying purchases.
How to Sell Procreate Palettes on Etsy
I've been selling digital products on Etsy for a few years now. It's a fun way to make extra money off of products that you're probably creating anyway.
Here's how I approach selling a new product.
Researching the Product
Before making something to sell on Etsy, it's always a good idea to do market research. Keep in mind that you're not looking for ideas to copy. You're looking for ideas to expand upon or for gaps in the market.
Start by looking at Etsy to see what some of the top sellers are. What similarities are you seeing? What is missing?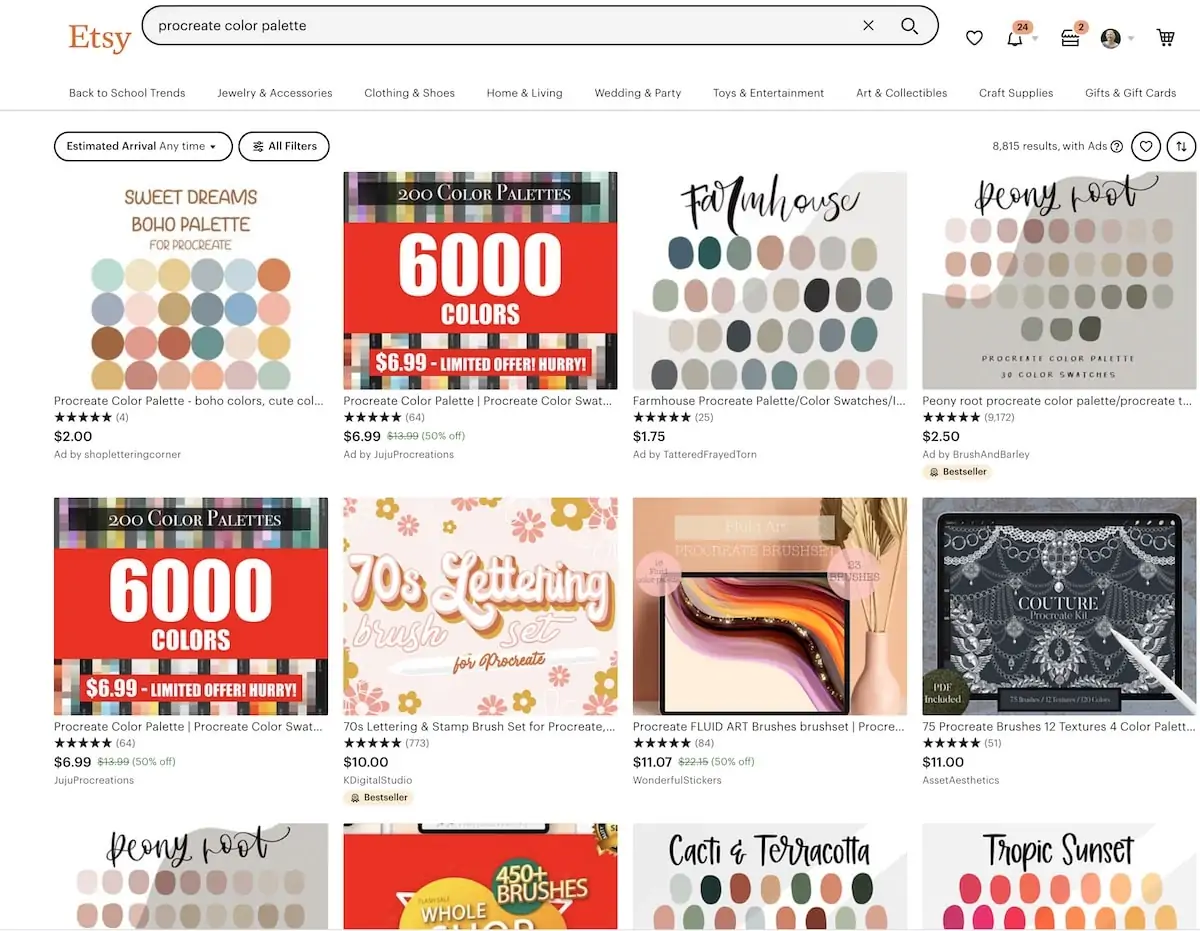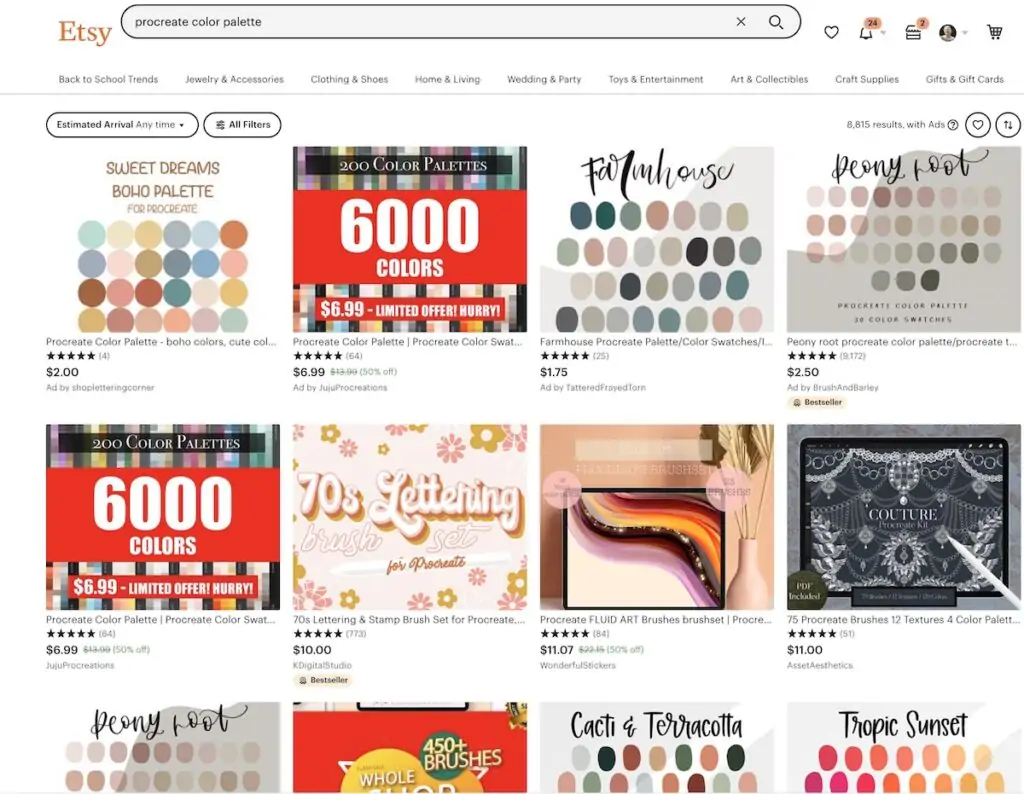 Look for trends in seasonality as well. If it's summer, it's a good idea to start thinking about fall or winter even.
Pinterest is another good place to look for ideas. Search color palettes. Wedding color trends for the current year are a great way to see which colors are popular.
Start a Pinterest board for your color ideas and see if you find any commonalities. Don't just save color palettes. Save beautiful photography as well. Anything can be inspiration: home decor, food, fashion, branding, travel, flowers, animals, etc.
What are the colors you see in stores? This is also a good indication of what is currently popular.
Trends can also dictate colors. Right now, there's a huge trend for retro art. This is a great way to find inspiration. When galaxies were all the rage, those colors would have done great.
Creating the Procreate Palette
The next step is to create the Procreate palette. I just wrote a post on how to create palettes from images.
Here's another post with other options for creating color palettes.
Be sure to test your colors to make sure that there is enough variety in your palette. You want light, medium, and dark tones.
Creating the Images for Etsy
Once my colors are finalized, I like to create an image that shows all of the colors.
Etsy photos need to be at least 2000 pixels wide, so create a canvas that big (or you can use a mockup. However, the image still needs to be large enough to not be blurry, so a larger file is always a good idea.)
I like to use a custom stamp brush that I made to show each color. You can just use scribbles or even circles for your image.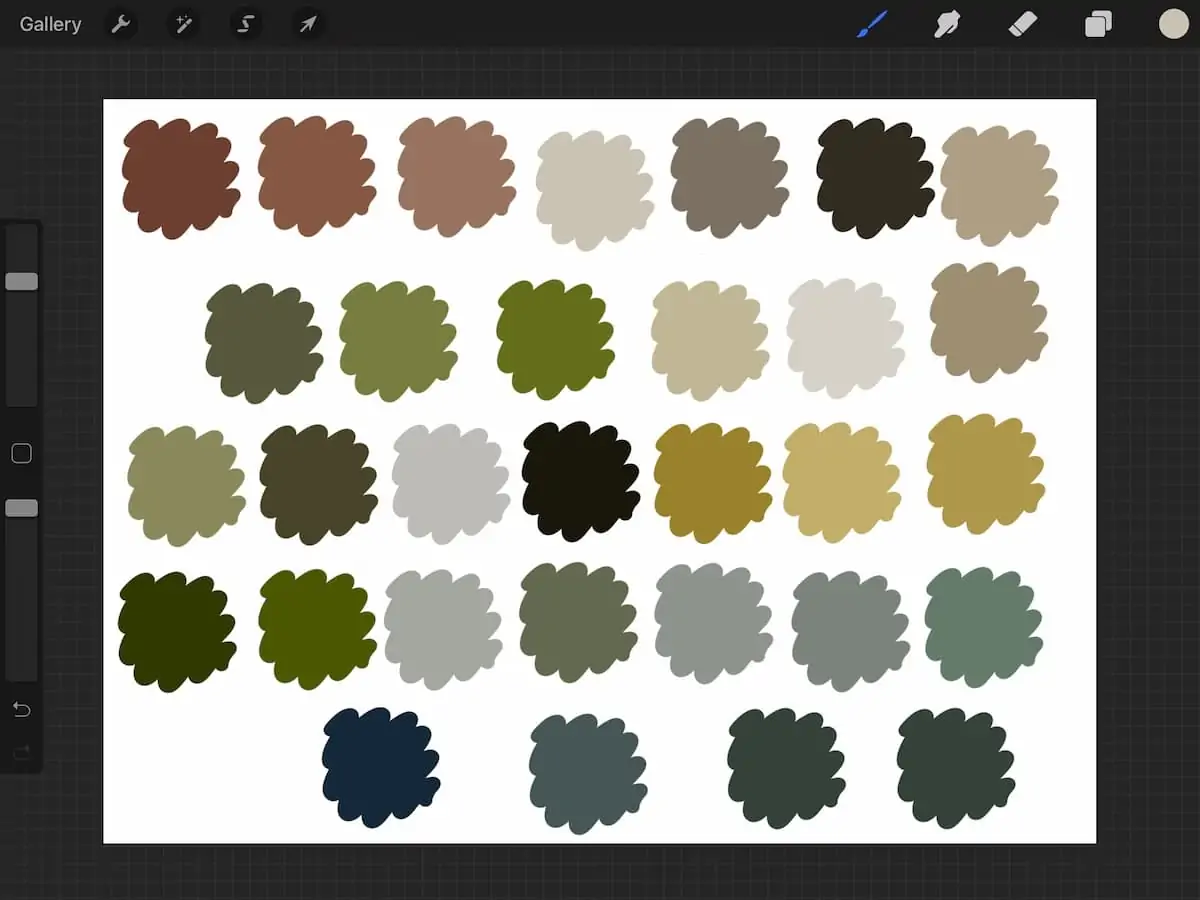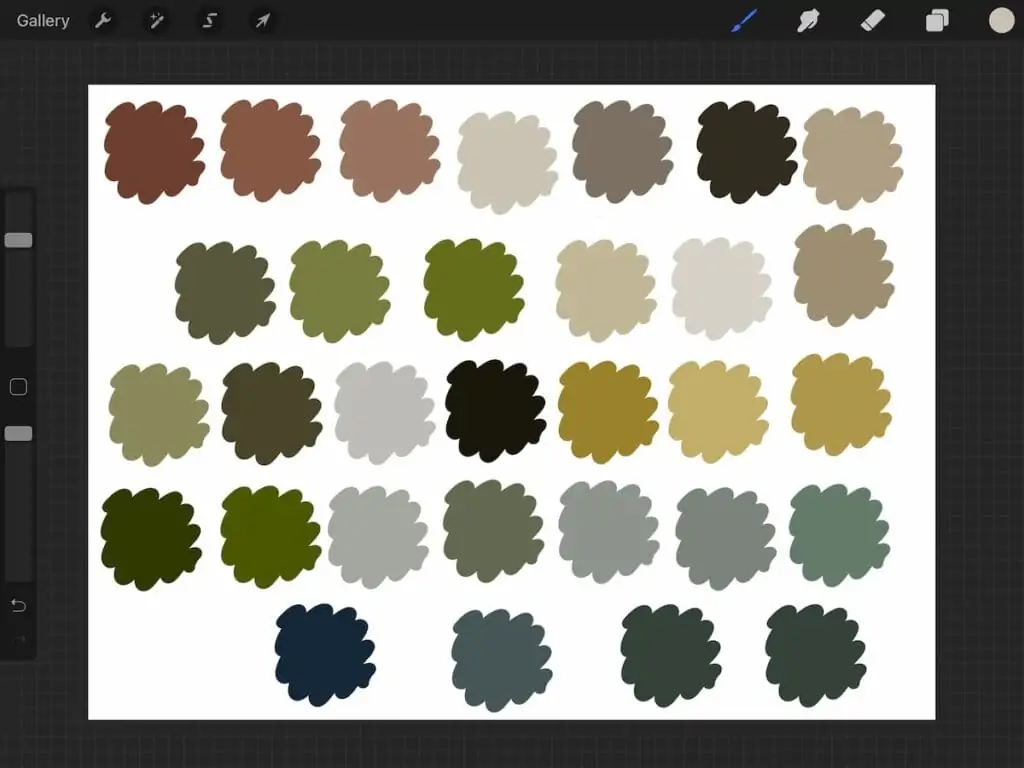 I find it easier if I place each color group on a separate layer so that they're easier to move around and arrange. Then the layers can be merged down.
If you want, you can add a watermark, but use a very light one. If people want to steal, they're going to find a way to steal it with or without a watermark. Personally, I would rather make the image clear for customers.
When you're happy with your image, save the photo and transfer it to your computer.
You might also want to add your branding and color palette information for the main photo. I make mine in Photoshop, but Canva is also easy to use.
Packaging the Palette Files
You can include a JPG version of the colors with the hex codes to use other art programs.
You might also want to create a simple PDF guide for how to install the color palettes in Procreate. You can use Canva if you need to.
In the palette menu, slide the palette to the left with your finger.
Select the share button and save it in the desired location.
This saves the .swatches file.
I also save a JPG version of the image.
Place both files in a folder and name it specific to the file. Include your brand name if you want. (Example: spring-color-palette-EbbandFlowCC)
Zip the folder so that you can upload the file to Etsy.
Listing Procreate Palettes on Etsy
If you run into size issues when uploading the palette in Etsy, you will need to upload the files to a Google drive and instead upload a PDF with a hyperlink to the google file instead.
I have an entire post that walks you through creating a new listing on Etsy.
Here are a few tips to get you started.
Name the item something that people actually search for. Avoid cutesy names because no one searches those. For example use "Summer Fruit Color Palette," not "Strawberry Fields Forever." You can name it something cute in your images, but not in your title.
Fill out the information as much as you can with all of the details. Try to answer any questions that they might have.
Always use all 13 tags. Learn more about SEO for Etsy here.
Pricing should be comparable to other shops. Color palettes are pretty simple files, so people don't expect to pay a lot for them.
Consider making bundles of your color palettes. This can help increase your income.
Be sure to pin your Etsy listing on Pinterest. Make a special board for color palettes. Consider making long pins to pin as well.
Get 40 free listings when you open a new Etsy shop!
You Might Also Like:
Pin for Later!