Looking for the perfect Bob Ross color palette to use with Procreate? Look no further! This color palette feature the classic colors, plus shades and tints to make illustrating happy little trees easy!
You might also like this post on importing brushes for Procreate.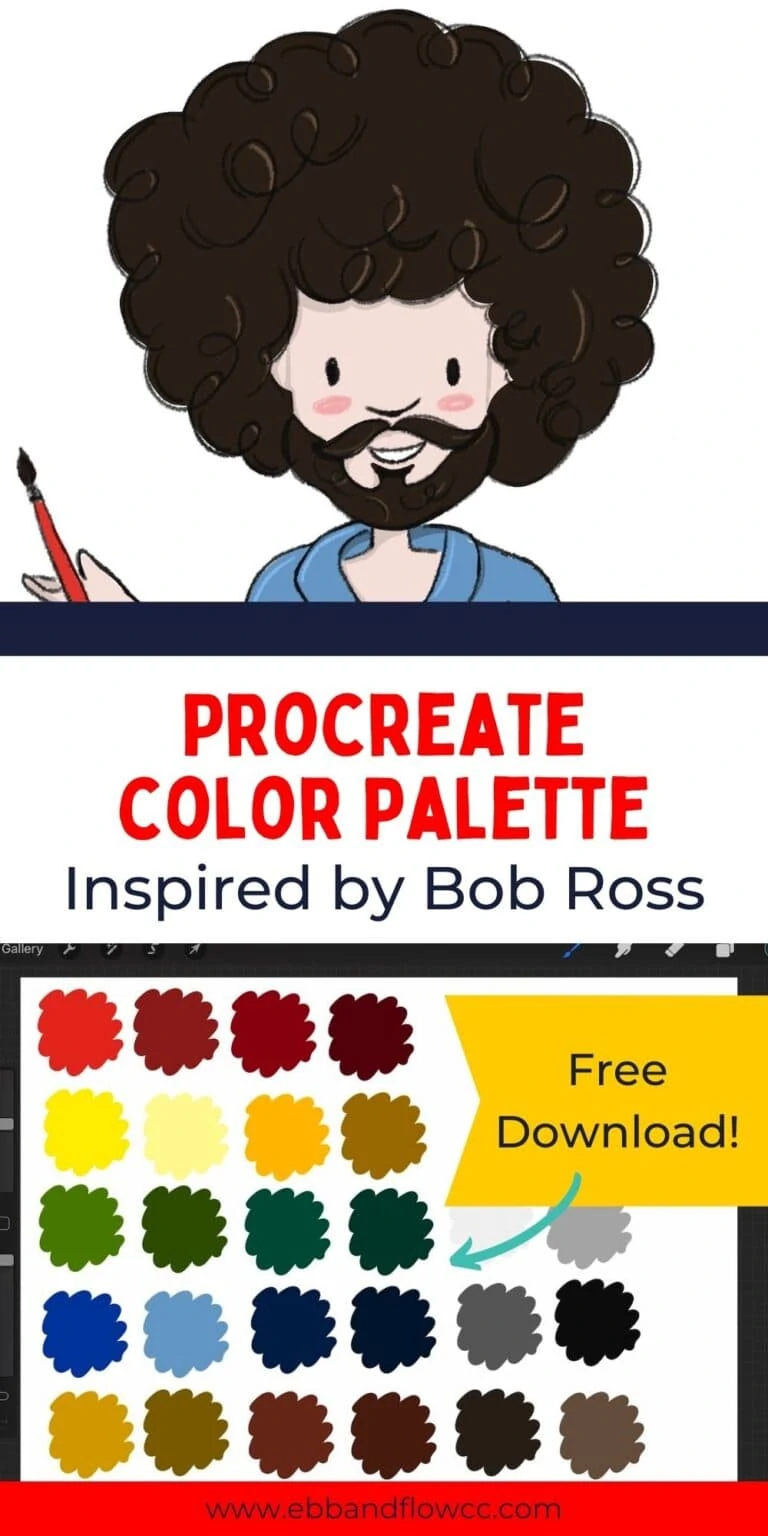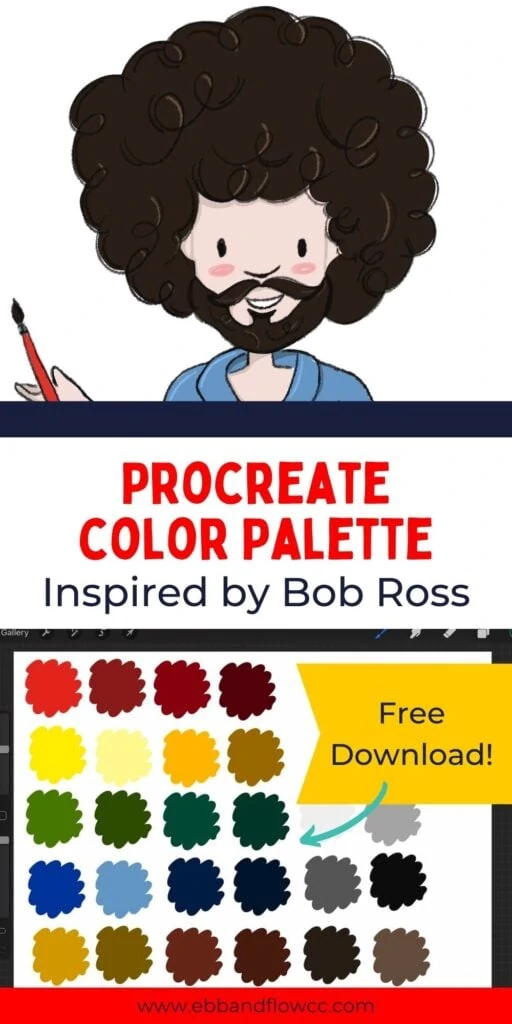 This post contains affiliate links. By purchasing an item through an affiliate link, I earn a small commission at no extra cost to you. As an Amazon Associate I earn from qualifying purchases.
Bob Ross Color Palette
Before I get started, I feel like this post needs a few disclaimers about the accuracy of colors.
First disclaimer: Bob used oil paints and oil paints are pretty dark out of the tube, which I didn't think would translate well for digital art.
So instead, I used his paint colors and based the colors on how acrylic paints look instead.
Second disclaimer: I've used a list of colors based on his paint line, but I'm not 100% sure that these are the colors he actually used.
There are 2 cool blues in this palette that are way too similar. Looks like I need to binge some Bob Ross and pay attention to the colors.
The last disclaimer: Procreate only allows 30 colors in the color palette.
Normally, I like to add light and dark versions of each color as well, but there just wasn't space. So I picked the best ones that felt different from the other shades.
Any other mistakes can be chalked up to being happy little accidents. Make them birds. They're birds now.
It's easy to use the color selection tools to get warmer or darker versions of each color.
I like using the classic selection and dragging the color in a straight line to get a lighter or darker version.
By the way, if you're interested in learning about how to choose colors from an existing photo, check out this post I wrote on using the color picker.
The Bob Ross Colors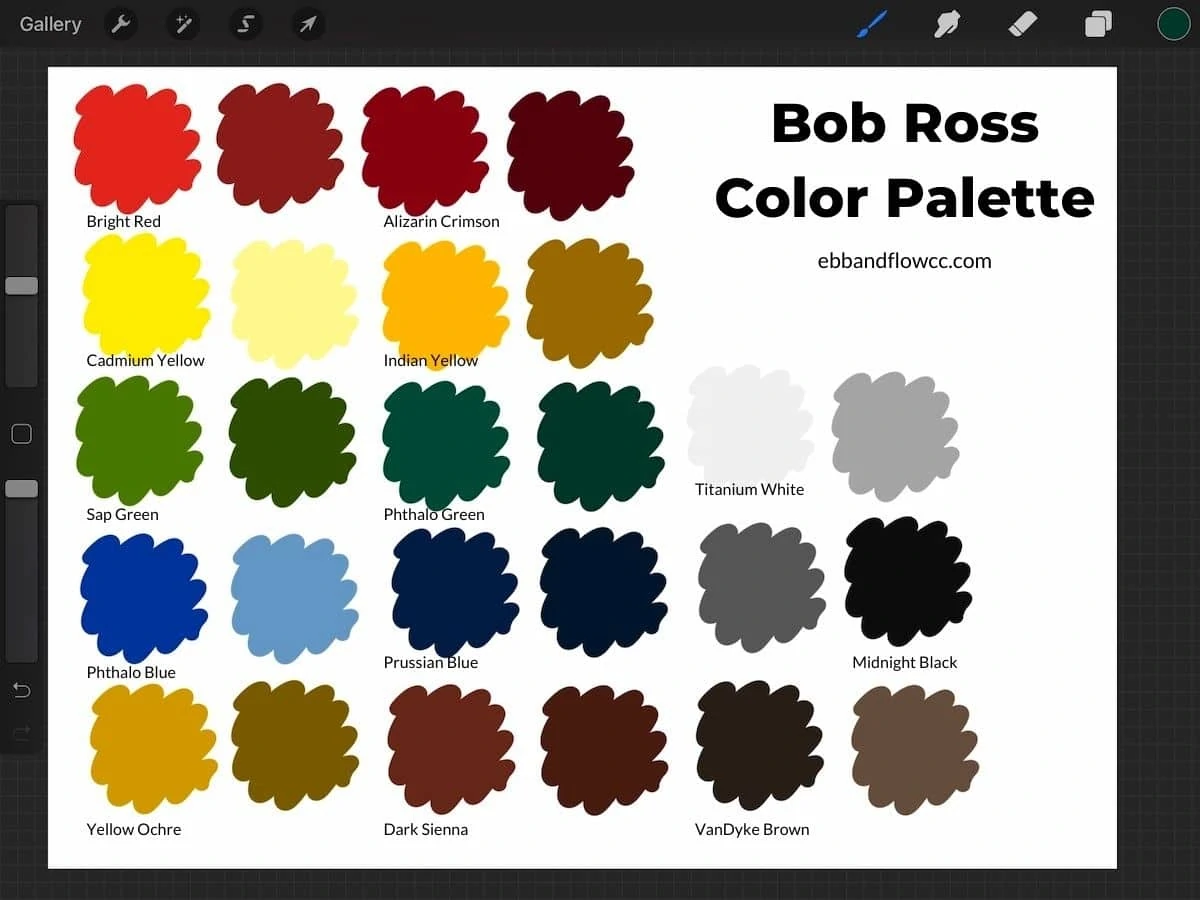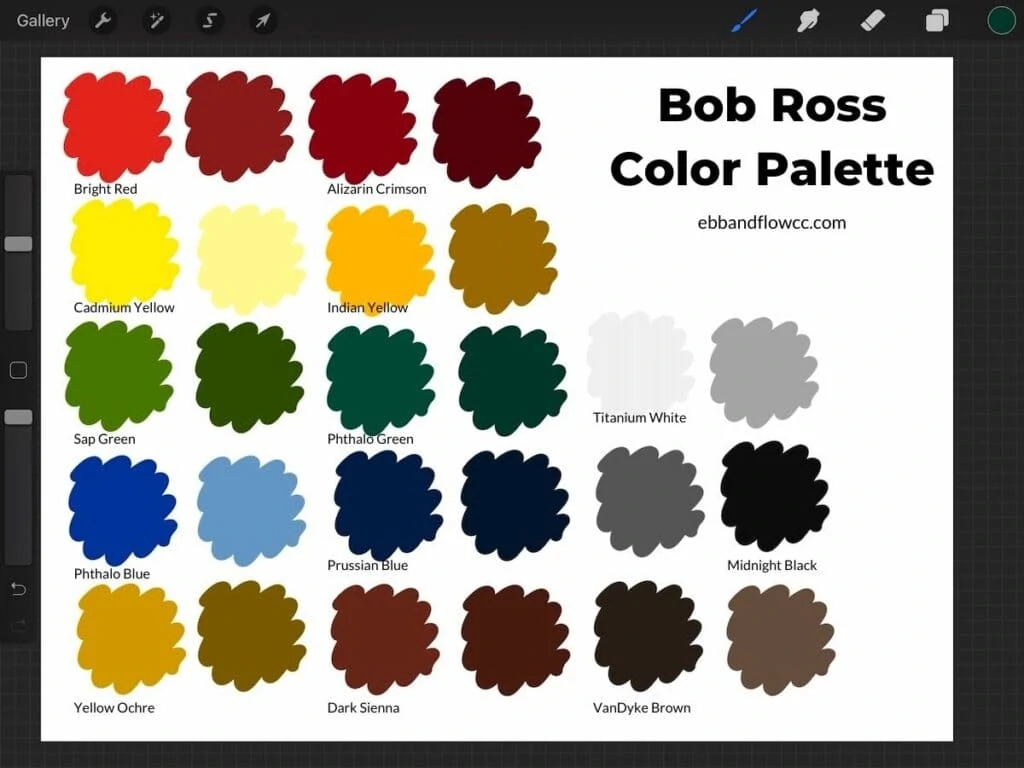 Alizarin Crimson - (Cool red)
Bright Red - (Warm Red)
Cadmium Yellow - (Cool Yellow)
Indian Yellow - (Warm Yellow)
Sap Green - (Warm Green)
Phthalo Green - (Cool Green)
Prussian Blue - (Cool Dark Blue)
Phthalo Blue - (Cool Blue)
Yellow Ochre - (Warm Earthy Yellow)
Dark Sienna - (Warm Brown)
Van Dye Brown - (Cool Brown)
Midnight Black
Titanium White
I had so much fun using this palette to draw a quick little Bob Ross illustration. All of the colors used were from this palette, except for the skin, which came from my skin color palette.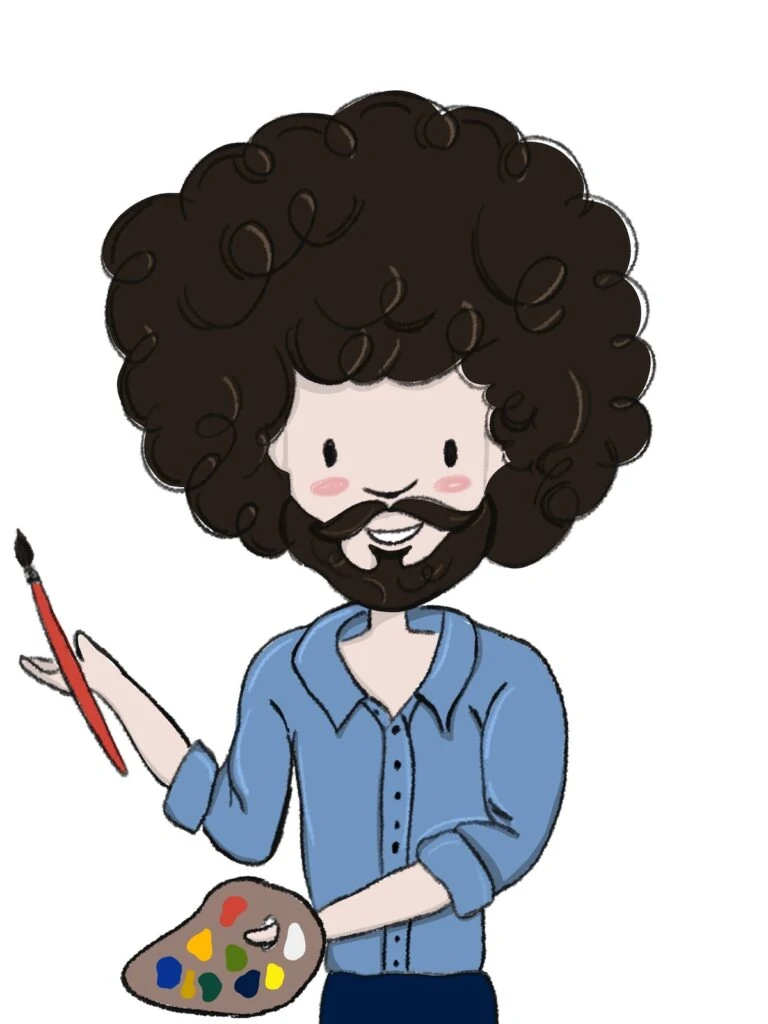 I'm on a long quest to figure out how to draw bodies, so I used this fun body brush set, which is so helpful. I've still got some work to do, but it's fun anyway.
I used brushes from my inking pens and my pencil set.
Other Color Palette Posts
Be sure to check out some of my other color palettes.
Download a Bob Ross Color Palette
This color palette includes 26 colors.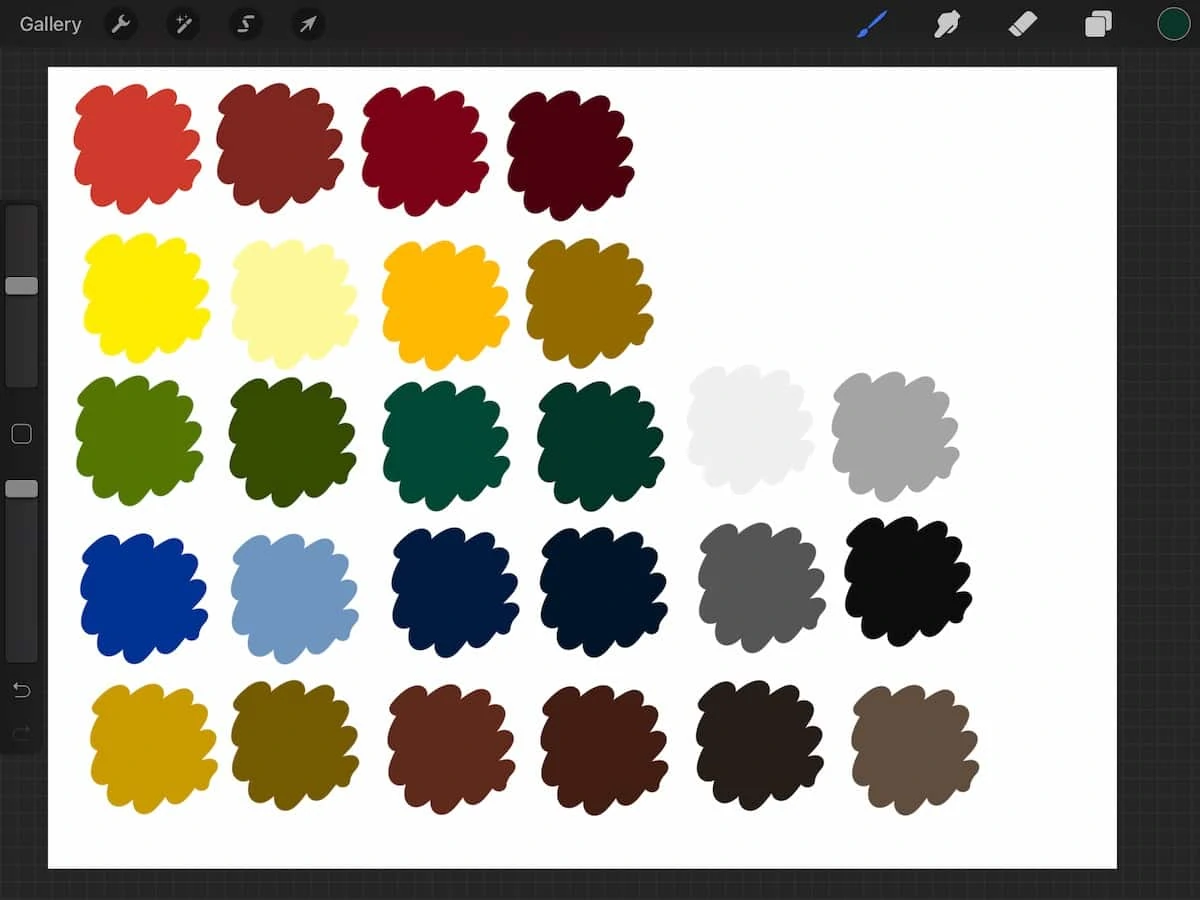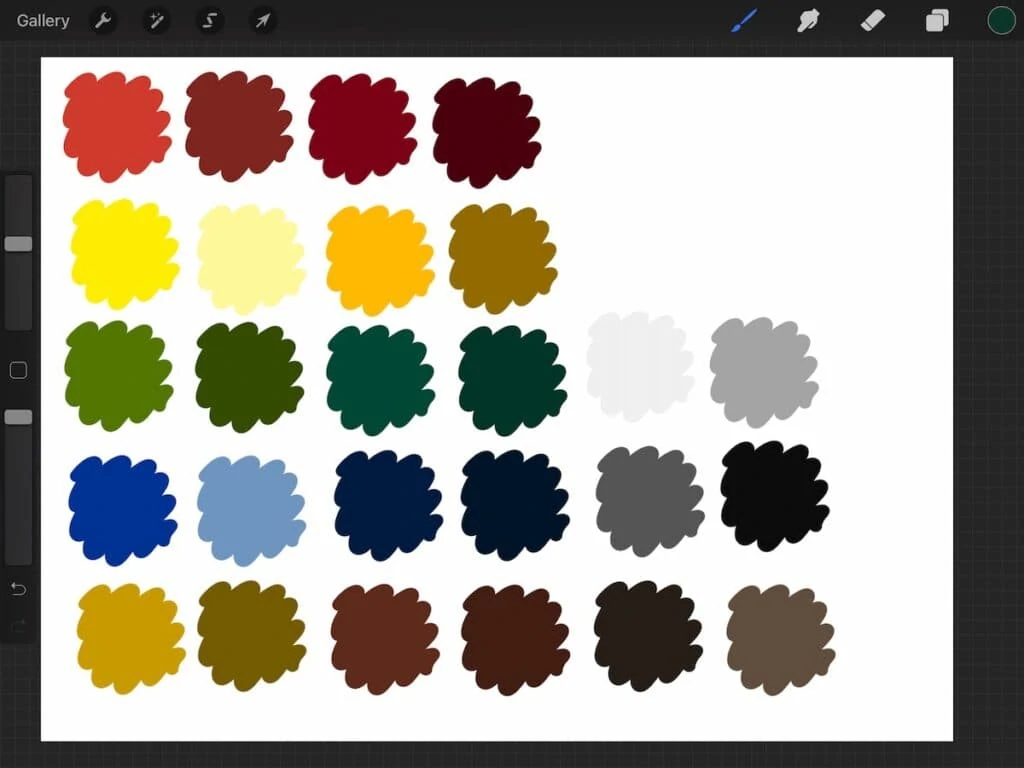 I've included the Procreate swatch file, as well as a jpeg version to use with a color picker in any drawing program.
These downloads are for personal use only. Please do not redistribute or sell.

Dear teachers and students: this download will not work if you are trying to access it when you are logged into your school email account. Try a personal email account instead.
Here's how to import color palettes in Procreate!
Pin for Later!