How to Mix Green Watercolors
Learn tips for mixing green watercolors. Green is one of my favorite colors to paint with. Luckily, it's a pretty easy color to mix and get a huge variety of greens without buying more paint.
Learn more about painting with watercolor here.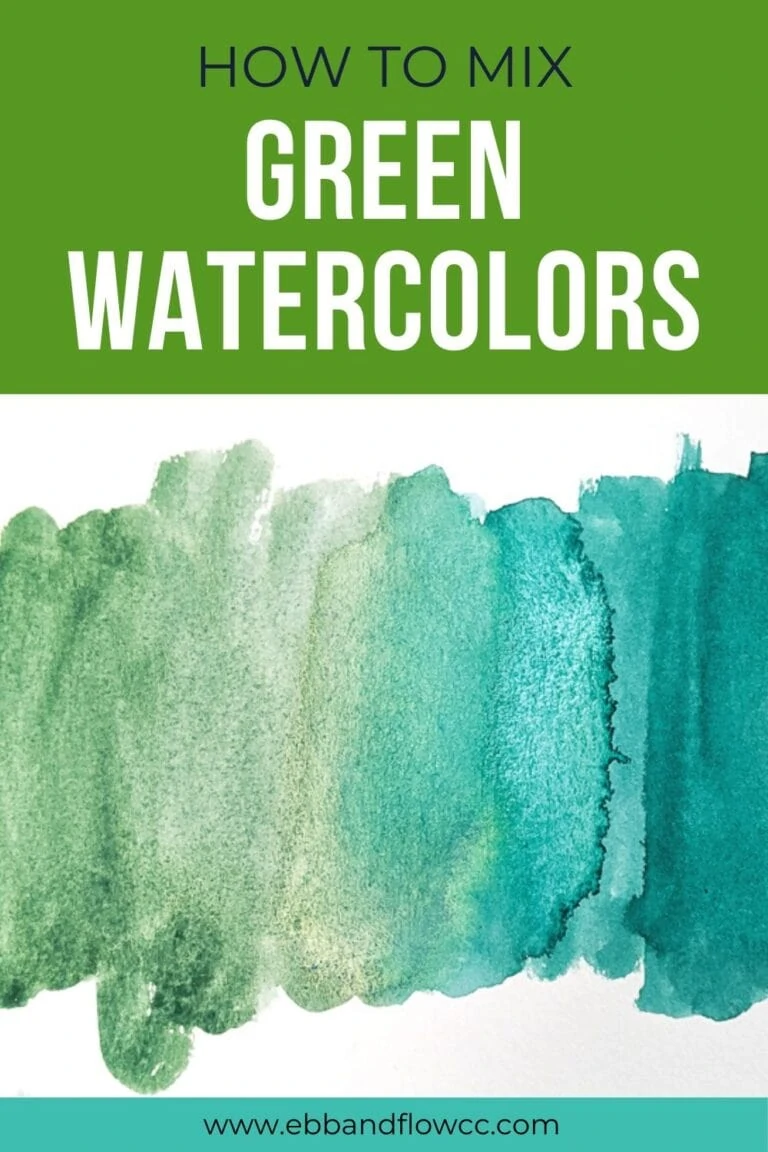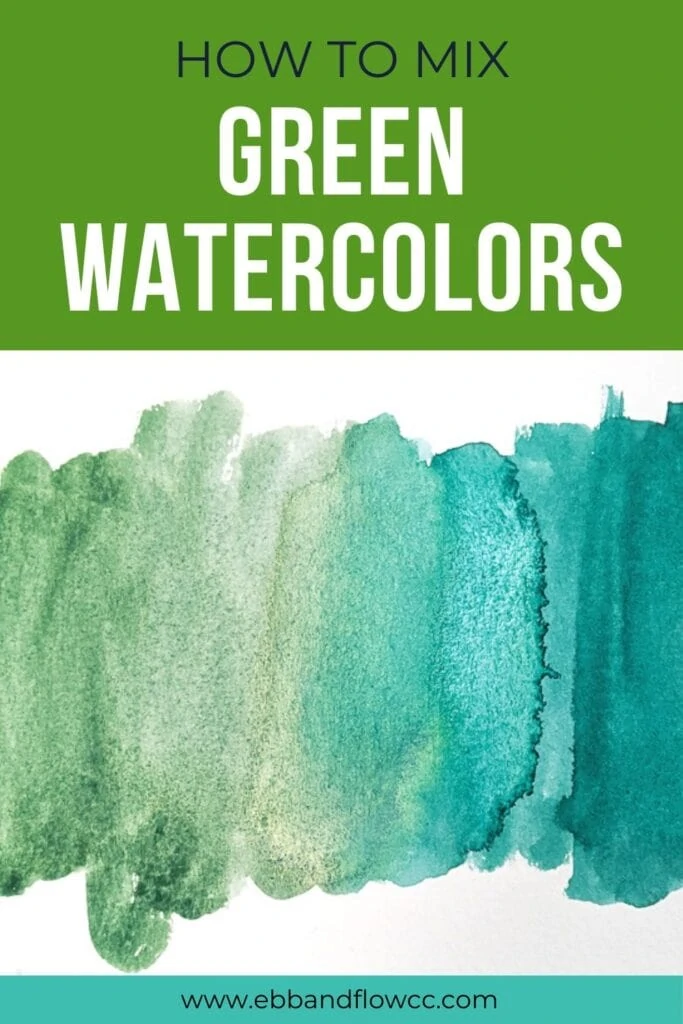 This post contains affiliate links. By purchasing an item through an affiliate link, I earn a small commission at no extra cost to you. As an Amazon Associate I earn from qualifying purchases.
You might also like this post on how to mix purple watercolors or how to mix orange watercolors.
Mixing Green Watercolors
For this demonstration, I'm using Daniel Smith watercolors.
This set is perfect for making green because it comes with the perfect primary colors for mixing: warm red, warm yellow, warm blue, cool red, cool yellow, and cool blue.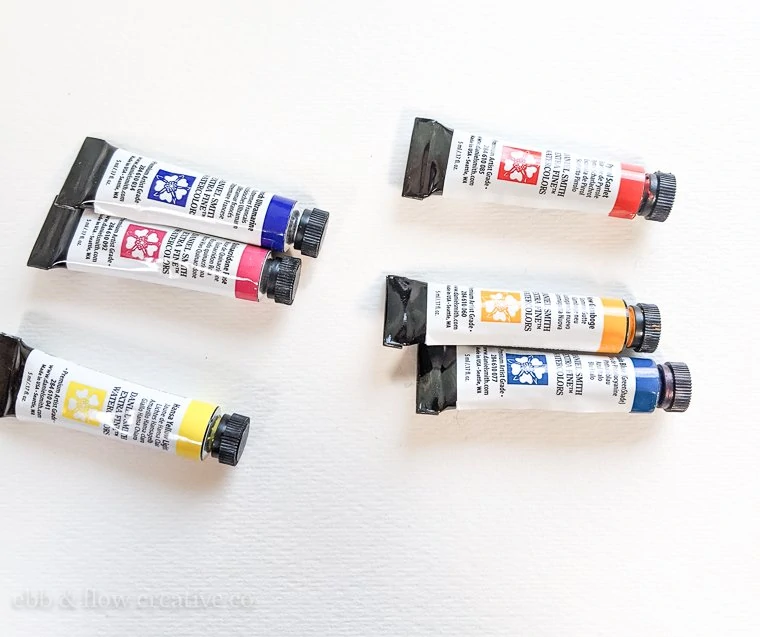 Using just these 6 colors, it's possible to make any color of green (or really any color!) you want.
To make pastel versions, you can add white watercolor paint or more water.
As I talked about in my post about mixing purple watercolors, mixing colors is a bit trickier than we learned in elementary school.
How to Make Green
Yes, yellow + blue = green, but each color has a temperature to consider.
Try these combinations to get a favorite shade of green:
Cool yellow + cool blue
Cool yellow + warm blue
Warm yellow + warm blue
Warm yellow + cool blue
According to color theory, you can make vibrant colors by mixing cool yellow with cool blue or warm blue. This creates bright green colors.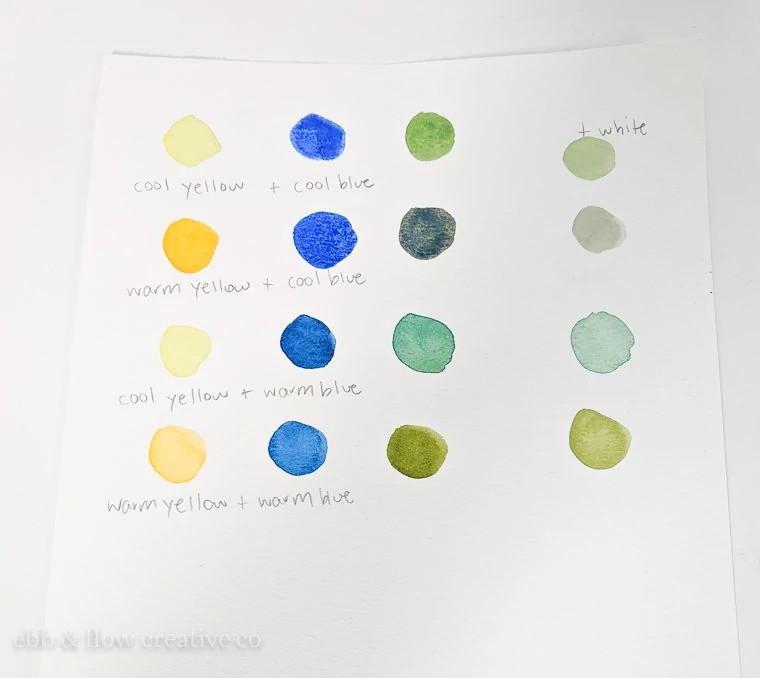 When you mix the warm yellow with the blues, the results are muddier olive greens, since they contain more red.
The warm yellow and cool blue creates a dark green that is almost black, which is a great color for shadows.
For even muddier versions of greens, consider adding a tiny bit of red. Be careful of how much you use though because a little red goes a long way!
You can also try mixing more or less yellow or blue to create even more shades of green.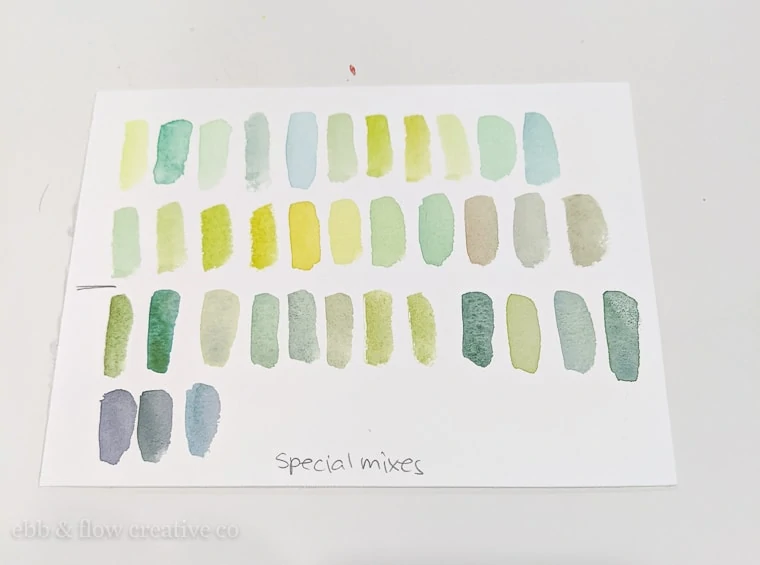 The top 2 rows show the variety of mixtures you can get by varying the amount of blue and yellow in your greens.
The bottom 2 rows show specialty mixtures using some pre-made greens from the Daniel Smith Jean Haines Master Artist Set. This lovely set includes 3 gorgeous granulating greens that almost shift colors.
The bottom row shows how you can get some really moody greens by mixing them with purples. I love these color combos.
Try mixing your greens with some unlikely combos to get some unique colors.
If you create a green that is too bright and you need to tone it down, you can add a tiny amount of red or brown to make the green more muted.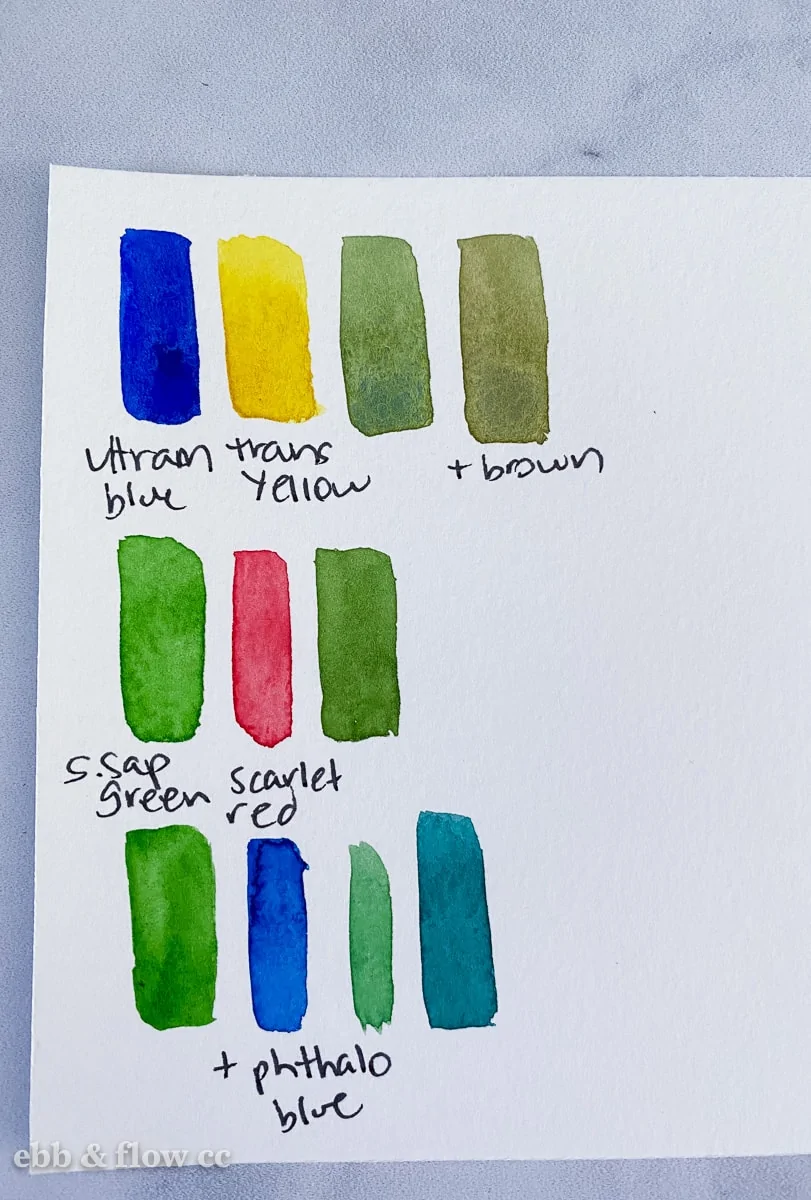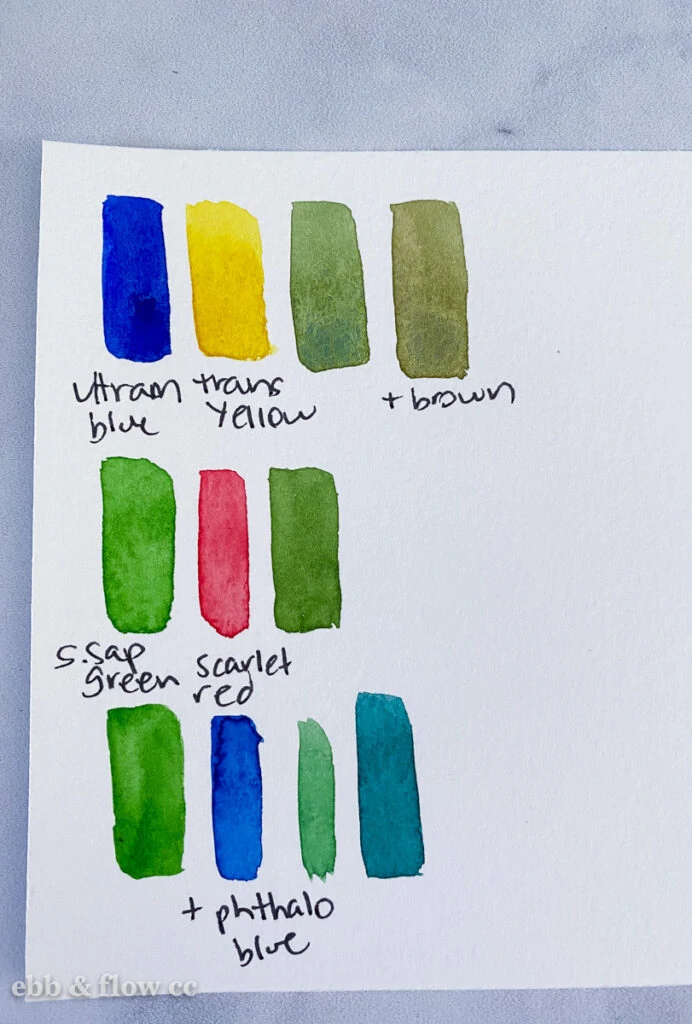 Ready to start painting? You might like this post on how to paint galaxy paintings.
Mixing Green with Black
Another way to make green is to mix yellow with black. I prefer Payne's gray because it has a blue tone that creates beautiful muted greens.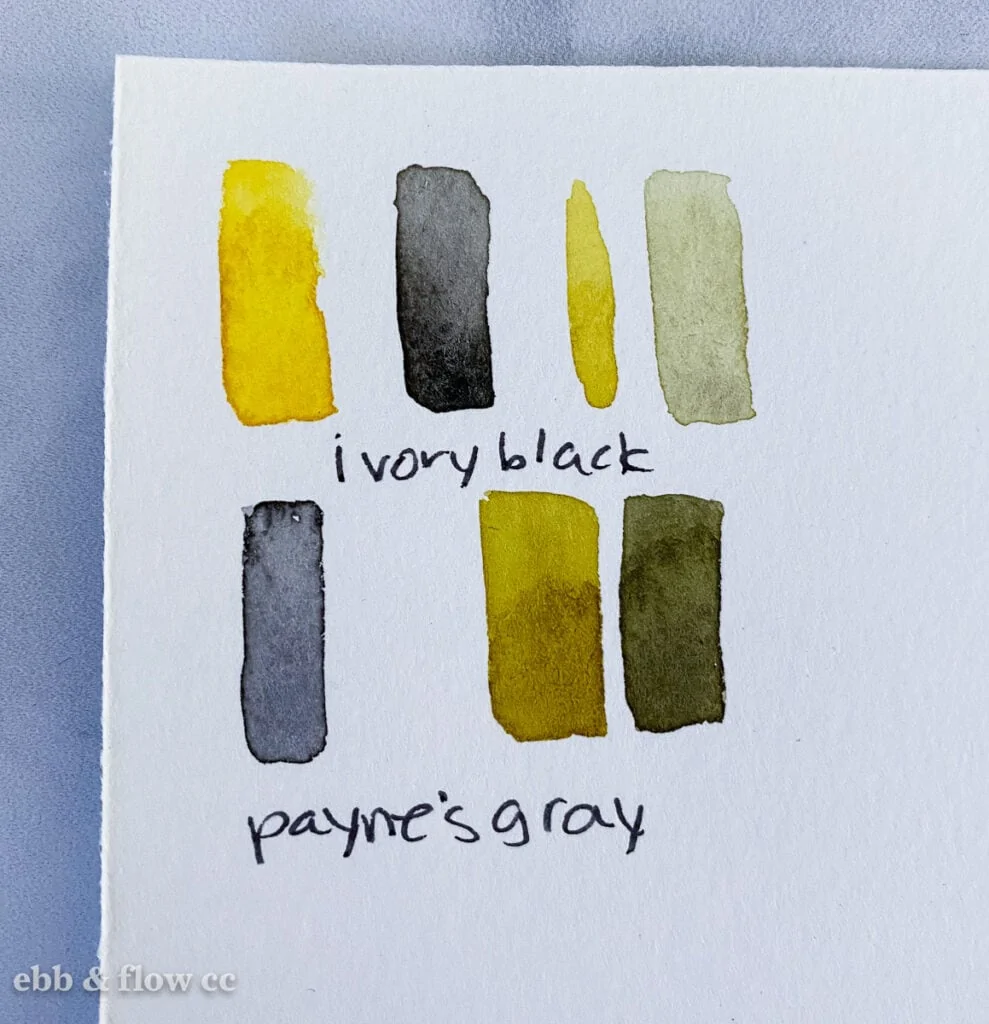 You can also add black to green mixes to make them darker. Once again, I prefer Payne's gray for mixing.
Using indigo for your blue is also a great way to create a darker green.
Mixing Pre-Made Greens (Into Better Colors)
Chances are good that when you started your watercolor journey, you bought a watercolor pan set that already has green included.
The 2 greens included are typically phthalo green (or viridian if you're lucky) and sap green.
Phthalo green is a cool green that is incredibly vibrant. It's a beautiful color for like walls or a sofa, but it's not my favorite for painting.
Sap green is a warm green. It's usually a much nicer color to work with.
As I said, phthalo green is not my favorite color on its own, but surprisingly, it's wonderful in mixes!
Here are some of my favorite phthalo green mixes.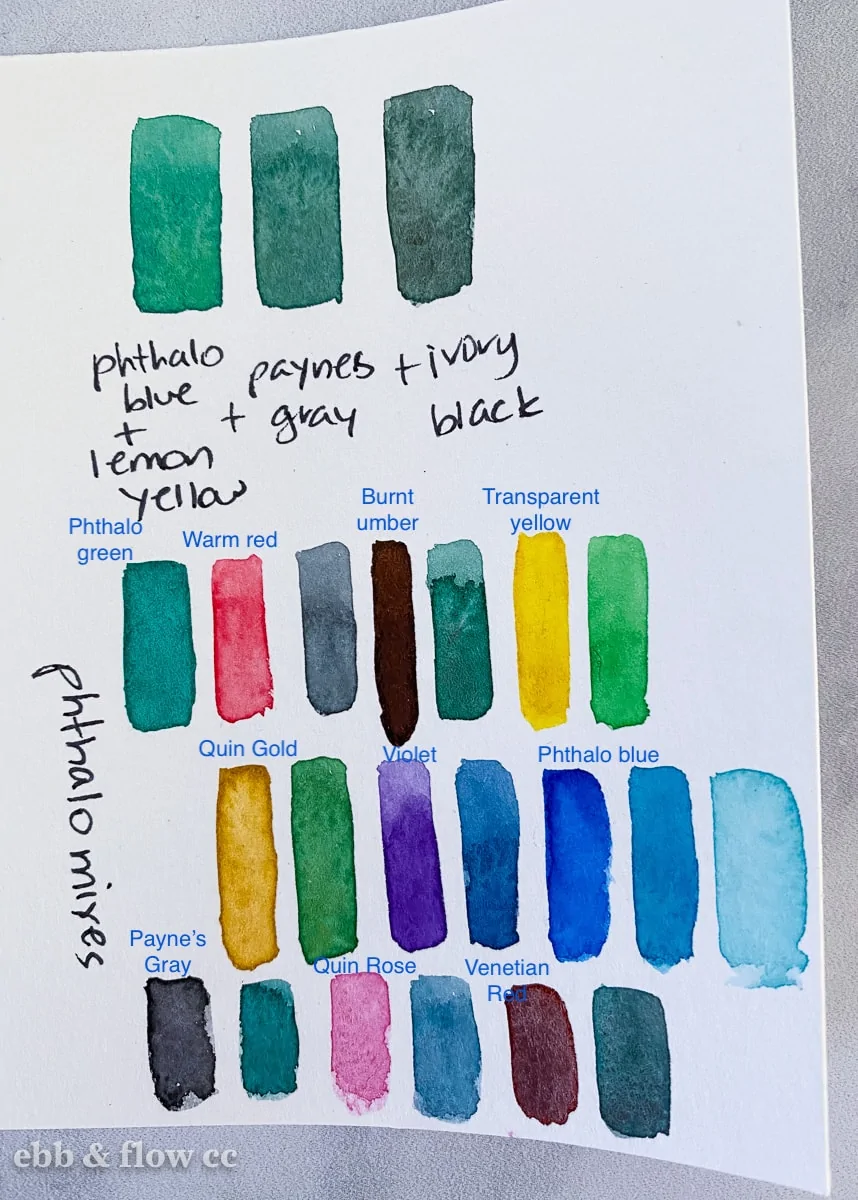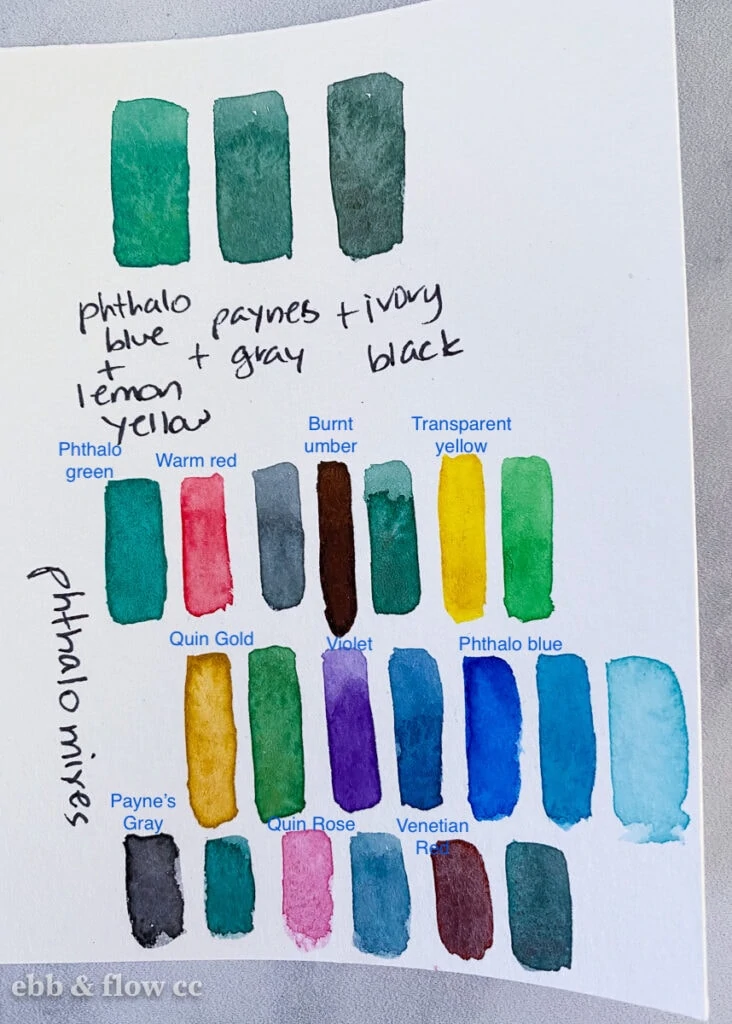 Sap green is usually pretty good on its own. However, I don't love the Schminke sap green because it's too bright.
Adding yellow ochre or quinacridone gold (warm, muted yellows) makes the color much more palatable.
Adding a brown color, like burnt umber, is also a nice way to tone this color down.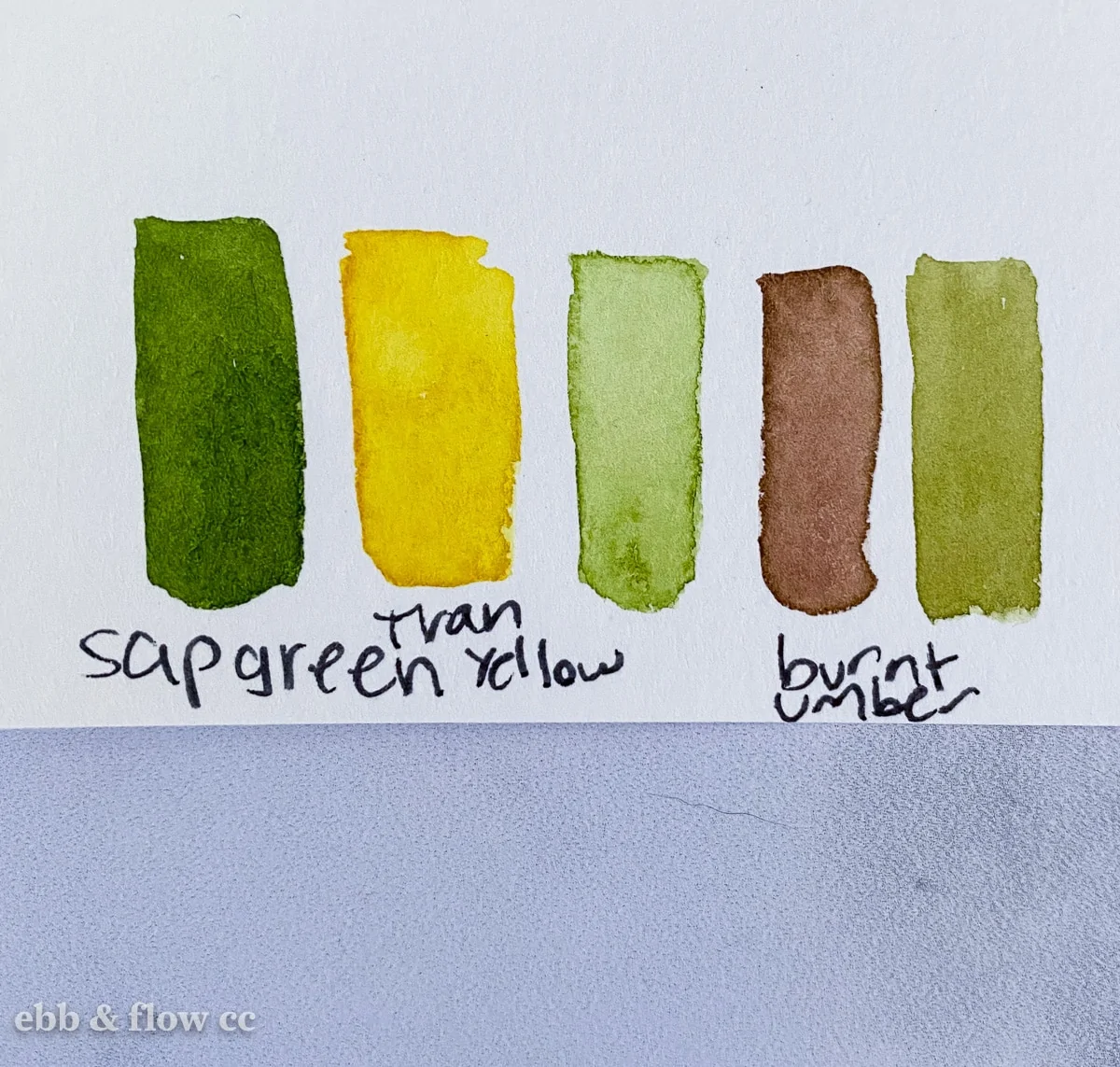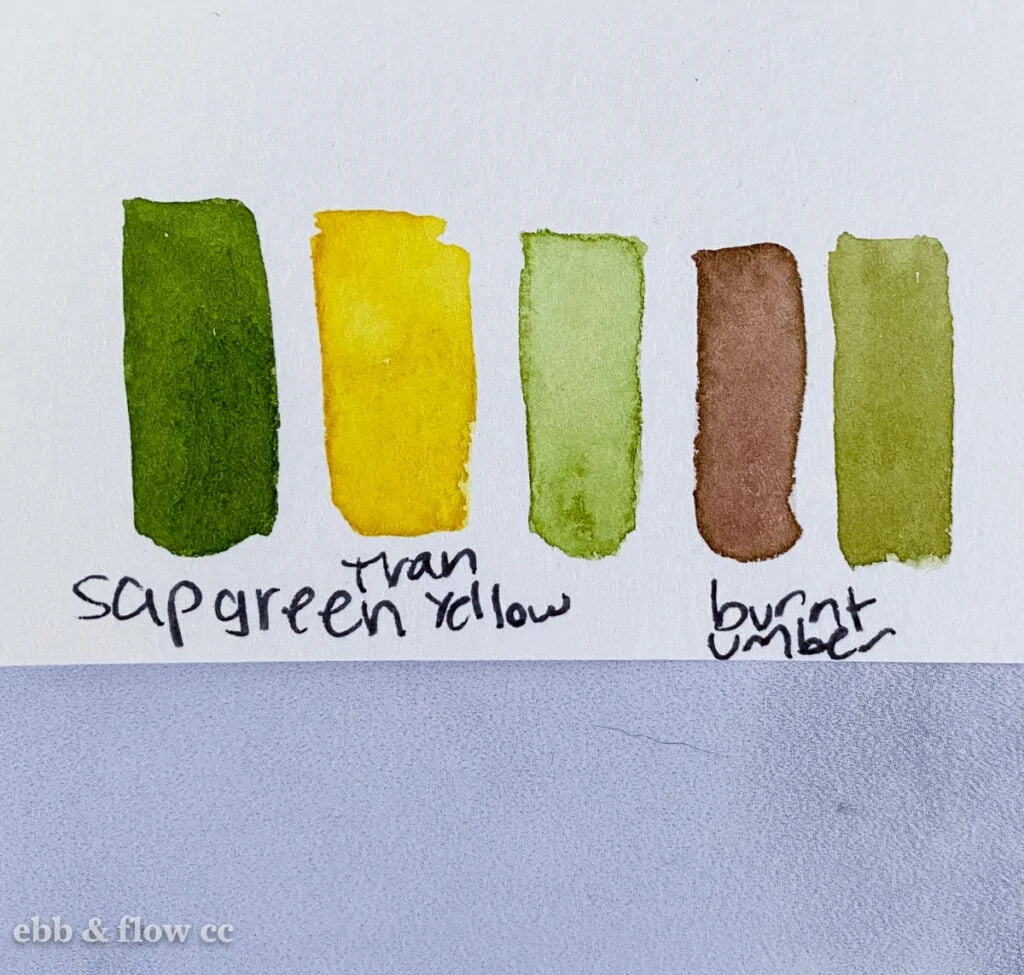 My Favorite Ready Made Green Watercolors (Updated)
When I was looking through my paints, I realized how much I love mixing my own green paint. So I only have 2 favorites so far.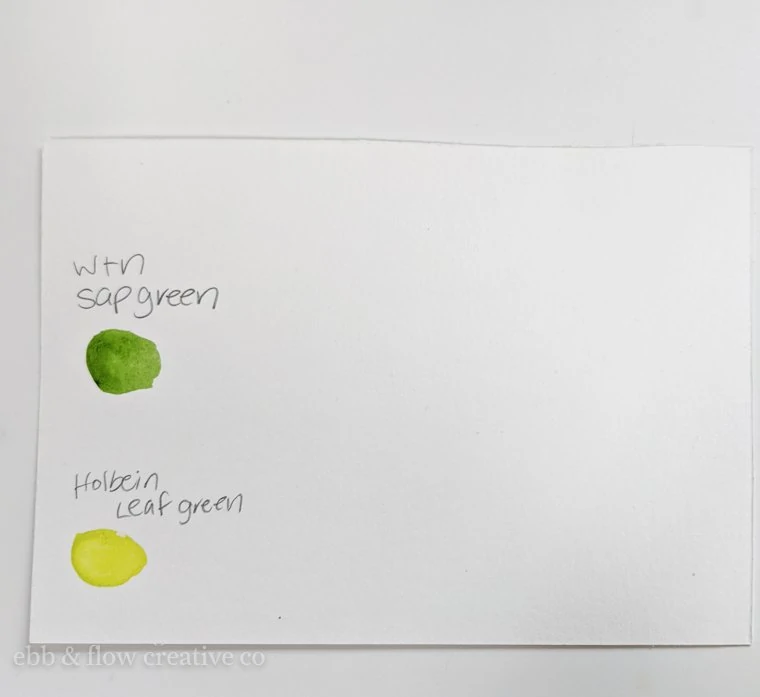 Winsor & Newton Sap Green – I own several varieties of this color and it's my favorite. It's the perfect green without being too blue, so perfect for most foliage.
Holbein Leaf Green – This vibrant green color is so much fun. It's almost neon and feels so modern when added to a painting.
Be aware that it may not scan perfectly and is prone to fading.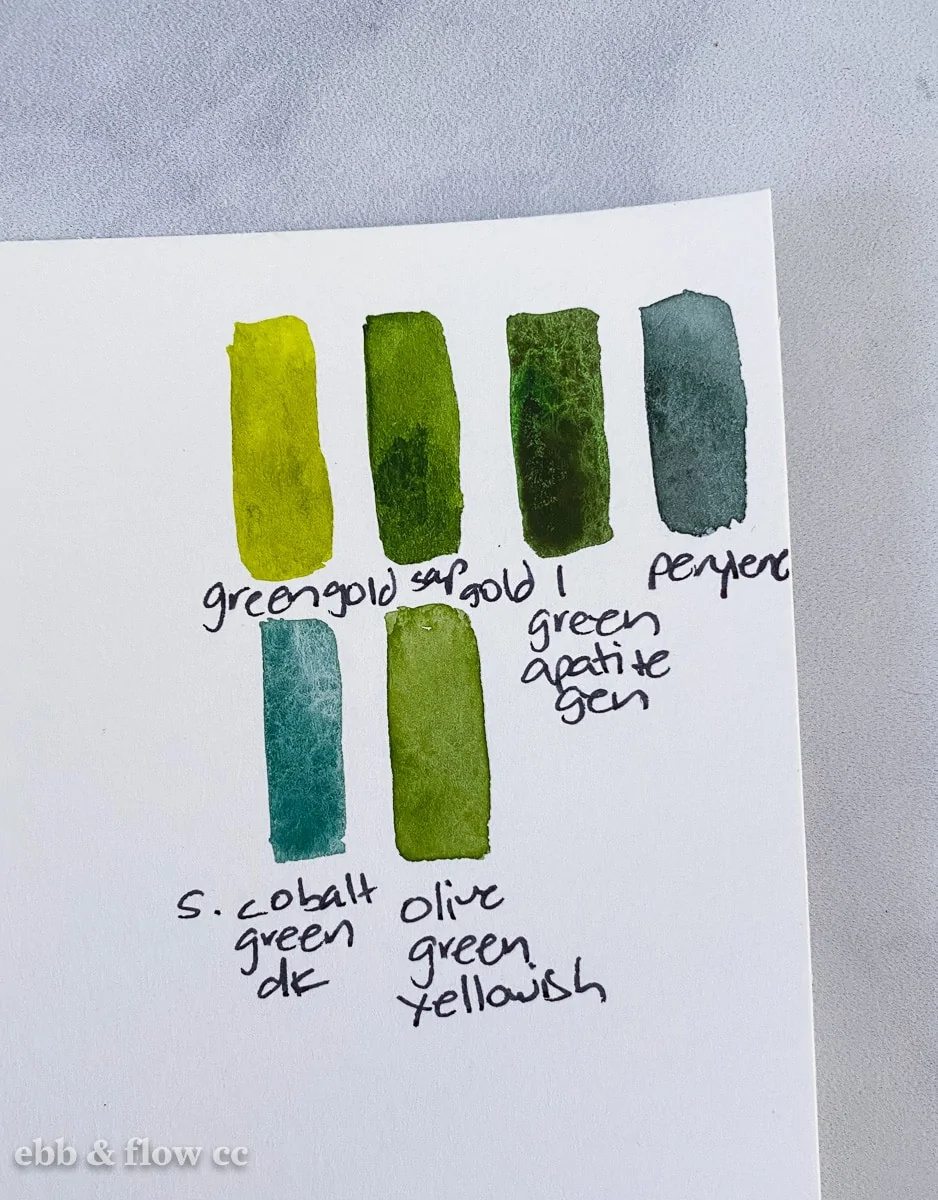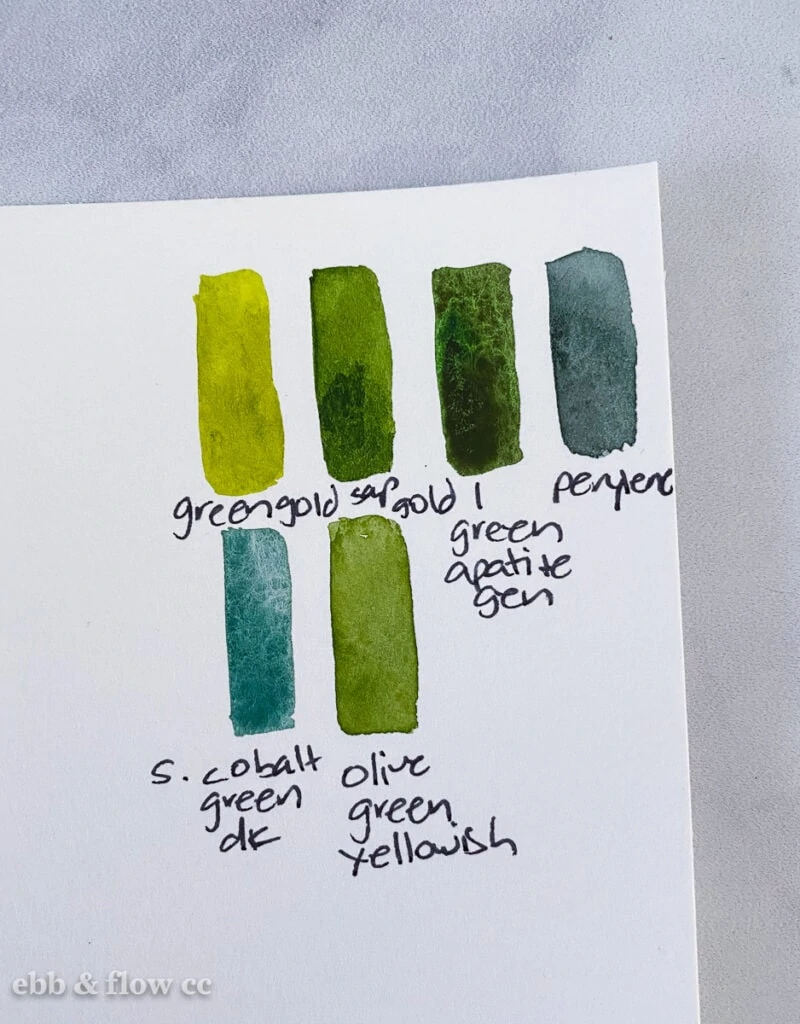 These are some of my new favorite greens from the tube or pan. I really love colors that glow or granulate.
You Might Also Like:
Pin for Later!